Day 9 - Sunday, 11th May 2008 - Cadney Homestead to Marla
Last night at Cadney, we had one of the best nights so far of the trip. We were the only guests at the Motel, and we had filled it, further some people like myself, only had a cabin which contained nothing more than a bed, and there were the campers. Subsequently everyone was probably keen to stay in the dining area. For Dinner, I had the Outback Grill, which someone had implied was roadkill. It was made up of a Camel Steak, Kangaroo Sausage, Emu Rissole, Bacon, Egg, Chips and Veggies. Very filling and no doubt very bad for you. By this stage though, the girls had found the Jukebox, and then the night really started. Despite the cost of the beer, $5.10 for a bottle of Carlton Draught, a few people probably drank a bit more than they intended too and there were quite a few people dancing as well. Because we had pulled most of the tables together, it meant that there was plenty of space for it. Phil even demonstrated his Pole Dancing Skills.
The other entertainment of the night was the AFL, which was a celebratory game of a Victorian Team playing a Dram Team. I didn't watch a lot but it looked like it as a good game with a close final score. In the middle of the night, I had to use the toilet and it gave me a good opportunity to have a look at the stars. I have read that you can see about 3,000 starts with the naked eye. As there was very little light pollution, and no moon I think I could see a lot more than that. City people do not know what they are missing out on.
Today was only 80km to Marla, a place we had seen advertised from 500km out. Even though it may have been possible to do that 80km yesterday, I am glad that we didn't as it would have skipped last night. Because it was only short, me and the other faster riders only left at about 7:50am, and we passed Sue, who had been patiently waiting for us to depart to film us. I had no intentions off riding fast today as tomorrow is about 100km more, so I just wanted to stick to my own pace. Because of this decision, I rolled away from the others and after about 10 minutes, I was warmed up and sitting on a very comfortable pace. We had about 50km to cover to Morning Tea with no surprises. Today again treated us to a clear blue sky, no clouds and initially no wind.
The terrain today looked flat, but it did contain some gentle climbs. Again the vegetation changed dramatically. At times there was a reasonable amount, and at others, next to nothing, a few times we crossed a dry river bed, and it could be recognised just by the vegetation. I caught up to Chris, and like me he wanted to ride at his own pace. By this stage, I could see other riders in the distance and I was slowly closing the gap. I passed John, Jane and Russell who were sitting behind Sam, the oldest rider on the trip (but only by a few months). A bit further on I caught up to Pack 4 as they are known, and Rob jumped out and latched on to my wheel. I took off and when I eased off he shot past. At about the same time, the other fast riders, Graeme, David and Pat went past, and I watched them ride away. I think that Rob jumped in with them.
After another 20 minutes or so, I reached Morning Tea. As we only had a short ride today and we were ahead of schedule, it became a 40 minute break for me. Before leaving we all had a group photo, which took a while as everyone wanted a picture taken with their camera. On rolling out, I again wanted to ride by myself so I let the fast guys go. The fast group at this time consisted of Anthea, David, Pat, Graeme and Rob hanging on for dear life. Morning Tea had been a bit early, so we had about 35 kilometres to finish. About 10 minutes out, I spied Bronny riding solo, and I guessed that she had been abandoned by Andrew, who had jumped in with the fast group. I slowly reeled her in and then sat beside her to give her some shelter from the slight crosswind that had started to pick up. We soon caught up to our American riders and they jumped on the back.
We chatted at times but most of the time for once, I kept quiet and enjoyed the ride. Then about 16km from Marla, near the top of a slight rise we saw a $WD do a U-Turn, then an All Trails rider going the other way. By this stage we could also see that the 4WD was a Police Vehicle. We put 2 and 2 together and feared the worse. I pressed ahead and found that Anthea had fallen and broken a collarbone. Andrew was with her and being in medicine, so I didn't question his diagnosis. Chelsea pulled up soon afterwards, and I asked if Phil and Susan knew, but she hadn't been able to reach them on the 2-Way. Andrew was trying to keep us moving as he didn't want every other rider to stop and then become a traffic hazard. I decided to press on as I may have been able to reach Marla before communication was established. In the end Chelsea overhauled me a few kilometres out and I saw Phil head back soon afterwards. Because the pressure was off me now, I eased up a bit and continued to enjoy the ride, but I felt disappointed for Anthea as for her the ride was probably over.
I saw a Wedge Tailed Eagle standing over some roadkill and I quickly pulled up to try and get a picture, at which point he promptly flew away. They are proving to be remarkably camera shy. Soon after 11am, I pulled into Marla and found Sue and Chelsea. They knew nothing more than I had and we speculated that it had been a touch of wheels, the most common cause of falls in a bunch. I got my room key and started my post ride routine. I got some extra stretches from Chelsea as part of my calf muscle had been giving me a bit of annoyance on the bike. Once all that was done, I found lunch and sat down to a subdued meal. In the last week we have become a close knit bunch and it was really disappointing to lose one of our number in such a way.
There was discussion about the cause, it seemed like it was a moments indecisiveness at the wrong time. After lunch, I went for a wander, Marla is larger than Cadney Homestead and has a lot more services on offer than just the roadhouse and Motel. It is the last South Australian Town on the Stuart Highway, and as a result is the first place you encounter heading south. On my wander I came across the Oodnadatta Track, which is at its Northern most point here, we left the Southern end back at Port Augusta. This is a dirt road and there were plenty of signs warning to be prepared before heading off. From Marla, Oodnadatta was the next services, and it was just over 200km away, all on dirt road.
I wandered back and signed a shirt for Anthea and found that Andrew was back from seeing Anthea into the Clinic, Pat was heading over that way and Graeme, David and I joined him to take Bronny her lunch as she hadn't eaten. Anthea was really upset that she was unable to complete the ride, and was quiet tearful at times, at others though she was joking with us and giving as good as she got. While we were there, confirmation of the RFDS (Royal Flying Doctors Service) flight came through. Marla is the most northerly point serviced by the South Australian wing of the RFDS, further north is covered by Alice Springs. Port Augusta is where she normally would have been taken, but that Plane was out dealing with another case, so the Adelaide Plane was picking up the slack. This was a better solution for her as she lives in Adelaide, and Andrew had contacts to help get her well looked after.
The flight was due in at 3:45pm, and we only had a rough idea of where the runway was, after Afternoon Tea at 3pm, we went looking as the plane was due in at any time, initially Graeme and I thought we could walk, but we quickly ran back and grabbed the bikes for a mad dash up the road to make it in time. In the end, at least 15 cyclists and our entire support crew showed up to see her off. I have always been aware of the RFDS, but this is my first contact with them, I could really see why it is needed in this area, without it, many of these areas would have no medical services.
On the way back I spied the Marla Railway Station, it was more of a spot that the train stopped to pick up and drop of passengers with no proper platform, something else I have never seen. Tomorrow we cross into the Northern Territory. While Adelaide isn't as far south as you can get in South Australia, it is close enough for me to consider this as having ridden the length of an Australian State, something I can be proud off. The next 3 days are fairly large, but after those we have another rest day at Uluru. It is amazing how close to an end this ride feels now, especially given we still have another entire week ahead of us. It is a real shame to be a rider down today, and especially on something as unfortunate as a touched wheel, but, these things do happen when you ride in groups. I have had falls myself, and touch wood, nothing hurt other than some lost skin and a bruised ego. Right now though, all I can do is wish Anthea a speedy and good recovery.
| | |
| --- | --- |
| Distance | 80.82 km |
| Average | 31.04 km/hr |
| Time | 2:36:12 |
| Maximum | 42.73 km/hr |
Images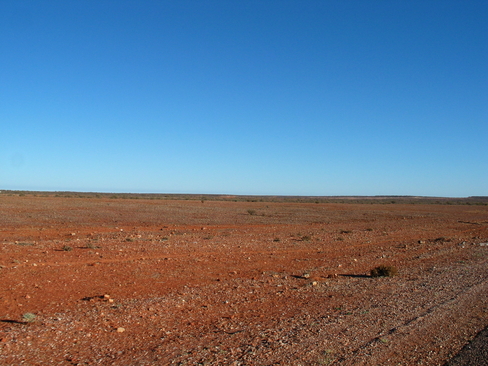 MMBU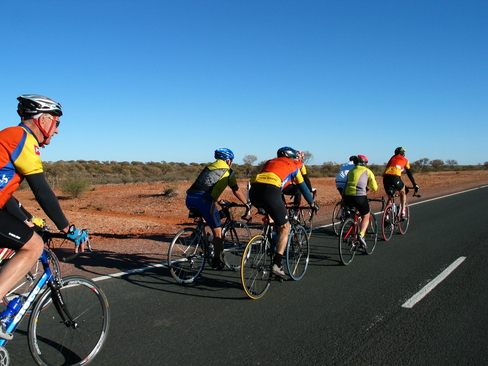 Pack 4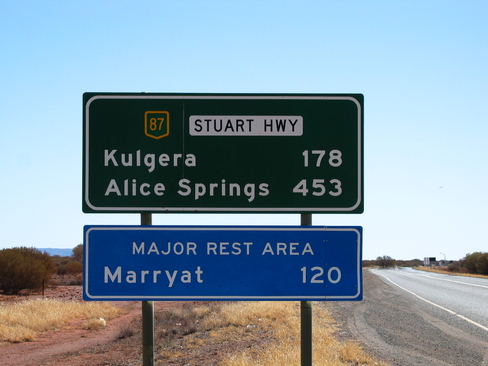 Tomorrows Distance, 178 to Kulgera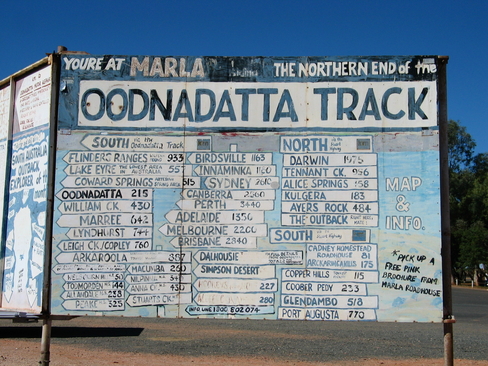 At Marla, it is a long way to... well everywhere.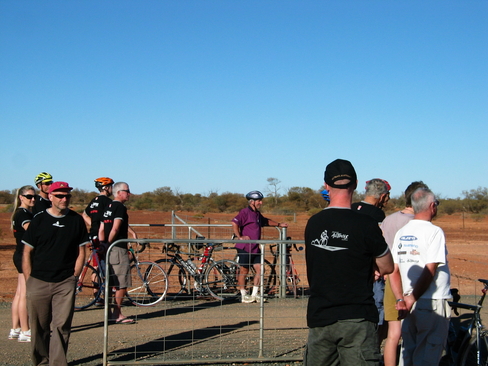 Some of the many riders who came to see Anthea off.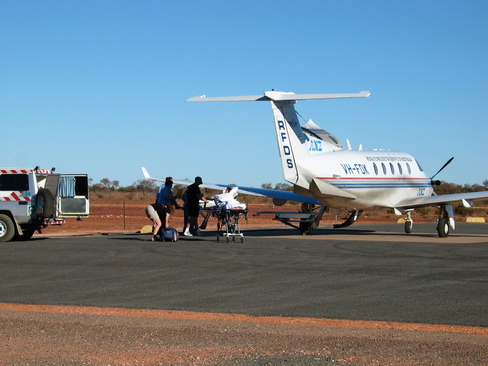 Not the way you want to go home from a trip like this.
Click Here
for more Photos from Day 9.