Day 2 - Sunday, 16th March 2003 - Camden to Bowral
Today was expected to be one of the hardest days, there was a lot of climbing to get us into the Great Dividing Range. The first climb was from about 80m to 450m in about 22km, then fall back down to about 250m over 23km, then climbing to 800m in the next 32km, then down to about 700m in to Bowral in the last 5km.
First hill started a few kilometres down the road, it was a pity as I was riding really well this morning and the hills only slowed me down and took a lot of energy to get up. I had to walk up 6 hills today, every time I rode as far as I could and if I fell off then I walked up the rest, it can be very difficult to remout up a hill. I wasn't the only person walking up the hills, there were quite a few cyclists walking as well and those that were riding weren't going much faster. There were also two steep descents that I couldn't safely ride down. On one I was being lifted out of the saddle by the pedals as I tried to slow them down, again I had to walk down them. One cyclist reported a top speed of 80km/hr down one of the hills so there were pretty steep.
Made Morning Tea in a reasonable time (9am), then lunch at 11:45am. I was stuffed by lunch, too much climbing early in the day, with too much more to do. On my way into Bargo (lunch) I could only manage 12km/hr, even along the flat. I knew that was more or less spent for the day, and considering the amount of climbing that I still had to do I knew that it would be hard work. I made a decision to bail and caught the train to Bowral. There was already another cyclist at the station, and 4 were already on the train, they had got on at Tahmoor. So I wasn't the only one who was calling it a day.
A few times today I thought why am I doing this, but as it was thought to be the hardest day it still felt good to do more than 50km. Tomorrow is a different Day with less hills, and less distance.
Today I also meet Bianca Bazzano's Father, I knew that he was riding as she had mentioned it to me on Thursday. He said Hello as he went past me on a downhill section.
Once at camp I set up and headed into Bowral, I couldn't find an Internet Cafe so I was unable to send out a daily email.
Camping is very cramped today, it is a real tent city. I had someone set their tent up right on my doorstep (if tents have one), I had to shift my whole tent backwards so I wouldn't trip over them every time I wanted to enter or leave my tent. Thankfully there was space there for me.
I am already thinking that if I do this next year I will try the tamer version on two wheels, unless towards the end of the ride I can do more than 50kms and maintain averages closer to 20km/hr.
Despite me bailing at Bargo (30km from Bowral) many people were still impressed I made it that far. I was disappointed that I had to use the train, but I am glad that I made it as far as I did.
Tomorrow (Bowral to Bundanoon) is much flatter, I am hoping to do the full day.
| | |
| --- | --- |
| Distance | 51.96 km |
| Average | 14.20 km/hr |
| Time | 3:39:33 |
| Maximum | 21.00 km/hr |
Images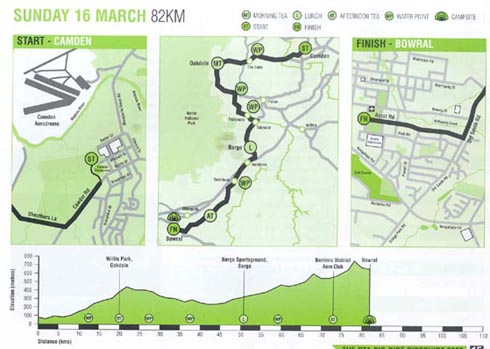 Map and Topographic display for Day 2, you can see the hills that got to me.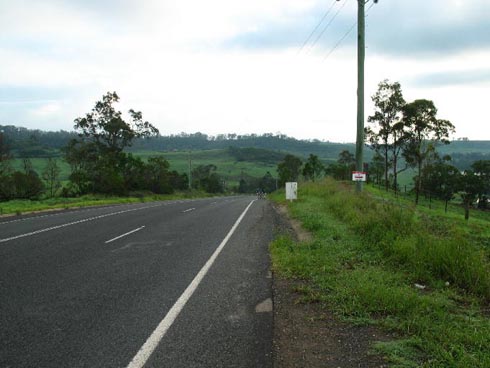 One of the first hills of the day.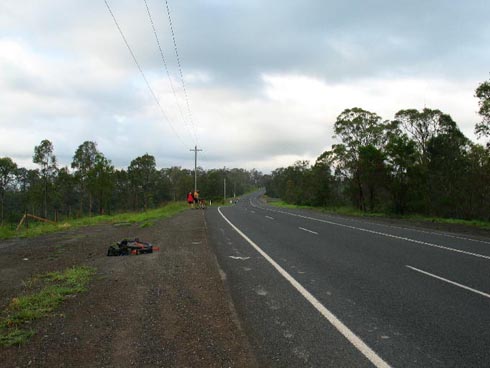 ...and it just keeps going.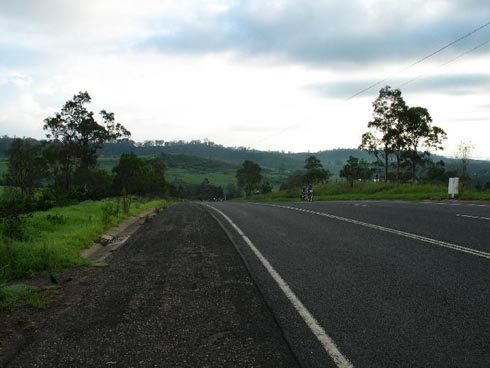 This gives you an idea of how steep it was.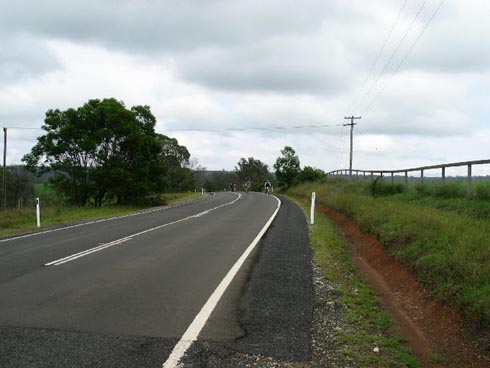 Riders comming over a crest.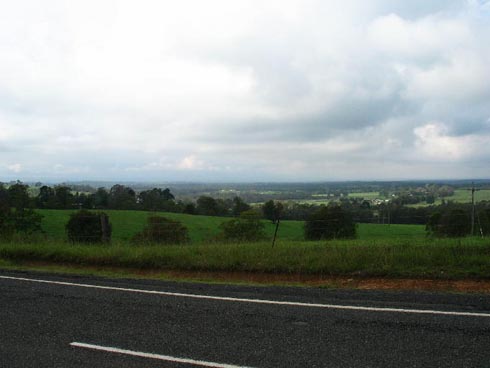 Despite the hills, the view was worth it.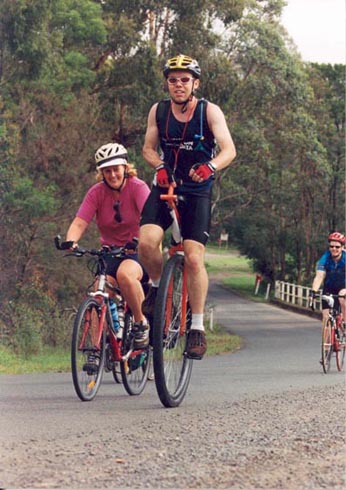 Cokering along...