Day 1 - Saturday, 20th March 2004 - Sydney to Gloucester
First Day of another Big Ride, first I had to get to Gloucester. I was up at 4am, added some last minute stuff to the bags and headed out to hopefully the taxi I had booked the previous day. Luckily for once I had no issues, he was waiting for me.
The bus pickup this year had moved to Darling Harbour, so it was a bit quieter than Central Station. I loaded the bike onto the truck and jumped on a bus and we were away at about 6:20am. We had about a 4 hour trip ahead of us and a lot of people spent it catching up on sleep.
We arrived at Gloucester at around 11am, first stop was for check in. Check in was different this year as it was a non riding day, so weigh in was stand alone. I was unable to avoid it this year and I was about 2 kgs over. I had to pay a fine to the MS Society to allow me to get away with it, so it was for a good cause. The bike truck showed up at about 1pm or so, just after lunch. Luckily it was easy to put the bike back together and I took it for a short ride to ensure it was all OK.
I went to the Brassiere with a few people I met last year, two were going for a short ride for the hell of it and I went with them. Although it was quiet warm, it was very enjoyable and it was also scenic. All was well until we hit a sign, "Ford" we were a bit unsure at first but in the end we just rode through and just got our feet a bit wet. All up it was only a 20km jaunt, but just something to do. We went to a coffee shop at the end, why break a bad habit. I also met a few riders today from Cycle Queensland, so it was already shaping up to be quite social already. Tomorrow starts the official distance and it looks like a few hills. Should be a good start.
Images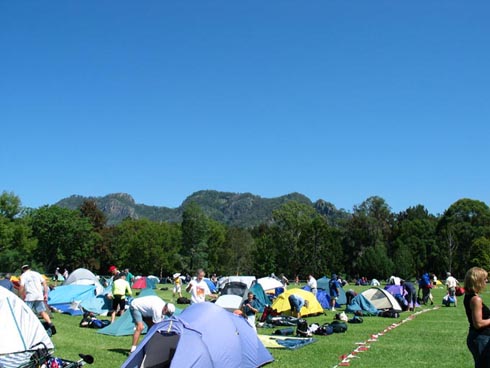 People setting up on Saturday, I rode along the base of the mountains later in the day.