Day 8 - Saturday, 26th February 2005 - Marulan to Robertson
Last night I had Dinner at my Parents with Tom and Kerrie who I know from the Saturday Renegade Rides. It was a good night, a great feed but it was a bit of a late one so I only got to camp at about 11pm. I was up at about 5:30am and as today was a normal start time (7:30am) I had plenty of time to pack up and get ready to leave. It had drizzled a bit overnight so the tent was a bit wet. I got to the start point at about 7am so I had a bit of a wait. I chatted to the other cyclists to pass the time. We ended up rolling out at 7:30am pretty much on the dot, the day was overcast but it didn't seem to be threatening rain.
We first had to cross the Hume Highway again to head towards Tallong. It was preformed much the same as yesterday with each direction reduced to one lane and 40km/hr, they then just stopped the traffic to get a group of cyclists across. When I crossed we were bunched up again from the start, but quicker cyclists were near the front so there was a fairly solid pace at first. A guy on a Mountain Bike flew past me but I just let him go thinking he would burn up in a few minutes. He eased up about 30 meters ahead of me so I soon reined him in. Today's route was a bit of reverse of 2 days from 2003, Bowral to Bundanoon and Bundanoon to Goulburn. As we neared Tallong, Bruce and I were in the lead with another cyclist, Bruce and I were sharing the load and the other cyclist was just sitting at the back, because of this attitude I made an effort to drop him on the next hill and then it was only Bruce and I.
By this stage the overcast skies had become low cloud so we were riding though some fairly thick fog. As we neared Penrose Bruce needed a Nature Stop, so I rode on but at a leisurely pace so he could catch up. We rode through Wingello where Morning Tea was as it was only 20kms into the route. The fog was still pretty thick and I had to take my glasses off as they were catching too much moisture. I could see better, but not over any great distance. We rolled though Bundanoon and then onto Exeter where lunch was. I was told that there was one cyclist ahead of me by half an hour. I guessed that this was Scott who I knew may have rolled out of camp early. He was about 30 mins head of me and so I knew I wouldn't catch him. Lunch was at a local cricket oval where a local game was starting up. I have no idea how it would go in this fog, but it would probably be entertaining.
I rolled out of lunch and back into the fog. I knew that this was really spectacular countryside but with the fog visibility was about 100m or less so we really didn't get a chance to see it. It started to become a problem as I couldn't see the road too far ahead and so uphills and downhills became a surprise. Some of the downhills were a bit scary as although they weren't steep you just had no idea of what was coming. It felt like I wasn't riding very fast partly because the road was pretty dead and because you couldn't see the scenery going past. This made it a hard fairly boring ride, it felt like I was on an indoor trainer staring at the wall. I went past Afternoon Tea and then nearly missed a left hand turn as the fog was so thick. By this stage I had about 20km to go. I occasionally caught a glimpse of the lead motorcycle policeman, but even with a flashing light he could vanish about 50m from me. Cars would just appear out of the fog ahead of me and would vanish just as quickly.
I pulled up at the Illawarra Highway and commented to the policeman that the conditions were pretty crazy, he agreed with me. I was told by some vollies that two were ahead of me. I rolled into camp at about 10:45am as third today. I later found out that the "two" ahead of me was an invention as I was first too often. I was only beaten by Scott so I was second again. I didn't think that the luggage trucks were here as the vollies on the gate didn't think they were here yet. I had seen Scott on the way in so he and I went to a Cafe across the road. About an hour later we found out that the luggage trucks had always been there and we just hadn't seen them. by this stage all the bags had been taken off and so I just had to find mine in the pile. Once set up and showered I wandered into town for a pie and then for a quick look at Robertson Show which is on for this weekend. Tomorrow this whole thing comes to a conclusion, but not before the Final Night Party.
| | |
| --- | --- |
| Distance | 80.86 km |
| Average | 29.91 km/hr |
| Time | 2:42:13 |
| Maximum | 54.90 km/hr |
Images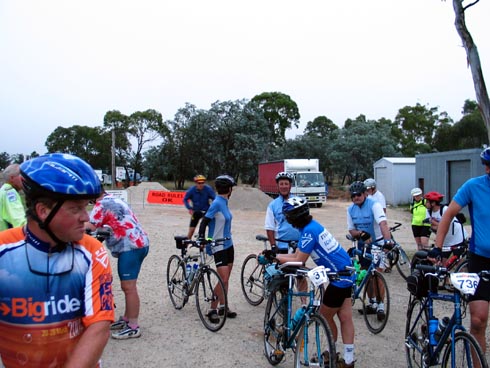 The usual suspects waiting for the Start at 7:30am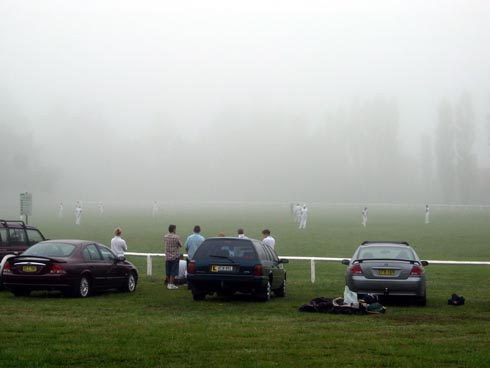 The local cricket game that was occuring at our lunch stop.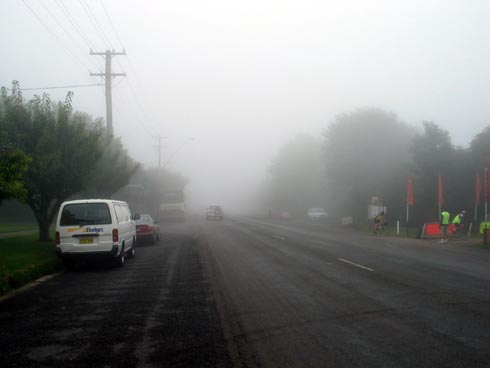 The main road in Robertson, nearly the whole days riding was like this.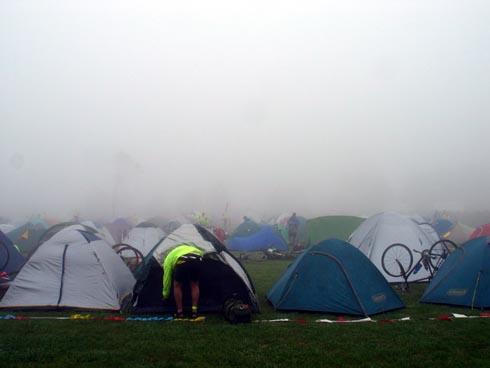 Tents in the Mist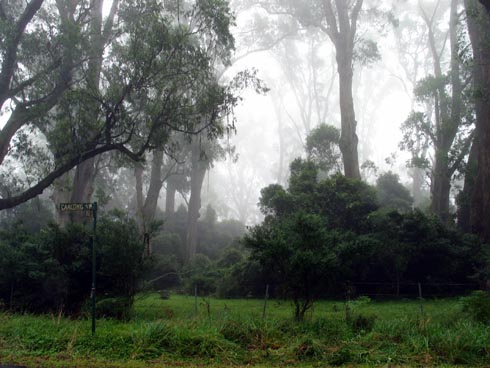 The mist did make for some nice photo shots.