Day 2 - Sunday, 26th February 2006 - Jingellic to Tumbarumba
If yesterday was a warm up, today was the main event. I thought I could get through last night with just the sleeping bag insert, I pulled the pin on that idea at about 3:30am, the sleeping bag was definitely needed. I was up at 5:30am and due to previous years experience I was packed and pretty much ready before breakfast. After breakfast I finished packing and I was ready to roll at about 7:10am. The only problem was the route doesn't open until 7:30am, the second problem was that there was fog on the road and visibility was poor through it. As it turned out it was pretty much fine at 7:30am, but the police didn't get the news, subsequently we were only allowed out at about 7:45am.
Today's route had about 18km of climbing to begin with, because of this there were two distances, the ride was the same to the 34km mark, at that point, there was a fork, you could do the longer 36km, or the shorter 10km to Tumba. The longer option was only open until 10am. The route backtracked the last 8km of yesterdays route, so we started with a bit of a climb, on cold legs. Once over that, it was kinda flat until the big hill. I got away from the bunch on the first hill, but I was caught by Barry (who I know from Saturday racing), Rod (who I know from previous rides) and Steve. I passed the photo point, and they were just quick enough to get my picture. Rode, Steve and Barry were chasing me but I noticed that I was moving away from them on the climbs, so I knew that if they did catch me, I would probably drop them on the climb. They caught up to me a bit before the big hill, so once we started climbing I soon opened up a gap and it was just kept growing.
The hill was pretty steep, I didn't push it too hard and kept my heart rate at about 160bpm. It was quite nice that early in the morning as most of the climb was in the shade so it was a bit cool. I finally crested and then took off for lunch. There was some very picturesque scenery around today, and the fog managed to emphasise it as well. The terrain was quite rolling, but enjoyable riding. I pulled into lunch to fix one of my drink bottle holders, but it wouldn't tighten, I grabbed a sandwich on offer and saw Rod and Steve go past. I jumped on the bike and raced after them. I caught them a few hundred meters up the road and we started riding together. At the turn off point we were unanimous and we all went for the 70km option.
It started off quite scenic and it reminded me of the run from Texas to Inglewood on last years CQ ride. We had a section of highway riding that made the longer choice seem like a good one. We hit a town called Rosewood, after that the route got a lot harder. We turned off the highway and started heading back to Tumbarumba. On the second hill I bid goodbye to Rod and Steve and rode away from them. We were riding through Pine Forest, and I saw a few signs warning about logging trucks. We had a ripper downhill, but after that it was pretty much undulations all the way. There were some great scenic views, where you had the dark green of the Pine Forests mixed in with the more grey green of the eucalyptus. I was starting to suffer by this stage and was feeling pretty low on energy. I had a few mouthfuls of my sandwich, but I knew it was more psychological than anything else.
My computer was reporting only a handful of k's to go, and the house numbers seemed to agree with me, but at an intersection a Vollie told me that it was more like 6 or 8. Not what I wanted to hear. I kept on and I finally made town at a bit after 10:30am. I finished my lunch and then had to help unload the luggage truck. I was the first 78km rider in, but several people who took the shorter option beat me home. Once the truck was unloaded I set up and grabbed some food from the local Lions club. Then it was a wander into town to the local Bakery. I met Barry and his Wife, Lauren where we discussed the route, he agreered with me that it was hard stuff. After a while there I wandered back into camp. Tomorrow has (apparently) a lot of downhills, but I am not going to hold my breath.
| | |
| --- | --- |
| Distance | 77.3 km |
| Average | 26.95 km/hr |
| Time | 2:52:20 |
| Maximum | 72.90 km/hr |
Images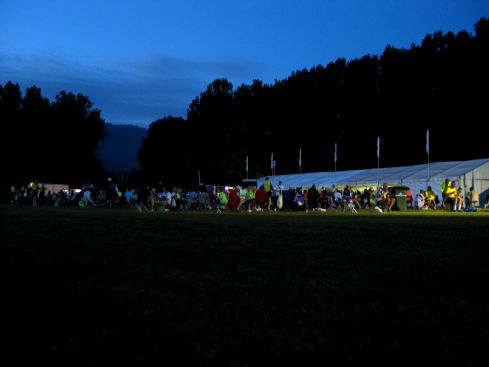 Breakfast in the dark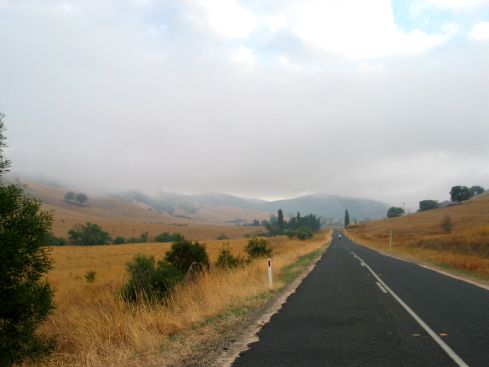 The fog out this morning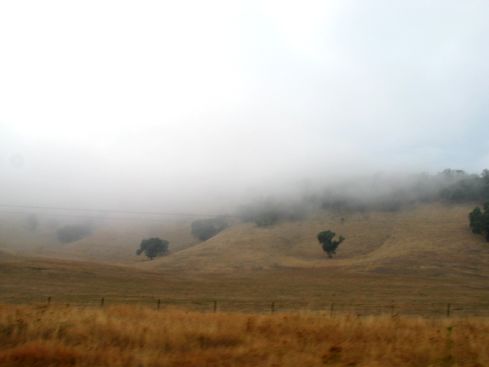 More fog in the hills
Click Here
for more Photos from Day 2.