Day 6 - Thursday, 9th September 2004 - Woodgate to Biggenden
After yesterdays great tailwinds, there were a few good stores at the briefing. Apparently some cyclists packs (sometimes called trains) were racing some of the cane trains, because of the tail winds, the cyclists were winning.
Today dawned overcast and there was a forecast of showers. This morning though, because I had camped under the trees, I packed up the tent dry, a first so far. Again there was a bit of a queue at the luggage truck, so my bags were about half way along. John said that he was going to ride with me today so I left at about 8am with him. The first 20km today was the reverse of the last 20km from yesterday, so there was no terrain surprises. The wind had dropped off to nothing so it was just a slog over the flat ground. John and I were passing everyone who was ahead of us and we shot past morning tea. Soon after morning tea we were back in cane country and there were a few small rises.
The heavens decided to treat us to one of the forecast showers, so I had a bit of an interesting time trying to get the camera in a plastic bag before it got too wet. It was only a brief shower so although we got a bit wet it wasn't a problem. John and I were then riding by ourselves as there weren't many cyclists ahead of us and most who we did pass didn't keep pace with us. On the approach to Childers, which was the lunch stop there were a few hills that made the cycling a bit more interesting, surprisingly I was making John hurt a bit up the hills.
We landed at lunch 2nd and 3rd. We were asked by some of the Volunteers if we had seen the lunch truck, but it hadn't past us so it was currently missing in action. Most of the other riders who were coming in were just getting a coffee. The lunch truck showed up about 10 min after us, but it was going to be a barbecue we al decided to either roll on, or get something in Childers. John and I kept going and there was only about 40km to go.
Soon out of Childers we had some great cycling, the road was through eucalypt forest, was winding and undulation, just the combination for a great route. We kept up a good pace, but John was taking more turns than me up front and he could really make me hurt on the flats. I got some tips off him on how to improve my riding on them, so I just need to implement them now.
Again the country around here really needs some rain as all of the grasses were very brown, not a good sign approaching summer. We made Afternoon Tea at about 9:30am at Dallernill Public School. Again it was a great effort, but I really think they should charge more than 50c. It was the first Afternoon Tea John had every stopped at, and he really enjoyed it. So with 15km to go and all fuelled up we pushed into Biggenden at about 10:15am.
We picked up another cyclists on the outskirts, so we came in as 1, 2 and 3. So far all of my finishes have been top 10. Once my bags were off the truck (which I again I helped unload) I set up my tent and rode back into town for a bit of lunch. The town is set up to make an impact and there are a few stalls set up on the main street. Some of the locals were clapping the cyclists as they came in, it gives you a bit of a buzz.
| | |
| --- | --- |
| Distance | 89.73 km |
| Average | 30.11 km/hr |
| Time | 2:58:49 |
| Maximum | 57.00 km/hr |
Images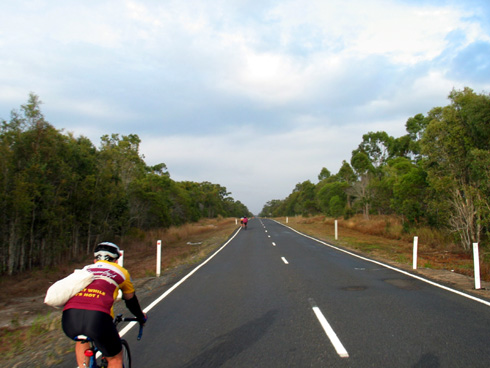 The back of John Lindsay and the road ahead.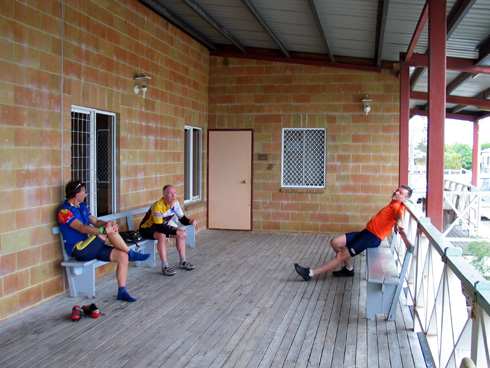 The early finishing lounging around waiting for the luggage truck to appear.
Click Here
for more Photos from Day 6.