Day 7 - Friday, 10th September 2004 - Biggenden to Gayndah
Yesterdays showers developed in the afternoon. It only rained for an hour or so, but as they said, it wasn't enough to satisfy the locals, but enough to annoy us. We moved the Brassiere into a hall on camp and that made the evening much more enjoyable.
Today was only a short 61km, a sort of rest day before tomorrows 100km day. I think that a lot of people were going to leave a bit later and enjoy the day. Because of the rain the tent was packed up wet again. I was away just a bit before 7am and was riding through the cool morning. The sky was clear after yesterdays rain and subsequently it soon warmed up. Morning Tea was a mere 15km from the start, so as has been my habit I rode straight past. The road was a single lane bitumen surface, but most oncoming traffic was happy to move over and give us the room. The countryside was again very brown, but it is no longer as flat as it was near the coast. As I approached lunch, I had a large semi pass me as I crested a rise, so I jumped into his slip stream hoping to get pulled along. It didn't last as he soon turned right and I needed to go left.
I didn't plan on stopping at lunch today as it was at the 30km mark. The Volunteers seemed to want me to stop as they tried to get my attention, I simply rode on. With only 30km to go to the end I was starting to pick up the pace. The terrain was still up and down but a head wind was starting to develop. I was really enjoying the scenery as I crested each hill. As we were on a main road there were a few signs showing the distance to Gayndah, it was encouraging seeing only a short distance remaining at 8:30 in the morning.
The wind was getting stronger and we were soon heading straight into it. The route in was very up and down but although they were at a reasonable gradient, they weren't very long so I didn't have a problem with them. We soon started to pass signs advertising services in Gayndah, including one for the Big Orange. I rode into town and saw the two riders ahead of me at a cafe, so as it was about 9:05am, I decided to join them.
After about a 30 min break I rolled into camp about 5 min ahead of the luggage truck. By this time the wind was really blowing making me glad that I was no longer on the route. Some of the later riders are really going to suffer. Once again I helped unload the luggage truck and so I was set up at about 10:30am. There was a single shower on site that wasn't associated with the ride and it was a better one that Mouse (the shower and Toilet Trucks) provides. I suspected that it would be locked up later, but at least I got cleaned up. Everyone is already hoping that this wind drops off for tomorrow, as with 100km with a possible headwind, it will be hard for a lot of people.
| | |
| --- | --- |
| Distance | 61.18 km |
| Average | 28.62 km/hr |
| Time | 2:08:17 |
| Maximum | 56.00 km/hr |
Images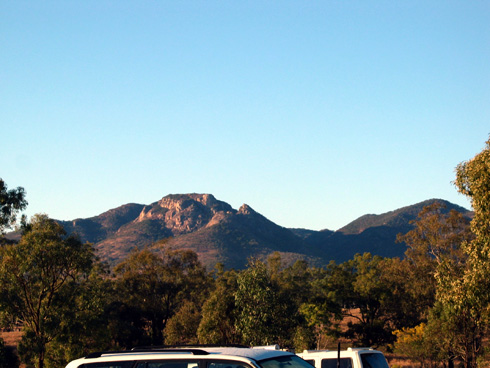 These mountains are at Biggenden, this was the first clear view we got of them because of the rain yesterday.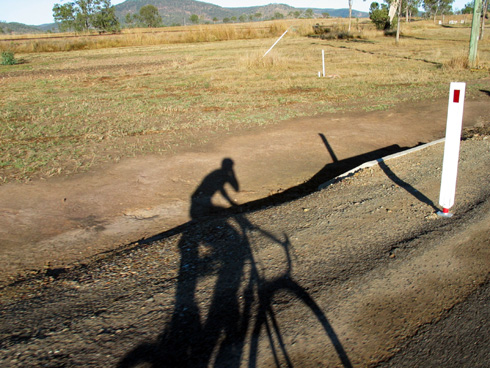 Your constant cycling companion, your shadow.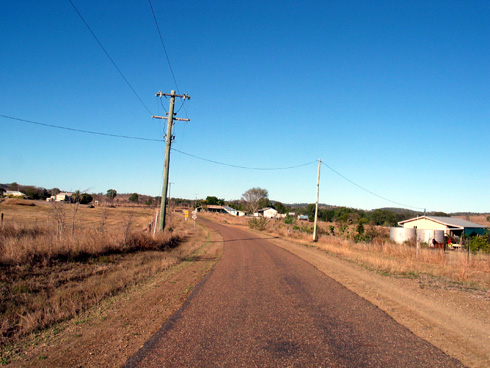 We passed through this small town, Didcot. It took about 2 mins to go through, and that was on the bike.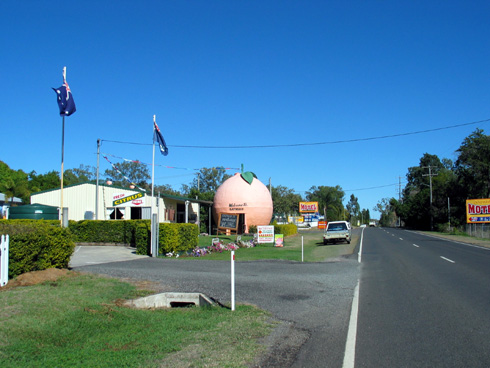 Gayndah, the home of the Big Orange.
Click Here
for more Photos from Day 7.