Day 4 - Tuesday, 6th September 2005 - Inglewood to Stanthorpe
Yesterday afternoon in Inglewood I went to the local museum. It was mostly of photographs from the last century from the area. It was interesting that tabacco was the primary industry for a long time, it has now cut over to olives. I took a wander out to the edges of town last night to have a good look at the stars. I really think that we are poorer in the city for not being able to really see the night sky, being able to see the stars is something that I look forward to on these rides.
Today was the biggie, the route today was expected to cover about 110km, the longest daily distance for a CQ Ride. I was expecting it to be hard, but I was so wrong. Today was one of the hardest days riding I have every done. The road was pretty dead, the route was long undulations that was generally climbing, and then there was the head wind, it was about 30km/hr and it was pretty much into our teeth.
I left at 7am and I had organised to ride with John and Peter. John showed up at the gate at about 7 as well, I asked him where Pete was, he didn't know and so we set off. There were some cattle grids on the route today, John told me the best way to deal with was at speed. It was the best way, it just seemed counter-intuitive. Pete caught us up not far from the start, despite the cool start I wasn't wearing any winter gear, I knew it would soon warm up. John had to stop to take off his jacket, he subsequently dropped off and Pete and I rode were then riding together. There were plenty of riders who had left early who were out on the route ahead of us, even by this stage the head wind was starting to pick up. At one point we hit an intersection that had a sign of "Stanthorpe 101", it was a bit of a shock as we had already covered about 20-30km. Luckily we were taking a shorter way that the 101km.
The wind was quite strong so Pete and I were swapping turns pretty frequently, although the scenery was quite good I didn't take a lot of pictures as the riding was so hard. The hills today caused me to finally start using the 39 tooth chain ring, because of the wind, we were often pedalling down the hills as well. I ended up making a lot of use of the 39 chain ring by the end of the day.
None of the hills today were long or steep, but combined with the wind and the dead road, it made them pretty rough. We were first to morning tea, but we didn't stop. Some of the views from the top of the hills were pretty fantastic. By this stage we could soon see some storm clouds on the horizon, we heard that an afternoon storm was expected. Generally, Pete and I were sharing the turns, it was always hard work even if you were on the back. We made lunch at about 9am, well ahead of everyone else, but we were feeling the previous 57km, so we were only just past half way. We were talking to the vollies and telling them that it was really hard out there, we were predicting that the rest day party might be a bit of a flop as everyone would be too tired from the ride today. We didn't hang around at lunch for too long and so we rolled on. Straight after lunch, we had one of the longest hills of the day, although it wasn't as steep as some of my regular hills it certainly felt a lot harder. Even when when we got a downhill run we were flat out pedalling on them as well.
Not too far out of lunch the clouds started comming over, it did lower the temperature but it wasn't raining yet. Occasionally we did get some shelter from the wind, but I think that it reduced the strength more than anything else. I was starting to suffer by this point, luckily I had a swet from lunch that I threw down my neck. I don't know if the difference was psychological or physical, but I did feel better afterwards. There were two afternoon teas today, we rode past the first, but although the second was 10km from the end we agreed to stop. Both of us were pretty spent by this stage so it was definately needed. After some food and a sports drink, we were felling a lot better and so the last 10km were a bit easier. Soon after leaving the second Afternoon Tea, the rain did start, but that wasn't the real issue, the temperature started to drop with it. It wasn't too bad, but it was another insult to injury with the head wind.
We hit town soon after 11am, we followed the signs into town looking for a coffee shop, but we didn't see anything. We ran out of signs and so we started thinking that we had missed one, there was one last hill and then we hit camp, we made it at about 11:20am, we were both too stuffed to worry about going back to town.
I went and spoke to the massage people about getting a massage at 2pm, I later saw there was practically no bookings until about 4pm. I helped unpack the luggage truck, as there were only a handful of riders in. The trucks were delayed, and so we only finished at about 1:30pm, a lot later than usual. I heard from some riders, that people were getting to lunch and refusing to go any further.
I got my massage at 2pm, it was a pretty impressive massage, with plenty of cursing from my side, I don't think that it hurt the masseuse though. At about 3pm the camp ground was still pretty deserted even then, even now at 5:30pm there are about one third of the bags still waiting to be collected. I know that I will be glad of the rest day tomorrow.
| | |
| --- | --- |
| Distance | 108.83 km |
| Average | 27.07 km/hr |
| Time | 4:01:23 |
| Maximum | 52.20 km/hr |
Images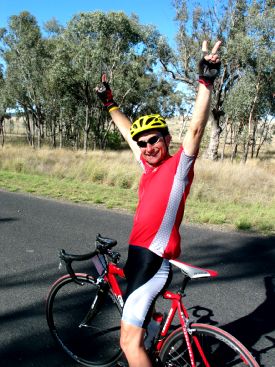 Pete, who I rode with most days, seen here in matching cycle gear and bike.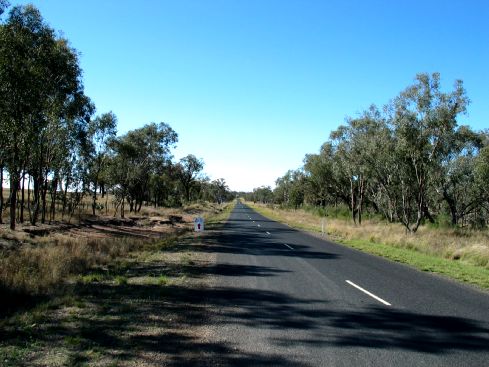 The hill out of lunch, we all suffered today.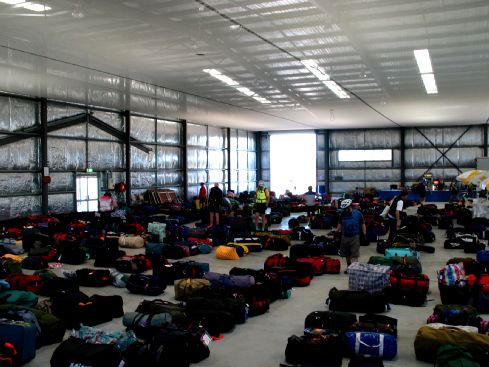 All the bags still to be collected at 3:30pm, on past days, 90% of people were in by this time.