Day 1 - Saturday, 15th March 2003 - Warragamba to Camden
Up at 5:15am, despite booking a Taxi he decided not to show so I had to hail one on the street, luckily they were still common on the street. Loaded the bike at Central and jumped on the organised bus to Warragamba. On the bus I meet a guy who had done one of these last year, I stuck to him at Warragamba as he was more likely to know what to do once there than I was. Check in was well organised and once collecting my bike from the trip from Central I had to load luggage. I managed to avoid the weigh in (more by luck than judgment), so I don't know if I was under or over in weight.
There was a mass start at 11:00am, it looked like there were a few false starts but it was under way. I hung around at the back of the pack as I didn't want to have a lot of stops and starts. I set off once the way ahead was clear. As I went through the start point the locals who came out to see us on our way were cheering madly, it was a great ego boost.
The day in general was very hilly, there were a lot of ups and downs that were very wearing. As the day got on the hills were more downhill, so I started to speed up. There were many really enjoyable sections of the ride, as I was towards the back of the pack I was often riding by myself, so as we were on quite country roads so it was really peaceful.
As I landed in Camden there were many cheers from the other riders. Already many people know that there is a Unicyclist riding, many are in disbelief.
There were many encouraging comments, including a few of the usual (you have lost a wheel etc), the best was from a volunteer directing the riders who said "Now I have seen everything".
I set up my tent that was going to be my home for much of the week. That night it was raining at Dinner, I hope that the rain doesn't continue for more of the ride.
Already many of the other riders recognise me as the unicyclist, they are all really supportive and impressed that I am prepared to give it a go.
I met Michael Allen's Father, he recognised the Dimension Data Logo and asked if I worked there.
| | |
| --- | --- |
| Distance | 34.17 km |
| Average | 14.81 km/hr |
| Time | 2:18:28 |
| Maximum | 21.00 km/hr |
Images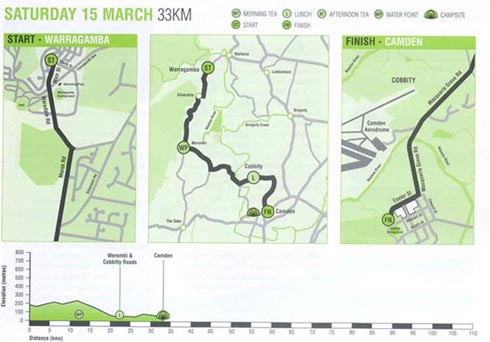 Route and Topographic Map for Day 1.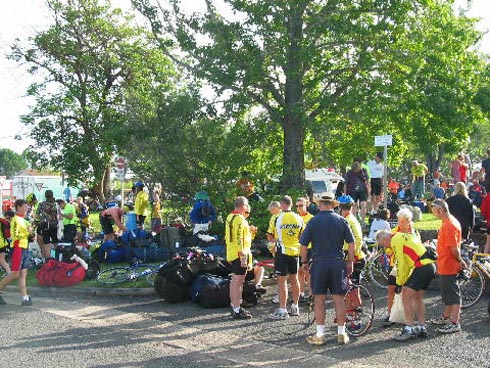 Riders waiting for the 11am start.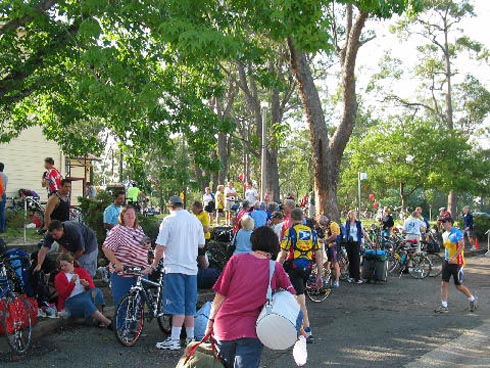 More riders waiting for the start.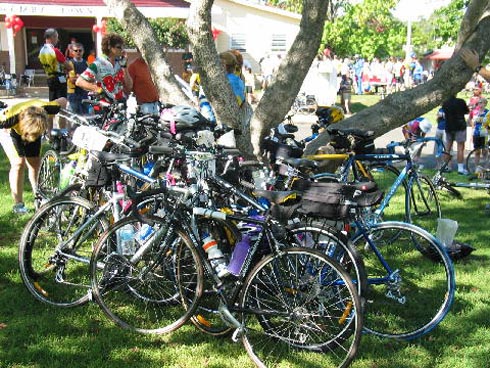 Mass of bikes.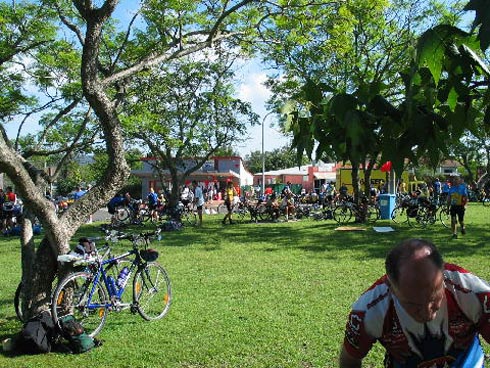 Riders loading luggage and waiting for the start.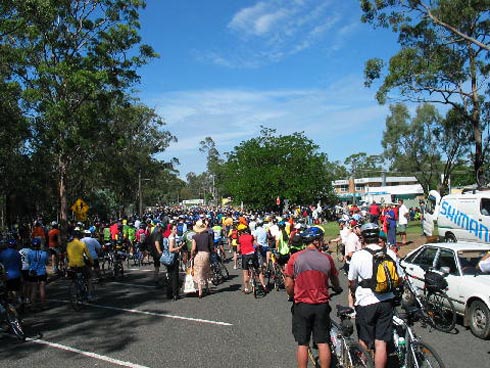 Riders ready to start, just before 11am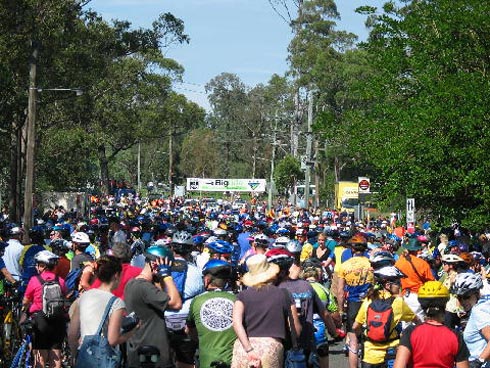 Another shot of the mass start.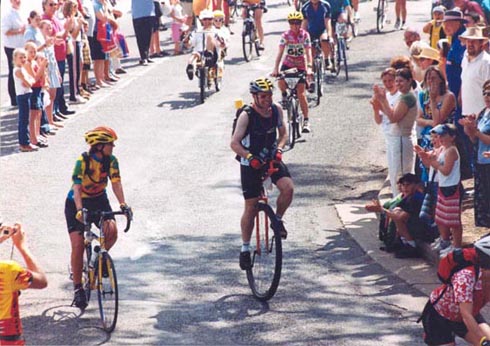 Picture of me going through the start, the crowd were really chearing me on.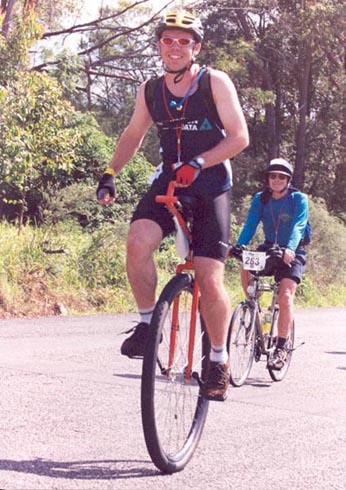 The Photographer didn't know what it was at first.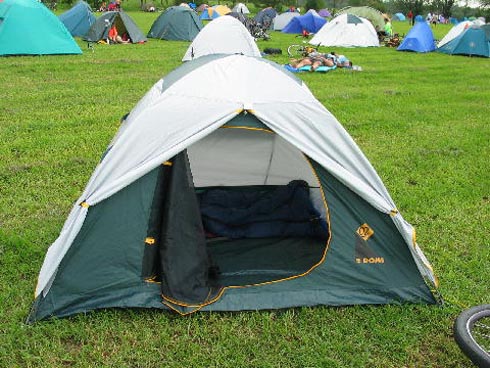 Home! or the next best thing.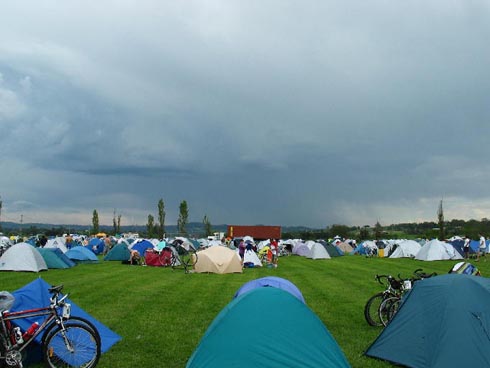 Incomming Storm, we caught the edge of this at about 6pm.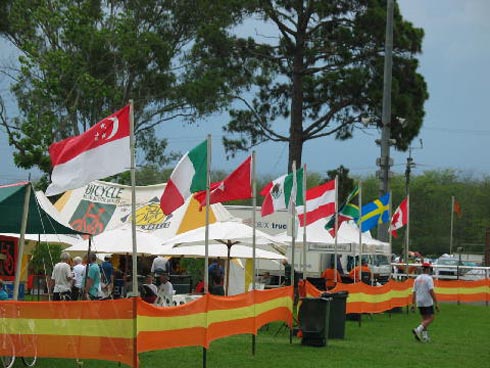 Flags beside the Ride Brasserie.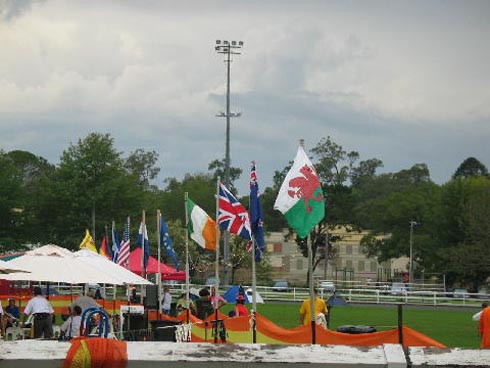 Flags on the other side of the Brasserie.