Day 3 - Monday, 17th March 2003 - Bowral to Bundanoon
Failure. After leaving at about 7:15am, I was spent after only 10km. Although managing 15km/hr average and handling downhills well, my legs were already giving warning signs and saddle soreness was still a problem.
I got a lift back to camp (with the police), leaving the unicycle with a volunteer asking for it to be collected by the Sag Wagon (The Sag Wagon follows the last cyclist and picks up those that can't go any further). I was hoping to borrow a bike from someone who wouldn't be riding that day. One of the Pegasus Mechanics was prepared to let me borrow his. Man was it sweeeeet (it deservers the extra 'e's). I really chewed up the k's. As I had to start again I had to cover the first 10km's again. I had no problems on the bike. I passed my first cyclist at about 12km's, the Sag Wagon was following me for a bit, but I flew past the stragglers. Up to Morning Tea I had probably seen only 20 or so cyclists. I made those 26kms in just over an hour. Despite the bike having a computer I didn't reset it, and I couldn't change the modes so I don't know the full statistics. It was then a further 16km to lunch, I was there at 11:30am, just over 2 hours since I left. I could see myself finishing the day by 1:30pm. I was taking breaks at each water point as I was enjoying the day and I had the time. Then, with about 8kms to go, the rear tyre exploded, it went off like a gunshot. I had a spare tube but the tyre itself needed to be replaced, I walked a few kilometres until I met the support crew. I got a new tyre and finished at about 2:30pm.
So where to from here. I don't believe I can do a full day on the uni, my plan at this stage is still to finish and ride the Uni on the last day, about 40km.
So, can this event be done by a unicycle? Yes, but not by me this year, maybe in a later year if I was a lot fitter and had the saddle endurance to match.
Will I come back next year? Yes, but on two wheels.
So what beat me this year, the hills on Day 2, there was too much climbing, plus, lack of saddle fitness, as soon as I started today, I knew I was going to have problems with it.
Images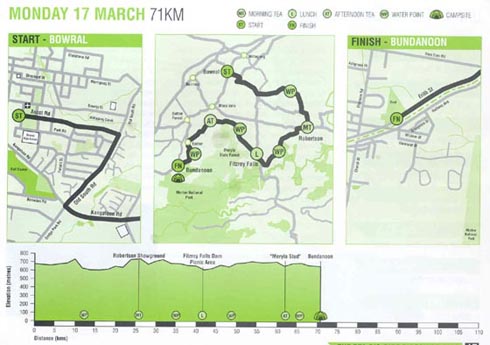 Map and Topographic information for Day 3.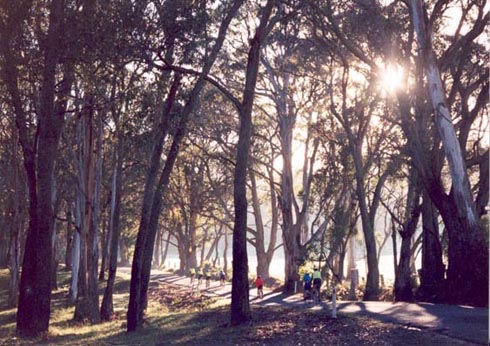 Riding through the trees, it was really peaceful doing this.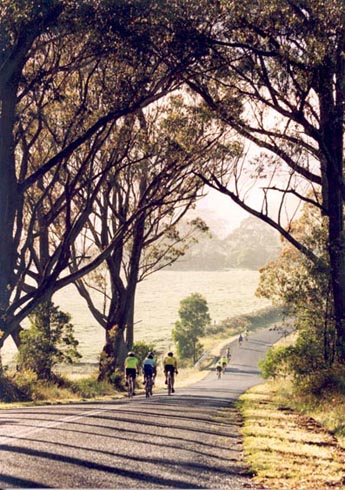 When I went through here, there was more mist, but it was still pleasant here.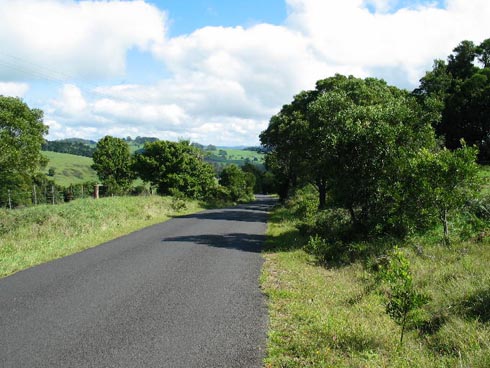 Hill before morning tea, I couldn't ride up this on the Road Bike.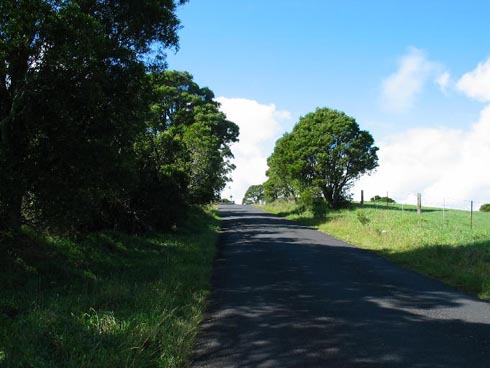 Do these hills ever end, this is continuing from previous picture.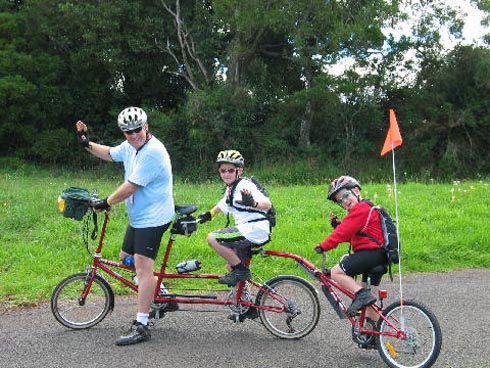 Three people, three wheels, maybe a special unicycle.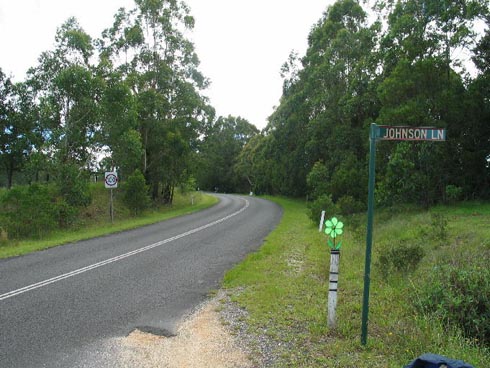 Despite the uphills, you get them back in the downhills.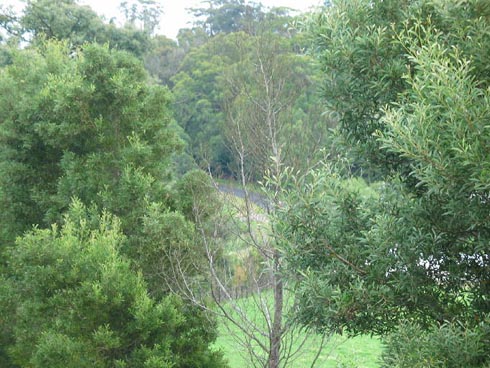 You can see the uphill section and riders ploughing up there.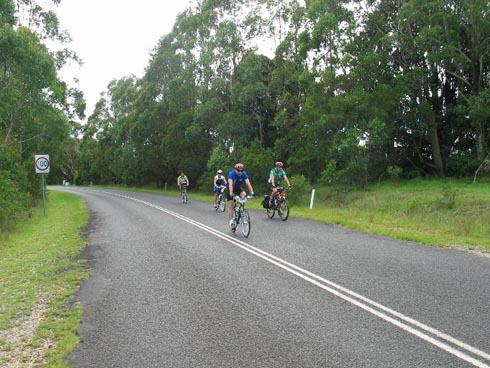 Other riders enjoying the downhill sections of the day.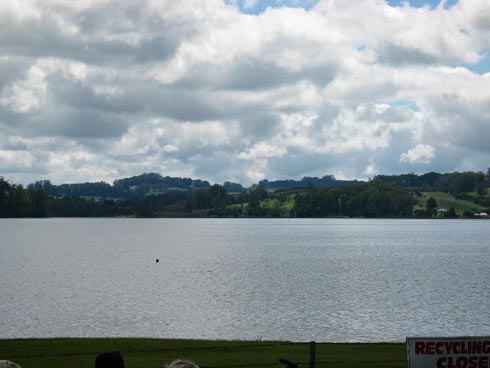 View across the Dam at Lunch.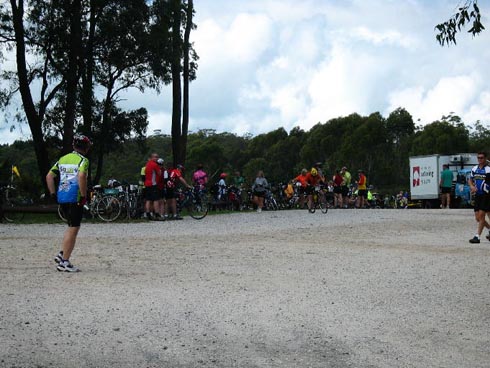 Riders enjoying the food, rest and view at Lunch.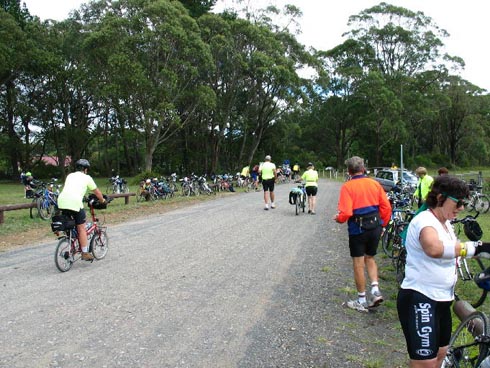 Bikes and Riders at Lunch.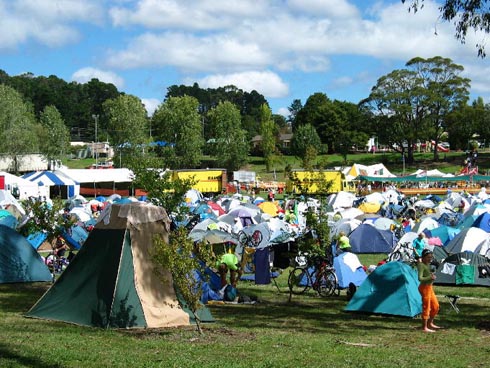 Tent City at Bundanoon.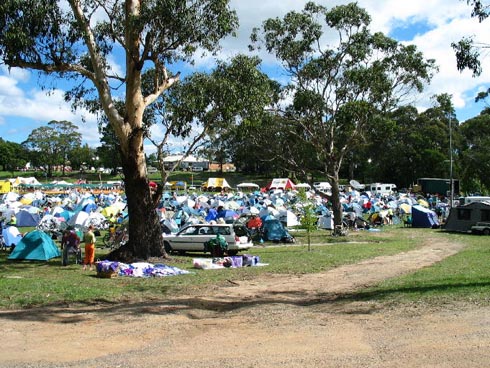 Another Angle on the Tent City.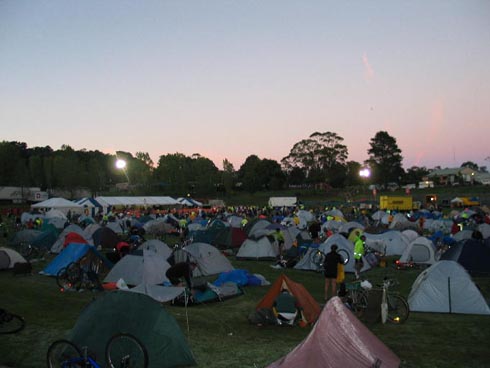 Tent City in the Evening.