Day 9 - Sunday, 23rd March 2003 - Harden to Cootamundra
Last Day. The route as normal opened at 7am, they wanted the faster riders to leave later today as there is a mass finish at 11am at Cootamundra. Considering the day was only 43kms I originally planned on using the Uni, however after a test ride the previous afternoon, and the topographic map showing uphill to morning tea, I made arrangements to change bikes at Morning Tea. I set off for the last time at about 7:10am, in thankfully warm conditions, at least compared to the last two starts. I had good fun chasing down and passing the riders ahead of me, I passed one couple and was told the next rider ahead of me was well and truly ahead. It was really enjoyable riding along country roads, first thing on a Sunday by yourself, the hills were undulating so the riding was interesting. I made Morning Tea (25kms) at 8am, and I was third in. I checked my computer and found I had a 25km average so far, not bad for an uphill section. I then waited at Morning Tea till 9am waiting to see if the Uni would show up. It didn't and not wanting to miss the Mass Finish I decided to keep going. I am glad that I did. There were some of the best downhills of the entire ride. I had 20kms to go and I expected it to take about an hour. I did it in half the time. I then hung around at the site of the mass finish until the Uni showed and then I joined all of the other unusual bikes at the front of the pack. I did the mass finish to the roaring of the Cootamundra Crowd, it was then a simple matter of getting back to Sydney. So at least I started and finished a Big Ride on a Unicycle, even if I didn't do all of the distance between. I leave the completion of a Big Ride by Unicycle as an exercise to the reader. Next Years ride is Gloucester to Sydney with a rest day in Newcastle.
| | |
| --- | --- |
| Distance | 42.44 km |
| Average | 27.90 km/hr |
| Time | 1:31:17 |
| Maximum | 73.60 km/hr |
Images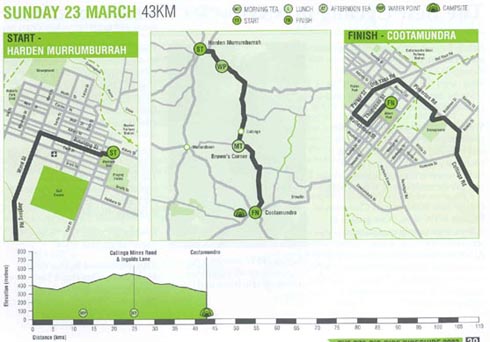 Map and Topographic information for Day 9.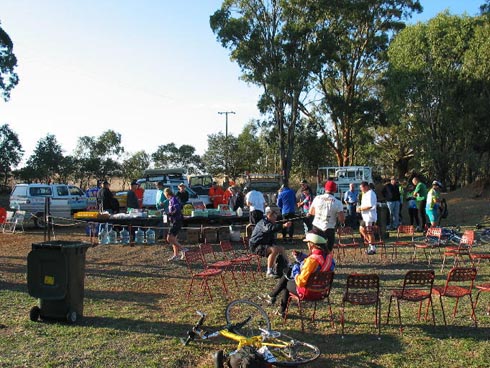 Riders enjoying a brief stop over, half way to Cootamundra.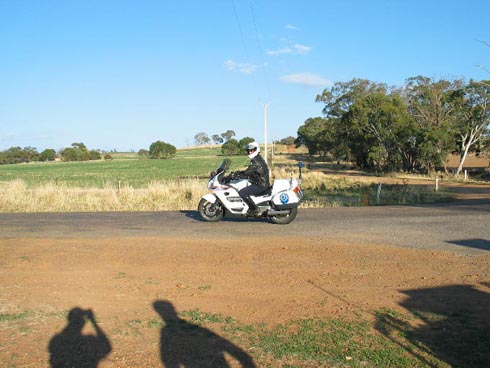 One of the Police Riders, there were 4 on the trip.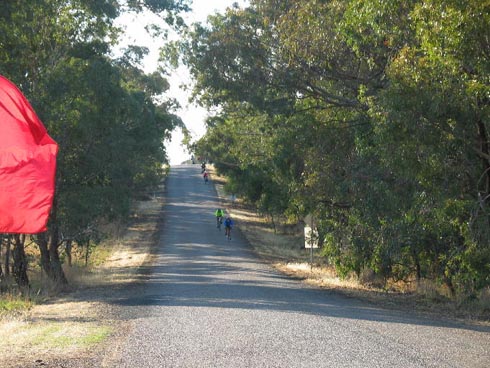 Riders comming into Morning Tea.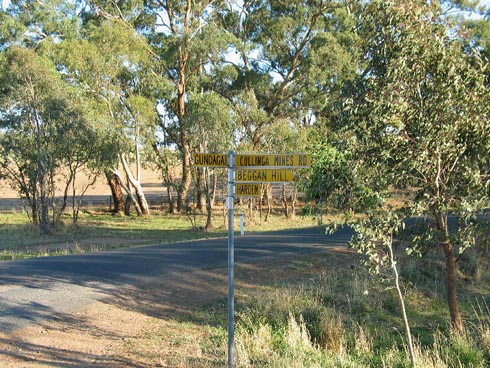 On the Road to, Gundagai...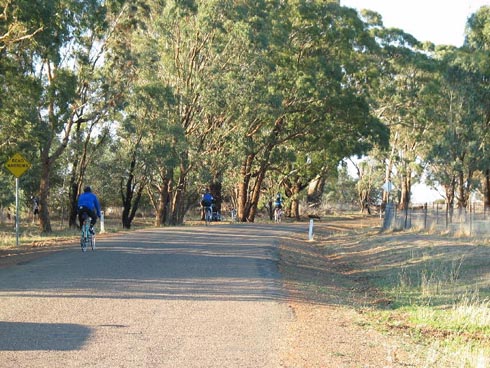 Only 20kms to the Finish, riders keen to get there.