Day 2 - Sunday, 21st March 2004 - Gloucester to Tuncurry
Despite the official start only being at 8am, I was still up at about 5:30am. This year, the route normally opens at 7:30am, so it gives me a bit more time each morning. Because of this I finished packing up the tent after breakfast.
There was a mass start at 8am, which I wanted to avoid as much as I could, basically because I hate riding through crowds of cyclists who are slower than me. I started hanging around at the start at about 7:15am with some other riders. The start got away at about 8am, and I quickly took the lead, more because I didn't want to hang around than anything else. I passed a few riders who had left early before I was passed myself. Today was expected to have some tough hills at the start, but I didn't find them to be much of a problem.
I skipped morning tea as I didn't want to stop and I was enjoying the ride. I was joined by John, who I met on CQ and we more or less rode together to lunch. I only stopped at lunch for about 10 minutes before setting out again. There was a short stretch along the Pacific Highway before we turned off for Tuncurry. It was all pretty flat after lunch so I was making good time. I again skipped Afternoon Tea as it was about 10kms from the finish so I decided to press on.
I ended up making camp at about 10:40am or so. I found out that I was the second rider through the gate, now I just need to keep I it up for the rest of the week. Unfortunately the luggage trucks hadn't arrived, and they only showed up at about noon, by this time there were about 100 riders through the gate so we were able to unload them quite quickly, I don't know what was harder, the ride or unloaded the trucks.
The country side was today was really nice, despite the drought it was very green and some of the views were brilliant. I heard from some riders that it rained on the way into lunch later on, made me glad that it had been through by that time.
| | |
| --- | --- |
| Distance | 72.92 km |
| Average | 29.23 km/hr |
| Time | 2:29:42 |
| Maximum | 59.20 km/hr |
Images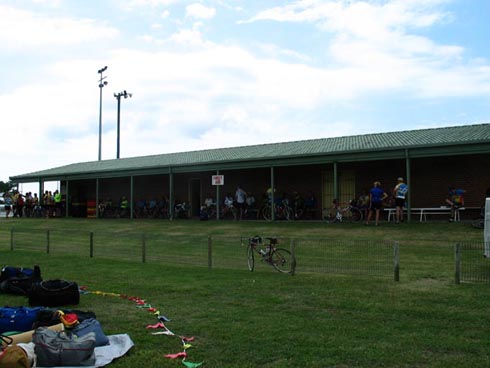 Because of the late luggage trucks, there were a lot of riders waiting for their bags to arrive.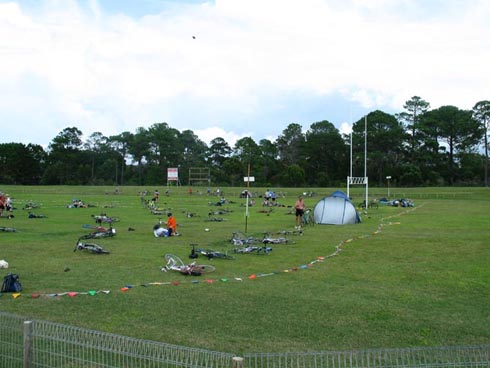 People claiming their camp sites by leaving their bikes where they want their tent to go.