Day 3 - Monday, 22nd March 2004 - Tuncurry to Bulahdelah
To borrow a quite from the Simpson's "Worst day ever".
It rained yesterday afternoon, last night and early this morning. When I got up at 5:30am, everyone hoped that the worst of it was over. As I had time before breakfast I struck the tent, but didn't put everything into bags. I had breakfast and I was washing up when the heavens open up again. I ran back to where I was camped and hurriedly finished packing everything up.
The rain stayed up for quite a while and people where packing up their tents in the rain. I left camp in the wet and then got help up for a supervised bridge crossing. I was in the first group across and then applied some pace. Rod, who was first in yesterday soon caught up with me and I was able to draft him. We soon got caught in a passing shower and there was a bit of a headwind. We passed Morning Tea without stopping, and about 5-10kms short of lunch we caught up to the police car that was the official lead. We hit lunch at about 8:45am and because of the weather, both at lunch and ahead, the route was in doubt, it wasn't long before I was shivering and I had to keep moving.
Luckily the police were going to take a group through, but at their pace. There were about 10-15 of us and once we were moving I was fine. It drizzled on us fairly consistently and this had made the roads reasonably wet. We were always kept to a slower pace downhills because of this. We stopped briefly at Afternoon Tea and a water stop to see if we could continue. We found out that they were stopping the riders at lunch and were going to bus them to town. We were 1 of only 2 groups that managed to ride out of lunch.
There were 2 climbs at the end of the ride today and both were challenging, but not too difficult. Once over those we had a short stint on the Pacific Highway again before getting to Bulahdelah. We unloaded the luggage trucks into a shed, while it really rained. There were a few spots that were undercover for camping, but I missed out because I wanted to see what was going to be organised. Subsequently I set up the tent on a hill out in the open.
I can only hope that the weather clears up a bit otherwise it is going to be a very miserable finish to the week. I don't mind riding in bad conditions, but it is nice to have a dry area to get to when it is all over. If it stays like this to the rest day in Newcastle, I think that they will lose half the field, I might be one of them. If it is raining tomorrow in Raymond Terrace, I will be looking pretty hard for a Hotel Room as well. My spirits are still pretty high, but whether they remain that way depends on how much more rain we see.
| | |
| --- | --- |
| Distance | 72.1 km |
| Average | 26.28 km/hr |
| Time | 2:44:39 |
| Maximum | 58.50 km/hr |
Images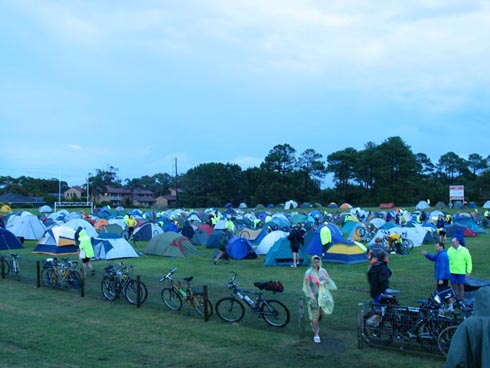 There were a lot of riders that had to pack their bags in the rain. Some of my gear got wet in this, but my tent was packed.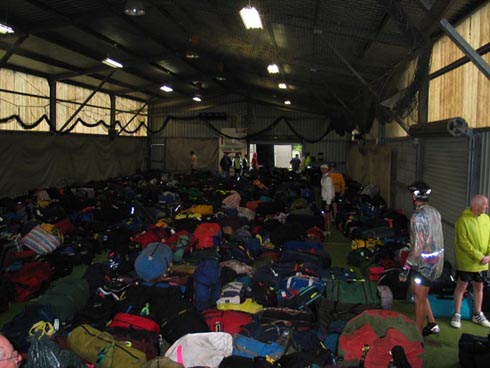 We could only just fit all of the bags in here, in some places the bags were two or three deep.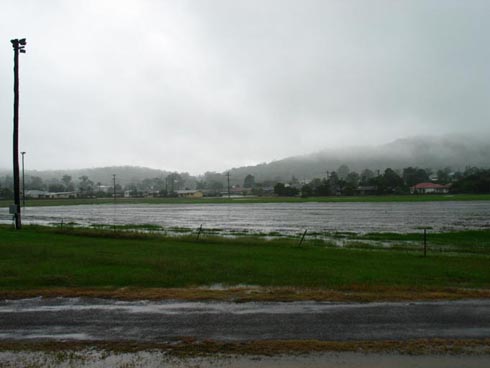 I am not sure where were were supposed to camp, but I think this was struck of the list pretty quickly.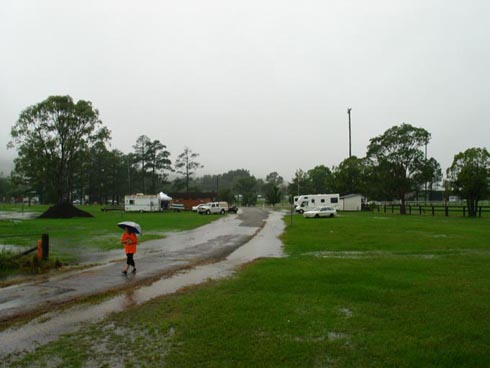 Another angle on the camp area, you can see the amout of rain that Bulahdelah got, we heard that it was about 360mm.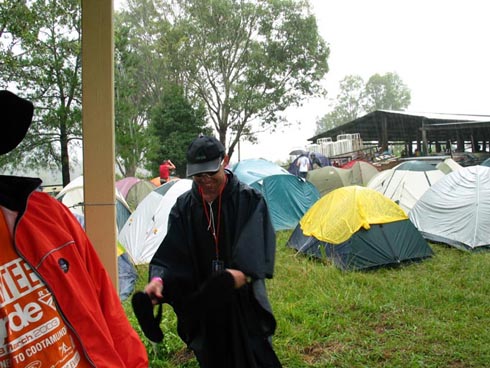 You can see my tent just behind me in the open. If I was quick enough I would have been in the sheds behind me. I wasn't the only one with a tent in the open.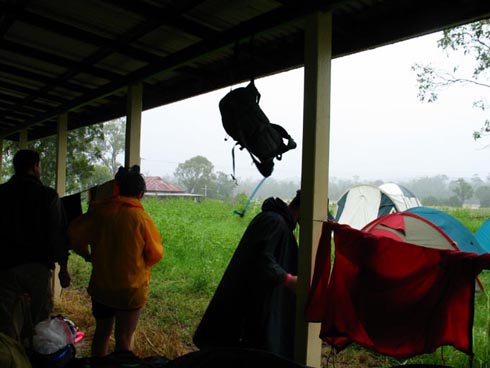 I had to hang my CamelBak up to try and dry it out, everything in the bag got wet, including the camera.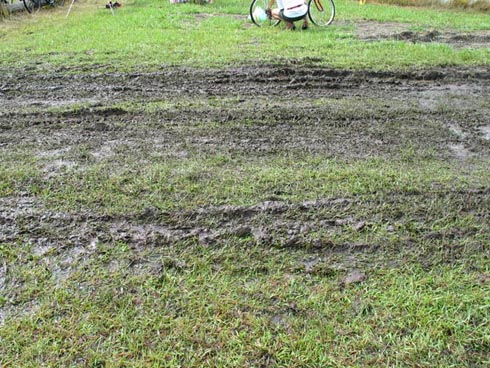 You can see the state of the ground here, the mud got everywhere, you couldn't walk anywhere without getting it over your shoes.