Day 4 - Tuesday, 23rd March 2004 - Bulahdelah to Raymond Terrace
After the excitement of yesterday, today was much more relaxed. The community of Bulahdelah deserve a special mention here, many residents put as many cyclists as they could up in garages, veranda's and even indoors. There is a Saw Mill at Bulahdelah and the owners of it let us use it for meals and for the Brassiere, this was fantastic as it allowed us to get a feed in a dry area.
We had a late breakfast as we were told last night that we were staying put in Bulahdelah, so we had an unofficial rest day. I wandered up to a hotel that was near the camp ground and I managed to secure a room for the evening, so I was able to dry stuff out during the day and overnight. I spoke to a few people and they were going to go for a ride so I joined them and about 12 of us took a very relaxed ride out to the ferry at Myall Lake. It was only about 17 kms each way but about 12 kms of that was unsealed and more than a few of us were on road bikes. We had lunch at a Cafe that was out there and then had another leisurely ride back.
There were a few rumours floating around as to what was going to happen for the rest of the ride. We were due in Raymond Terrace tonight and Newcastle the next (Wednesday). There were three options that where rumoured.
1) 140 kms tomorrow to Newcastle.
2) Bus to Newcastle
3) Bus to Raymond Terrace and then ride to Newcastle
At dinner we found out that it was option 3. Personally I wanted to do option 1 and I started looking around to see if it was possible. I spoke to Pegasus and it might be possible for them to help me out, but that remains to be seen. If I manage to do this, then it will be about 80 kms to Raymond Terrace, and then 71 kms for the distance to cover. This would be about 40 kms more than I have ever done in a day, but the day after is a rest day so I am keen to have a go. I am aware that this is against what the organises of the ride would want us to do. Lets see how it goes.
Images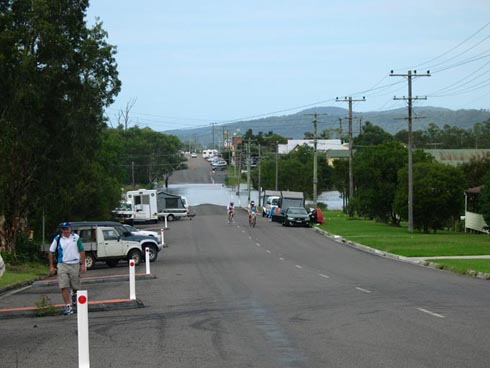 One of the roads in Bulahdelah was flooded, this meant we had a longer walk to the Pub.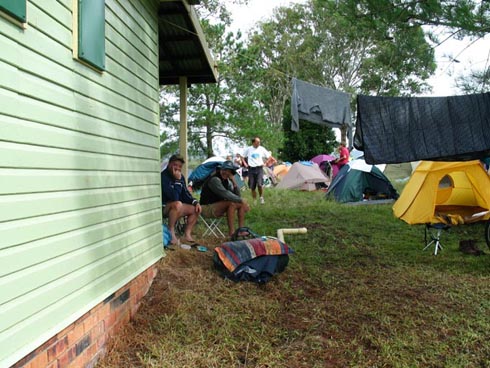 I had packed up by this stage and was moving to a hotel room, people were trying to dry anything out after yesterday.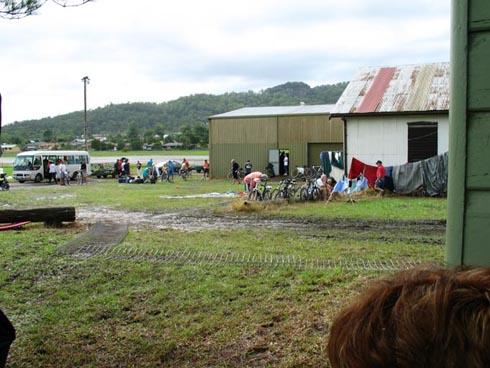 The ground was terrible after all of the rain, sections of fence were laid down to help us walk around.