Day 8 - Saturday, 27th March 2004 - Bateau Bay to Mt Penang
Last full day of riding, today was also going to have the biggest climb of the ride as well. The route started along the reverse of yesterdays finish, so it was flat going for a while. I knew that I was going to suffer today as I picked up a virus and didn't sleep the best last night. I was still coughing a bit this morning. I set off at 7:30 am again with a large pack that I soon left behind. I was OK along the flat, but luckily I joined into a decent pack and they were pushing a good pace. Another rider and I got dropped but we stayed together and assisted each other as best we could. I hit lunch soon after 8:30 am and there were a lot of riders not far behind me.
I hung around for about 20 minutes before setting off again. I knew that it would start to hurt after lunch as there was about 300m of climbing over about 10 kilometres in total, the other problem was that some of the roads were unsealed. At the start I had a few problems trying to get traction, but as long as I stayed in the saddle it wasn't too bad. Luckily the road did become sealed again but it was still pretty steep, I was only managing about 8 km/hr, I decided to get it over and done with and stood up in the pedals to finish it. I stopped for a breather at the top but I didn't have to walk any of it. I made Afternoon Tea and for once I stopped, my cough was bothering me when I stopped but I seemed OK on the bike.
I left Afternoon Tea and had about 10 kilometres to cover, the only problem was that I suddenly hit a roundabout, and there was no sign to indicate where to go. I went straight ahead but after about 200m, I saw another cyclist going the other way, I turned around and we realised that the roundabout was on the route, but we didn't know where to go. We pulled out the map and also met a copper and he didn't know, he did a bit of a drive around and managed to find the route. We made camp about 10 minutes later.
I was one of the very early riders in but that was more because those ahead went the wrong way. After complaining that yesterday was too flat today was the opposite, although the start wasn't anything special the day after lunch was brilliant, the climbs were hard but rewarding. Some of the views were pretty amazing looking into the Great Diving Range. We could also see north for a long way at times. There were some parts where I was riding along quiet roads, with Eucalyptus Forest on both sides, it was really nice hearing the bird calls around you as I road along. Compared to yesterday though, when the Sag Wagon got in at about 3pm, I think today that it will arrive a lot later.
| | |
| --- | --- |
| Distance | 76.93 km |
| Average | 28.01 km/hr |
| Time | 2:44:48 |
| Maximum | 56.00 km/hr |
Images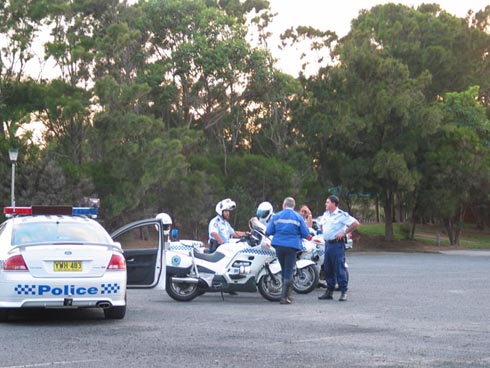 The Boys in Blue. There were 2 cars and 4 bikes on the trip this year. Apparently they want more next year.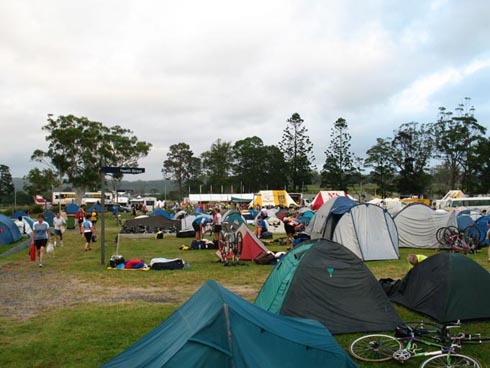 The camp ground was tiered, the signs did make it easier to find your tent though.