Day 9 - Sunday, 28th March 2004 - Mt Penang to Berowra
Last day of the 2004 Big Ride.
Last night at the briefing they announced next years ride, there had been a lot of rumours about it and all seemed to point the same way. Mount Kosciuszko to Sydney, so for the third year running the route is starting or finishing in Sydney. It is earlier next year, late Feburary, this should be fine in the Thredbo, but it is going to warm up as we approach Sydney. They did this ride in 1992, but they are going to go through different towns.
It was also announced at briefing that one of the riders had passed away on the route, we weren't given any details, I heard that he suffered a Heart Attack while climbing the big hill of the day. Despite the downer, we still partied for the final night party.
Daylight Savings stopped over night, so we had an extra hours sleep that was much appreciated. Breakfast was in daylight for once which was a welcome change.
Due to a shower overnight, I packed the tent up wet, for the last time this ride. The route was only going to open at 7:30am, despite the extra hour of sunshine. I went to the start area, and a lot of riders were already leaving. In the end I left early.
Today was expected to be about 44 kilometres with two climbs of about 5 kilometres each, I had done the second ride with Renegade before so I knew what to expect, the first looked very similar. The route basically followed the Old Pacific Highway, this was a very good ride, the route was quiet and most of the traffic was weekend Motorcyclists. The route was heavily forested and very beautiful riding. There were some spectacular views as well. Both climbs were very manageable for me despite the previous days of riding and the virus I picked up, I really felt good riding them. I made a difficult decision not to stop at Morning Tea, as it was about 10 kilometres or less to the end. I got to the top of the climb and kept going, I had done this a few times but I actually noticed the view, normally I am staring at the back of a wheel.
I finished at about 8:50am, well up in the field again. There was no Mass Finish so people just dribbled in. I had to wait for the Sydney Busses until about 2 pm or so. Then it was another Taxi trip back to home, with another year of memories. I have another great set of tan lines from cycling clothes and sunnies. This year was a real mix of cycling, we had 3 days of non-riding (only 2 were planned), we got rained out of the route, rained in at Bulahdelah, 32 degree days along flat routes. Big hills which meant awesome climbing. So despite feeling crook now and my legs are aching from too much time on the bike, I can't see any reason not to do next years, I hope to see you there.
| | |
| --- | --- |
| Distance | 46.71 km |
| Average | 27.23 km/hr |
| Time | 1:42:57 |
| Maximum | 60.50 km/hr |
Total
| | |
| --- | --- |
| Distance | 489.95 km |
| Average | 28.18 km/hr |
| Time | 17:23:03 |
| Maximum | 60.80 km/hr |
Images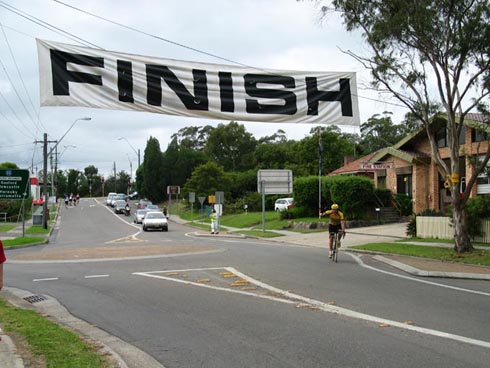 Rod finishing. Rod was first in on Day 2, and I drafted him to lunch on Day 3.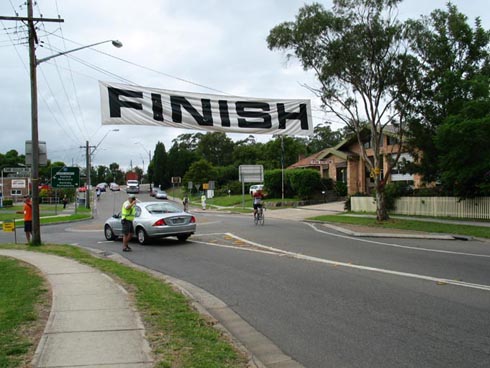 John finishing, I met John on Cycle Queensland last year, I didn't expect to see him on the NSW Ride.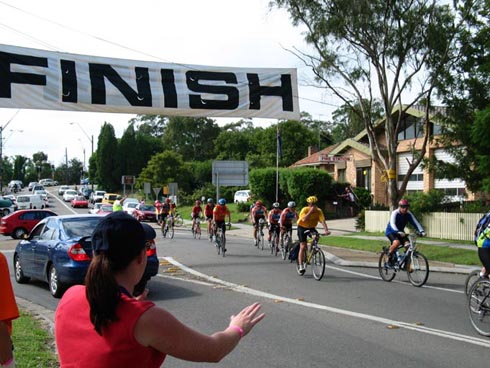 A large group of riders crossing the finish line. All probably glad that they made it.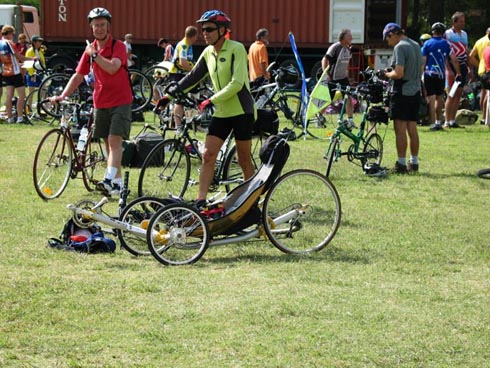 Not everyone rode a normal bike on this ride, but no one was on a Unicycle.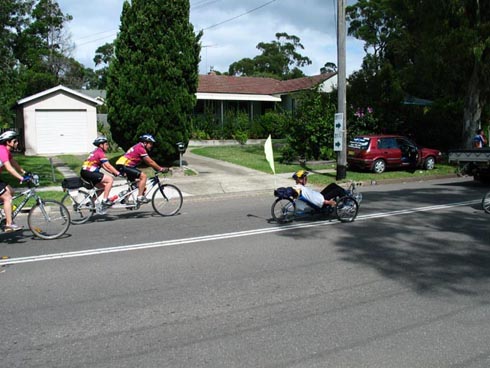 Not every day that you can see both a recumbrant and a tandem next to each other.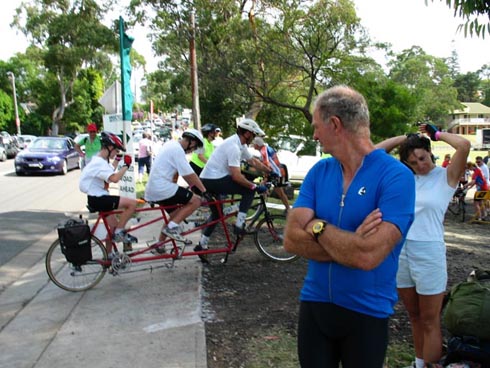 The Goodies made an appearance this year.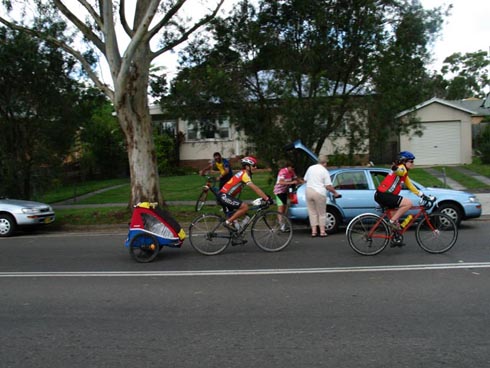 This is one way to take the kids on a Holiday, I should imagine that this would have been hard work up some of the hills.