Day 0 - Friday, 18th February 2005 - Sydney to Jindabyne
Today was the day before the ride, in the past I have taken this day off as it is a good chance to get organised. This time I instead used it to travel to Jindabyne a day early. Although this option did mean an early start, it did beat the option of the 11pm bus which was to travel all night to get to Jindabyne for registration tomorrow morning. my plan was to fly to Canberra and then catch a bus to Jindabyne, I have a hotel room (and breakfast for tomorrow) tonight. All went as I had hoped and I wasn't the only cyclist on the flight, or the only on waiting for the bus. When the bus arrived there were already a few cyclists on it who had caught it in Canberra City. I landed in Jindabyne at about 11:10am, and although the hotel was a bit further than I had thought, it was still close enough to walk.
The room wasn't ready so I just dumped my bags and bike and went looking for some lunch. While waiting for lunch I checked my phone messages only to find two calls regarding a system at work (see Tony, it doesn't only crash when you are on leave). After lunch the room was ready so I moved in. I wanted to take the bike out for a ride so I unpacked it an went looking for a way to inflate the tyres. The first bike store couldn't really help but the second could, unfortunately I managed to puncture both tubes in the process of inflating them. I replaced both of them but I now strongly suspect what is causing so many flats, I will look at replacing the rim tape sometime this week if I can. So with no spare tubes on me I set of for my ride. My target was Charlotte Pass, so I would do tomorrows ride backwards and forwards today. This was going to involve about 20km of hill out of an 80km ride, most of that was a single climb.
A wind had also picked up and it was a fairly strong South Westerly, which meant I was going to be riding more or less straight into it for much of the ride. The hill was impressive, while there were a few false flats and the odd bit of downhill it was pretty relentless, especially with a wind to deal with as well. There were a few good downhills on the way as well, but the headwind was affecting me on those as well. In the end I made Charlotte Pass in about 2 hours, it is only about 41 kms, about the same distance to Waterfall which I can do in about 1 hour 20 mins on a good day. I took a few pictures and I then rolled out, it was a lot easier going away from the Pass than travelling towards it. Although there were a few uphills they didn't bother me as much. On one of the uphills I had to stop to let some wildlife across the road, a Yellow Bellied Black Snake, he decided to stop in the middle so I managed to get a good picture of him. When I rolled on he flattened out and turned towards me, but I was already moving fast enough not to be threatened. The main downhill on tomorrows route is long, there is no other word to describe it, I was pushing 60 km/hr for most of it maxing at over 70km/hr, once you leave the park there is still the odd uphill to slow you down into Jindabyne. Tomorrow is going to be ruled by the tandems nonetheless. Once back my first priority was the pub as I had run out of water on the descent. After that it was dinner and then preparing for check in tomorrow which means repacking the bike, at least I don't have a tent to pack up in the morning.
| | |
| --- | --- |
| Distance | 82.24 km |
| Average | 25.76 km/hr |
| Time | 3:11:35 |
| Maximum | 73.80 km/hr |
Images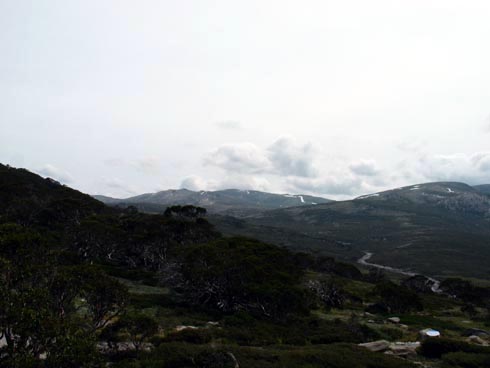 The view of Kosciuszko from Charlotte Pass, there is snow on the mountains as well.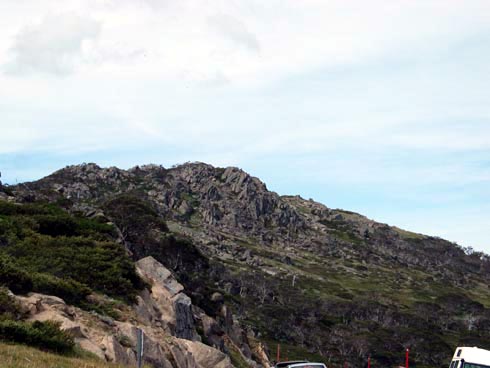 Some of the rock formations in Charlotte Pass.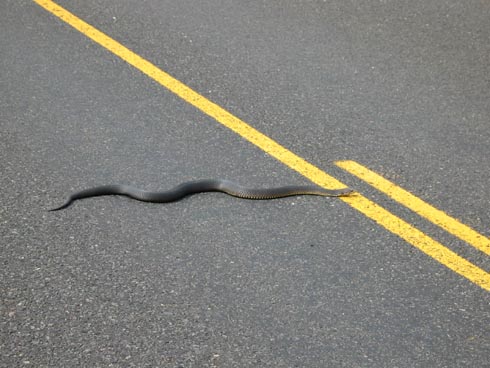 The local wildlife that crossed my path on the way down the mountain.