Day 1 - Saturday, 19th February 2005 - Charlotte Pass to Jindabyne
Today was an early start. I was up at about 5:30am for my last decent shower for the next week. I then went and checked in. I didn't check my bags in, I just wanted all of my official ride gear. I then repacked the bike and took it down, I was very careful of anything that I needed to put the bike back together. As part of my accommodation I had breakfast as well, I met a few other riders at breakfast and we had a good chat. After breakfast I finished packing and then checked out. I went over to weigh in. I managed to get away with a human scale, one of the vollies just lifted my bags and determined that they were fine. From there I jumped on a bus to get me to Charlotte Pass, the only problem was that the bus got a temperature warning as it was working very hard. Despite that we managed to get there.
Once off I had to find the bike and reassemble it. Luckily I had everything I needed and the bike went back together with no issues. From there we had to ride up to Charlotte Pass as we had assembled in Charlotte Village, the hill up to the road looked a lot worse than it was and I had no issues, once at Charlottes it was about a 90min wait until the start. I passed the time by talking to other riders. Once we started I was already near the front and so I was soon near the lead and chasing down the front runners. I soon passed them and was in the lead, I powered up the few short hills and I kept putting time into the other riders. There were two reasonable climbs before lunch, I found them a lot easier than yesterday. I spoke to some of the motorcycle police as well and they mentioned that I was really moving away. I pulled into lunch and it was about 2-3 minutes before someone else pulled in. I only spent about 5 mins at lunch, I saw a few riders go past without stopping.
I wanted to try and finish first today, so I left lunch and took off down the hill. I passed one on the slope but I didn't see the others. The downhill was very fast, the road was good and the corners very gentle so there were no issues. I saw the lead cyclists on the last major hill but I wasn't able to catch them until the out skirts of Jindabyne, I went past them but they all jumped on my wheel. I attacked on one of the short uphills but it was sufficient to shake them. At the end I was able to lose them and so I rolled into camp first. I then had to find my bags which was interesting as they could have been anywhere in the rows. Once found I setup, showered and went into town for a few drinks. So far it has been good, but that is only with 1 day half down.
| | |
| --- | --- |
| Distance | 41.16 km |
| Average | 38.49 km/hr |
| Time | 1:04:10 |
| Maximum | 72.00 km/hr |
Images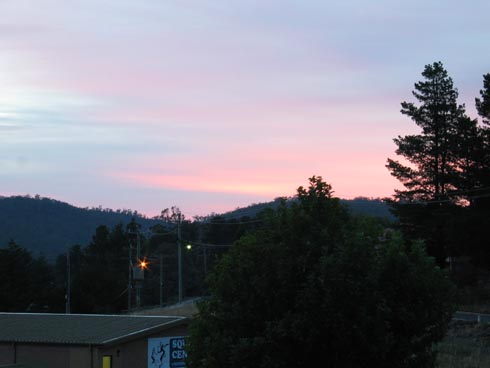 Dawn at Jindabyne.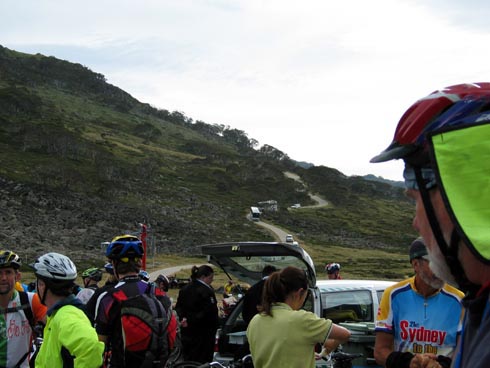 The road back up the mountain, this hill was worse than it looks.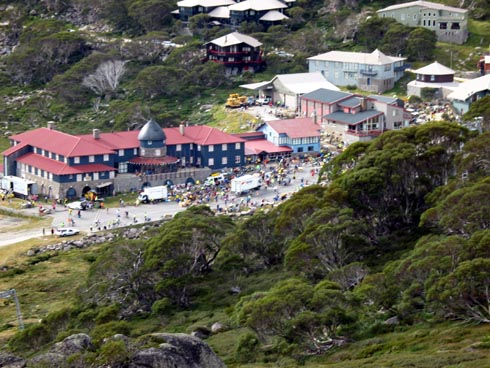 The Ants nest of Charlotte Pass Village.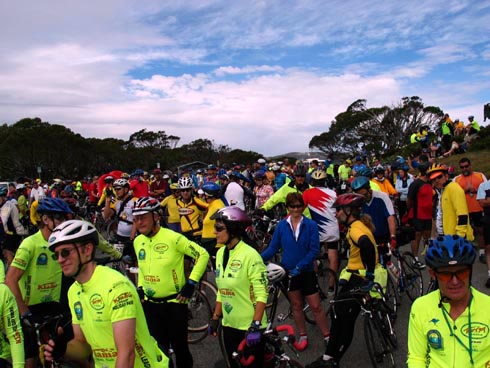 The Mass Start Photo.