Day 2 - Sunday, 20th February 2005 - Jindabyne to Dalgety
Last night at Dinner I ran into Tom and Kerrie who I normally see on my Saturday morning rides. Tom was in doubt for the ride as he had hurt his back over the Christmas Break. The last I had heard they weren't coming, so it was really good to see them out here. Last night as well we got the promised storm, the good news was that the new tent is waterproof, but it basically drizzled throughout the night so breakfast and pack up was in the wet. As it was only a light rain it wasn't too bad.
I was packed and ready to go by 7am, which was a bit of a problem as the route didn't open until 7:30am. I hung around and chatted to the some of the people I knew while I waited. Then without any fanfare they let us go. I started down the hill and we completely missed the right hand turn at the bottom. Several others did as well, including the motorcycle policeman. I pulled on the brakes, but the copper turned in front of me, I managed to avoid him by a hairs breadth, but it was a near thing. We then turned out of Jindabyne and over the dam wall. There was construction work on the wall so we were held up again, once over the wall there was a good uphill that split us up again and I found myself riding solo. There were some scenic shots today, but because of the weather I didn't carry the camera so I was unable to record any. I passed a water point and I had a low average, I decided to do something about it and I really started pushing the cranks around. I shipped past morning tea and started pushing on to lunch. I met another cyclist along the way but he was doing a slower pace and so I only stayed with him for about 5 mins.
I ended up as first into lunch but I decided to hang around for a few other cyclists so I had someone to ride with. I ended up leaving with Rod who I had met on last years ride and ridden with on a few days. There was only about 18km left to cover, so we set a steady pace that would allow us to get there in a good time. We passed one other cyclist who had left lunch ahead of us and so then there were three of us doing a good clip. A few kilometres out of Dalgety there was a bridge that had a few cranks that potentially could eat bike wheels, it wasn't as bad as they made it out to be, but I still had to be careful. After that it was just an easy roll into town. Dalgety has a population of about 60, so it is going to be an interesting night.
I had to help unpack the luggage truck as my bags were right at the front but once done I practically had the pick of the camping areas. I have a bit of cover tonight and hopefully the rain that has plagued the ride today will clear overnight so we can have a good day tomorrow.
| | |
| --- | --- |
| Distance | 72.72 km |
| Average | 30.30 km/hr |
| Time | 2:23:59 |
| Maximum | 60.30 km/hr |
Images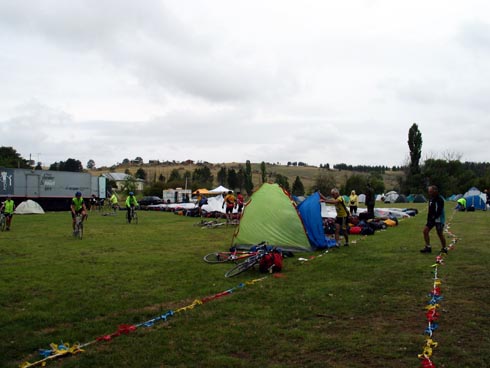 The early campsite, before too many cyclists had set up.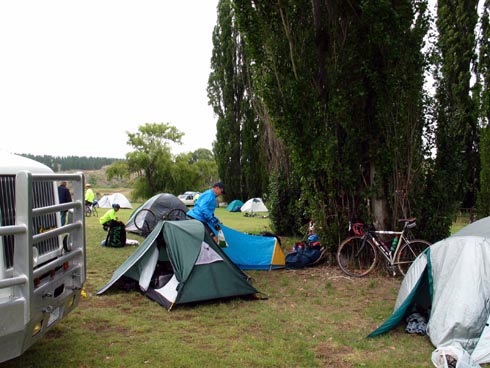 My campsite for the night, luckilly the luggage truck was able to avoid me.