Day 5 - Wednesday, 23rd February 2005 - Queanbeyan Rest Day
Last night was the rest day party. For once I was able to actually make an appearance, in the past I have been kept away by sickness, being tied or staying with my parents. The theme last night was R, T or A, similar to the C or Q party that Cycle Queensland have. I ended up going as Apathy, it was the best I could think of while still doing nothing at all. Some people did make an effort and there were some good ideas and originality.
It makes for a better nights sleep when there isn't as much pressure to get up and I woke up at about 6:30am. Breakfast was at 7am and was the traditional French Toast. After breakfast I read my book until about 8am and then got on the bike for a ride into Canberra. My plan for the day was to ride up Black Mountain and Mount Ainslie, these are known in Canberra as being good hills to climb. I knew roughly how to get there so I just got close enough just to follow signs. As I turned onto Black Mountain I saw two other cyclists turn on to it as well, they were both wearing Turramurra Cycling gear, I was able to pass both of them near the bottom and although one did attack I just held my rhythm and ended up beating him to the top. I quickly found that this was a steep hill, the road twists and turns and maintains a fairly steep gradient, once at the top I took a few pictures and chatted to the other two cyclists. One was on the ride and they had already climbed Mount Ainslie. The down hill from the top of Black Mountain was interesting, there are quite a few sharp corners and it is steep. The other problem is that the hill ends right on a T intersection, there is nowhere other that the hill to shed speed. Subsequently I basically rode the brakes all the way down.
From there I headed over to challenge Mount Ainslie, the road up wasn't as winding but it was as steep or steeper in places. Because it didn't bend as much it was more destroying mentally as you could see the hill a long way ahead. The view of Canberra from the top did make it worth it. Just before I left a bus load of cyclists appeared, some were quite impressed that I had made the climb. The downhill was very fast, a sign at the top warned of a 10% gradient, and having just climbed it I think it was accurate. Because the hill eased up at the end I was much more prepared to let the bike roll, but I still eased on the brakes at times. From there I rode into the City and had a Danish and Smoothie before riding back to camp.
After the required shower I walked into town and had lunch at a respectable hour. I had to have a nap in the afternoon but I am now feeling very refreshed and ready for the next days of cycling. It was interesting that I hadn't missed riding in suburbia over the past few days, considering that we started in Jindabyne, then moved to Dalgety (pop 80) and then Bredbo (pop 460) even Queanbeyan feels huge. I hope they have another country town route next year as well.
| | |
| --- | --- |
| Distance | 56.41 km |
| Average | 27.94 km/hr |
| Time | 2:01:09 |
| Maximum | 67.60 km/hr |
Images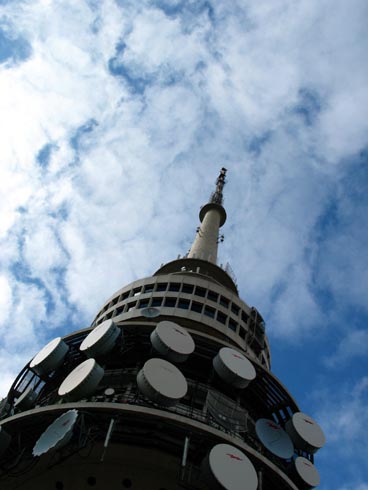 Black Mountain Tower, this is visable from most of Canberra.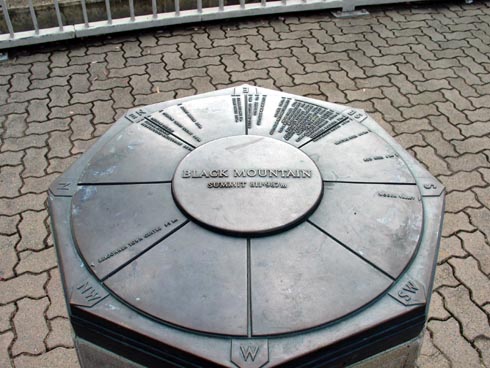 The summit of Black Mountain, Elevation 811.987m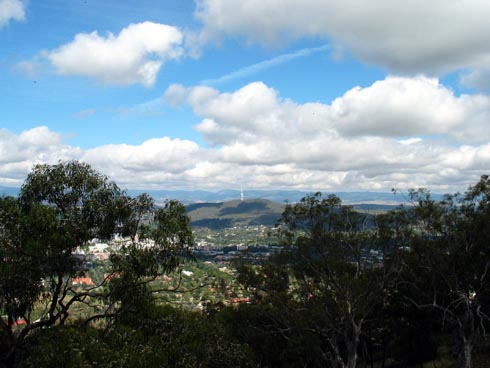 The view of Black Mountain from Mount Ainslie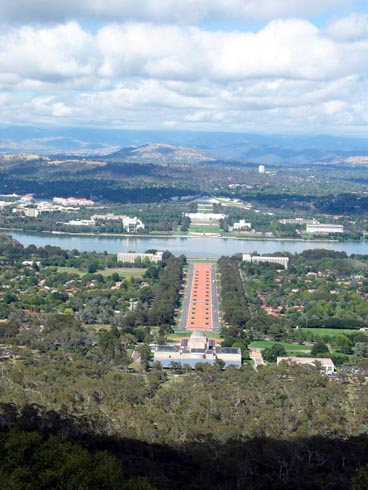 Looking towards Parliment House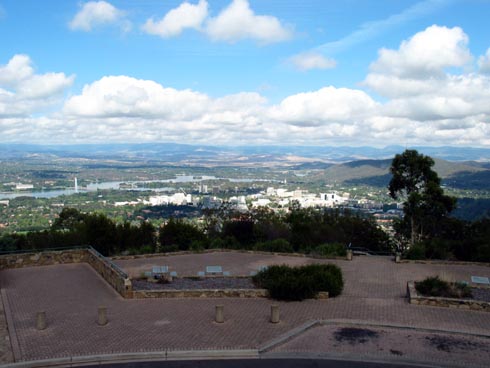 The general view of Canberra City and Lake Burley Griffin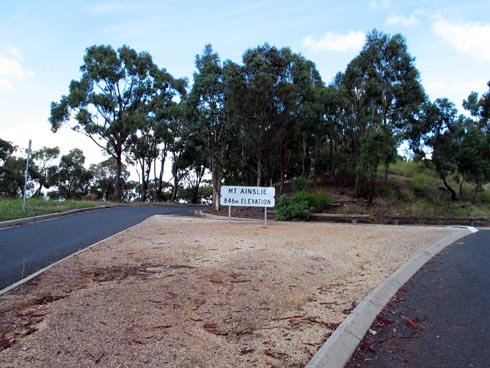 Another Elevation Sign, Mount Ainslie 846m