Day 6 - Thursday, 24th February 2005 - Queanbeyan to Gunning
Last night was the Red Faces part of the ride, as is often the case with something like this there were a real variation in the acts, one woman recited a Spoonerised version of Cinderella which was very clever. One of the guys who assembles the Tom and Bens Food Tent sang Neil Diamonds Sweet Caroline which was also great. After the riders had their show some of the same singers who performed at the Rest Day Party the previous night. Again I was impressed with them.
This morning the route was going to open at 7am as there were some road works to negotiate before morning tea. I was able to be packed and ready before the route opened so I could roll out with the lead bunch. This morning there was another fast cyclist who I worked with before the road works. We were delayed at them while the Police and RTA sorted out how they were going to get us through safely. The road surface was hard packed dirt, so it was a bit shaky but a lot easier than the dirt section on Tuesday. After that I was with Jim, who was one of the Pegasus Crew who I rode with to Raymond Terrace last year and Scott, who I had worked with to the Road Works. We all started working really well to together and subsequently we got to morning tea very quickly. Jim had to stop there as that was where he was stationed for the day, but Scott and I kept going.
We were on a small section of the 2003 route at this stage so I recognised some of the road. Scott and I were still working together so while it didn't give me a huge chance to admire the scenery or to photograph it I still saw enough to appreciate it. The area around here is really hilly, you don't realise just how flat somewhere like Sydney is until you compare it to somewhere like here. Scott and I turned into lunch at about 9am, today it was at Dick Smiths property at Gundaroo, it was a bit of a way off the route but it was a really nice area. After lunch Scott and I joined up with a couple who were also fast riders. Once out of town we started working together, the only problem was that we hit a hill not far out of lunch and it split us up, Scott was ahead, then me with the other couple behind. I tried to catch Scott to get him to ease up so we could reform, but I wasn't strong enough.
We both passed by Afternoon Tea and although I thought I was not going to beat him into camp. With about 15-20km to go Scott slowed down as he had a slow front flat, he sat on my wheel for a bit hoping that he could make it to camp but it wasn't to be and he decided to stop and fix it. I passed a Vollie with about 15km to go and I was told there were three riders ahead of me, I was surprised by this as I didn't know who it could be. I espied them on a hill ahead of me and I again hoped to catch them. I passed them at the top of the hill as they had stopped at the peak. I guessed that they had left camp early as I didn't recognise them as the usual suspects who were early into camp. From there it was only a short spin into town.
I rolled into camp and there was nothing here, I waited until some others showed up and we went into town to the Cafe. As the Scones were just coming out of the oven it was hard to say no. We chatted to a local from Gundaroo while there as we waited for the luggage trucks. Even when they did roll in I hung around and waited as I knew that other people could help unload them. Later in the afternoon I went to a talk by a local writer who had written a book on the Hume Highway that was very interesting, he also talked in general about good writing. All up today was a really good fun day.
| | |
| --- | --- |
| Distance | 70.83 km |
| Average | 34.15 km/hr |
| Time | 2:04:26 |
| Maximum | 59.30 km/hr |
Images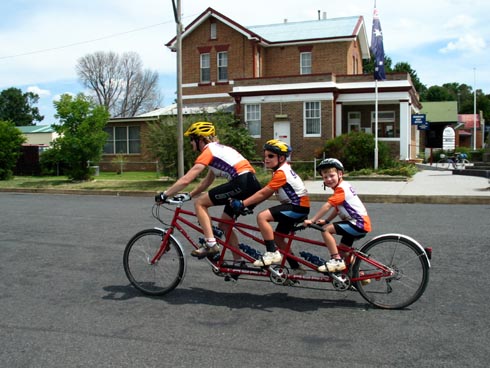 The only Triple Tandem on the ride, Dad with his two sons.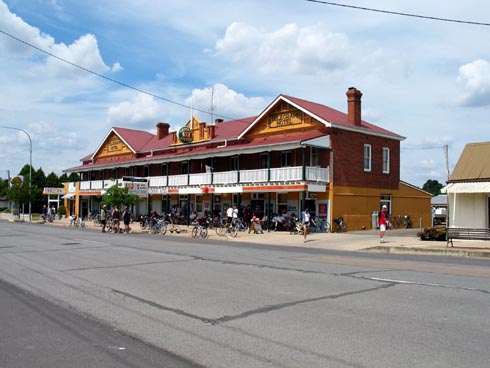 Another Pub taken over by Cyclists.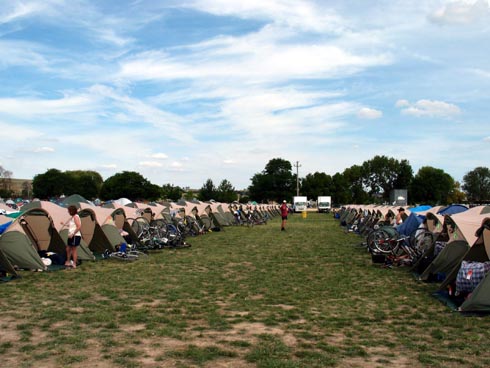 This was the deluxe camping. Often refered to as the Housing Commision.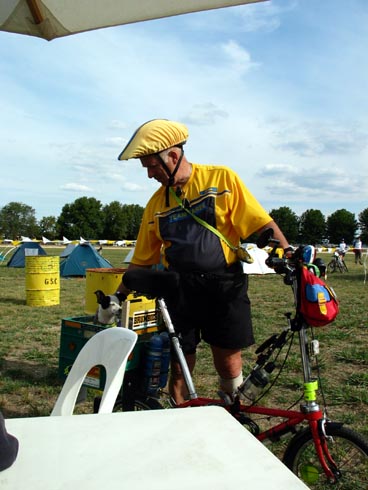 This guy rode with his dog on the ride, the dog was quite content to ride in the back box.