Day 9 - Sunday, 27th February 2005 - Robertson to Kiama
The last day of another Big Ride. At least the good news is that there is another one in just over 12 months, next year they are starting right down south in Holbrook and heading north through lots of small country towns again. Looks like they listened to the responses last year and the general feedback from this year. The weather didn't improve at all last night and it was often drizzling, not enough to get you really wet, but enough to keep everything damp and to annoy you. At last nights briefing they also told us how they were going to get us down Jamberoo Pass, the route would be open at 8am and close at 8:30am, at the top of the Pass, they would group us into 250 rider bunches and take us down. Because I knew that some people would not descend well I wanted to be near the front.
I still awoke at my usual time but took my time packing up, it wasn't raining in the morning but the tent was still pretty wet. Once packed I went to the front gate at about 7:20am so I would be near the front. I chatted to some of the vollies and other cyclists while we waited for 8am. I was wearing my arm warmers this morning as it was quite cool, I had originally packed them for Charlotte Pass in case of bad weather there, instead I only used them on the last day. We rolled out pretty much on time, but this stage nearly everyone was ready to leave so it was another mass start. Once away I pulled to the front out of Robertson, we turned off onto the Jamberoo Rd, this road was closed to all traffic for us, so it made for easy riding. I was chatting to the motorcycle Policeman while I was riding as there was nothing to strenuous on the way to the top of the pass. I made it to the top after about 30 mins of riding through eucalypt forest which was really pretty, the cloud again was low, but it was no where near as bad as yesterday.
It didn't take long for the usual suspects to roll in behind me. We had a bit of a wait before we had the required 250 to get underway. The policeman who lead our group down was prepared to let us pretty much take our own pace on the descent. Two guys on Mountain Bikes flew past me and I let them go as I wanted to make it down in one piece. There was no traffic coming up the pass (another road closure) so it allowed us to use the whole road around the corners. Some of the road was pretty narrow, and when you combine that with a steep hill, sharp corners and a slightly wet road it makes for a hairy descent. Although it was only about 6km long my hands were really sore at the end because I was nearly on the brakes all the way down.
Once at the bottom we passed through Jamberoo and kept going towards Kiama. There were a few small hills and although they weren't hard the previous 9 days of cycling were making themselves known. At this point we were back in green areas, compared to the land we started in which was very dry. I was back in the lead at this point so I had my police escort again. There was one last hill to conquer before getting to Kiama and then I had to turn into the marshalling area for the mass finish, it was up a slight climb and I tried sprinting the motorcycle policeman off for King of the Mountain Points, I knew it was futile but it was a bit of fun at the end.
We had about 90 mins to burn before the mass finish which was again passed by talking. At 11am we left for our final leg through Kiama, because of the closeness of all the other cyclists it was a slow pace and careful watching of other riders. Once in the finish area I had to grab a bike box, my bags and get home. At this point it shows that it was worthwhile all my helping on the luggage trucks, my bags were together to one side. I boxed the bike and then went to grab a bite to eat, the busses weren't due to leave before 1pm so there was a bit of time around.
Once back in Sydney I had to get home, I carried my bags to George Street to get a Taxi as opposed to last years effort to try and call for one. So, that concludes another Big Ride, of the three I have done, this has been the best, despite the weather it was great fun. It feels like another world on these rides, you can completely detach from reality, I don't know what happened in the world over the last week, even what happened yesterday felt like an age ago let alone the start last week. I think that this year they had a really great route over some fantastic roads with some beautiful little towns. Having survived the rain last year and this year I now know that although the weather affects the ride, it is by no means the be all and end all of it. So next year is going to be a blast.
| | |
| --- | --- |
| Distance | 36.1 km |
| Average | 33.37 km/hr |
| Time | 1:04:55 |
| Maximum | 60.90 km/hr |
Total
| | |
| --- | --- |
| Distance | 573.53 km |
| Average | 31.80 km/hr |
| Time | 18:01:48 |
| Maximum | 72.00 km/hr |
Total + Extra Riding
| | |
| --- | --- |
| Distance | 712.18 km |
| Average | 30.64 km/hr |
| Time | 23:14:32 |
| Maximum | 73.80 km/hr |
Images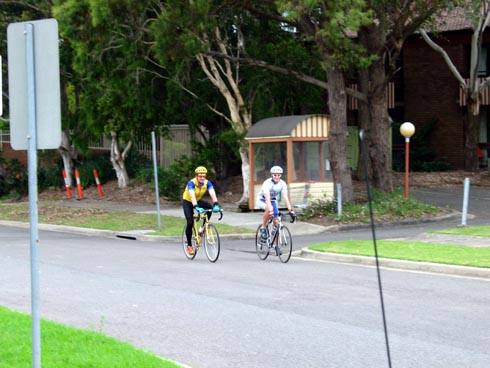 Two cyclists rolling to the marshalling area.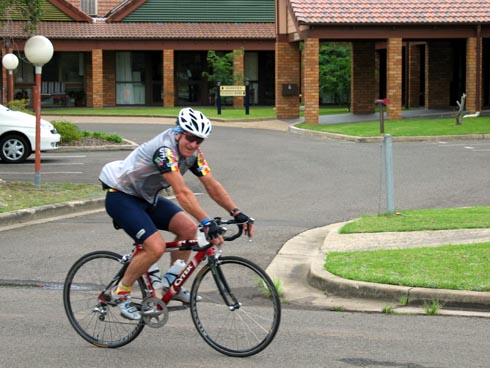 Paul, who I met two years ago on the 2003 ride, another strong rider who was often in early.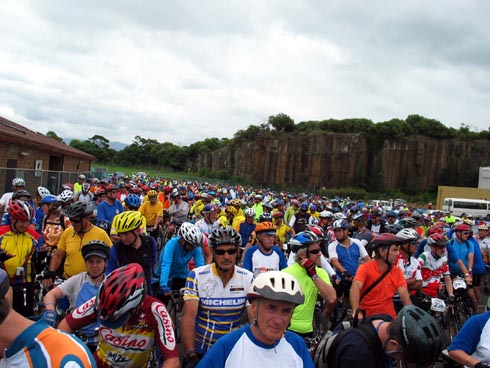 The crowd at the mass finish marshalling area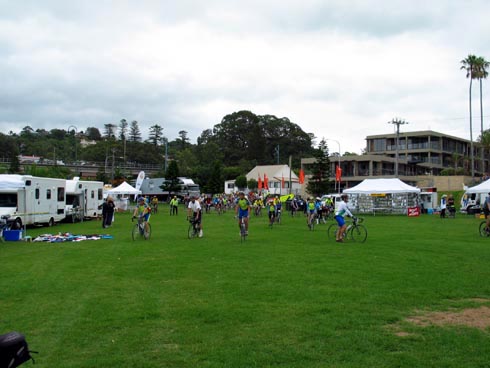 Riders flowing into the park.