Day 1 - Saturday, 25th February 2006 - Holbrook to Jingellic
Today was... interesting. I was up early after a bit of a hot restless night to get to registration early. I wandered up at about 6:10am and grabbed my kit when it opened. I then packed up my tent and walked up to get my bags checked in with Dave and Al. It was a bit of a trek, with two fairly heavy bags. We got lucky about half way, someone pulled up in a ute and offered to carry the bags the rest of the way, that made it a lot easier.
While waiting for weigh in, I saw Alex who I know is in Bicycle NSW, subsequently, I managed to bypass the queue on the promise of helping to load and unload a few trucks, at least it gave me something to do. My bags weight in at about 10kg and 14.5kg, so I just scrapped in under the luggage allowance. As no trucks were in yet (including the Sydney Bike Truck), I went and grabbed some breakfast. Once back, one Bike Truck had appeared which I helped unload. After that I wandered around catching up with people I knew from previous rides. The Sydney Bike Truck showed up at about 9:45am or so, luckily there weren't a lot of bikes on it so it didn't take too long to unload. It didn't take long to put my bike back together and as my tyres were already inflated I was ready to go.
I found the truck that would carry my bike box for the duration of the trip. After that I had to track down some water. No one seemed to know where to find any, so I ended up rolling back to last nights camp site to fill up. I then rolled around town and found where the Mass Start was from. I wasn't planing to stop for lunch, so I bought some food from the cafe to get me through the day. Although the Mass Start was scheduled to be at 11:00am, it was delayed till 11:30am. I managed to get right at the front and this year, there was no RTA Safe Cycling Team. The special guest was our 92 year old rider. There were no speeches by dignitaries so we got going pretty easily.
I soon opened up the throttle and I tried using the motorcycle Policeman as a derney, I didn't try for too long. Rain was just starting as we left, and I soon moved beyond it. John Lindsay joined me in town and we set off together. Riders had left early so we were chasing them down at first. John said that some riders were catching up to us, so he took the lead and threw the hammer down. It was a very picturesque ride, I wanted to take pictures but I had put the camera in a bag because of the rain. At one point an entrepreneural type had set up an unofficial coffee stop. There were some nice hills all around, but the country was very dry. The rain did come in, but there was a bit of a tail wind, so it wasn't too bad. We hit Chinaman's, and as John had ridden it the other way he knew there was a false flat in the middle. It was a short and short little climb, I eased up for John and took it pretty easy, but I could see a lot of people having to walk. On the second section I made an effort to bridge across to our lead policeman. The only problem was, I tried standing up near the end and I just spun the rear wheel so I couldn't do it. I waited at the top for John, and it was pretty much downhill the rest of the way, the only problem being that the road was a bit dead so at times it was hard to go really fast.
We went past lunch and kept the pace high. There was one final hill to cross to Jingellic, I set a high pace, and eased off when John cracked, he sent me on though. Other riders beat me in today as they had left early, so I was pretty happy with my effort. So after setting up, having a few drinks and now waiting for dinner, I am already having a good time.
| | |
| --- | --- |
| Distance | 54.95 km |
| Average | 35.20 km/hr |
| Time | 1:33:45 |
| Maximum | 64.60 km/hr |
Images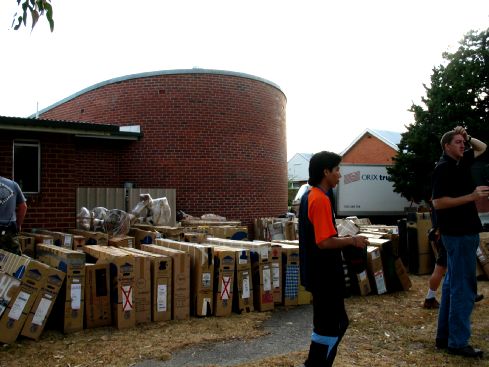 Bikes waiting to be unpacked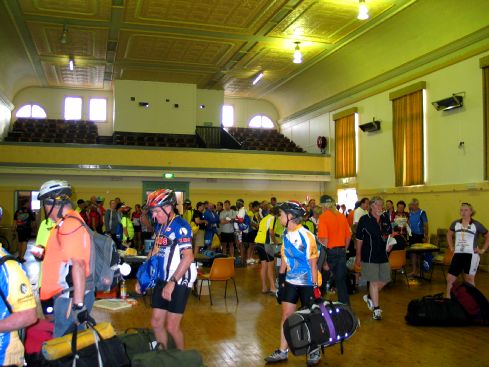 Chaos at checkin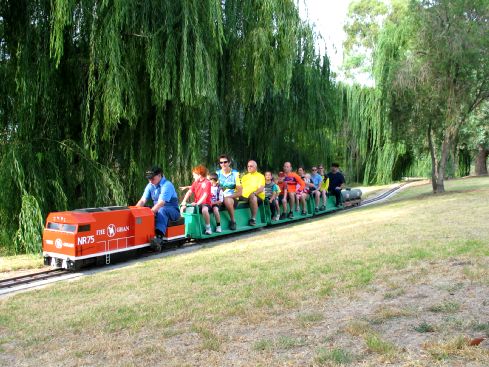 I knew that train services in the country were being downsized, but this is riduculous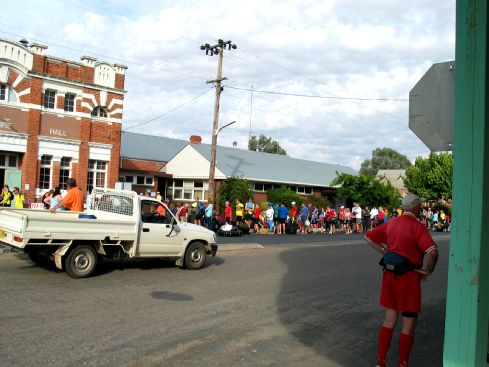 The queue for checkin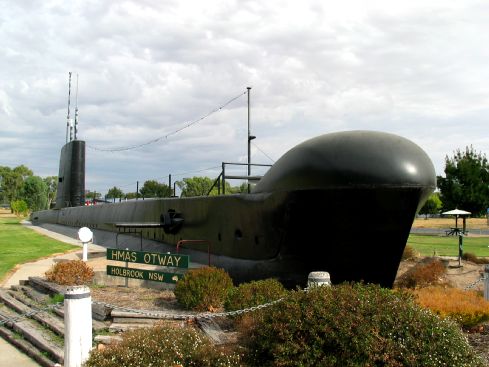 The main feature people recognise at Holbrook
Click Here
for more Photos from Day 1.