Day 3 - Monday, 27th February 2006 - Tumbaruma to Tumut
Today was a good day. After a good nights sleep and another early pack up, I was ready to go at about 7:10am, despite the ham and cheese croissant for breakfast. I lined up at the start and chatted to the usual suspects who were there early. Today was expected to be the second hardest day. We had about 20km of generally uphill, and then a significant drop in altitude to finish it. We left at 7:30am in cold conditions, and although the sun was up, it was behind a mountain for us. I was actually shivering while waiting for the start.
Once away, it wasn't much better as the sun was still hiding, but at least we were moving. Like yesterday, the ride started with a hill which was hard considering that we weren't warmed up. Once out of town there were some very scenic views again, and when the sun hit me it made the riding al worth while. It was very slow riding to begin with as we had plenty of short climbs, but the flats were false, as it was still slightly uphill. We were riding through a mix of eucalypt and pine forest that was really enjoyable, something I don't see on many of my normal rides. I was all alone on the roads except for the motorcycle Policeman in the lead, but he was far enough away that he didn't intrude on the peacefulness of the ride. My average was very low as I passed morning tea, but I wasn't that surprised given the terrain. At about the 18km mark, I did notice a change in the profile as I managed to pick up the pace. Despite the big effort yesterday my legs felt pretty good, and I had no issues really putting the pace down. I wasn't pushing too hard on the hills, as I want to survive the trip rather than punish myself everyday.
On the approach to lunch we were passing a lot of orchards, and as lunch was at Batlow, it was hardly surprising that most of them were for apples. What was really surprising was the amount of shade cloth covering the trees. At this point we were quite high above much of the surrounding countryside, so it was a good view. On the approach to lunch we finally had a good descent. The bottom of it was within Batlow with a 50km/hr speed limit, the policeman was speeding as well, so I didn't think it would be an issue. Lunch was a hamburger and corn on a cob, so I grabbed the fruit and rolled out. I met Barry and Alan on my way out and Barry turned around to ride with me. There were still a few uphills after lunch, but most of it was downhill, I was glad to have Barry along as he can descend much faster than me, so I just sat on his wheel and got pulled along. I eased up on the ascends so as not to drop him though. Some of the road was still a bit dead, but we were able to get along quite well.
On the approach to Tumut, I suggested a sprint to the first 50 or 60 sign, neither of us had any idea where it was so it could be interesting. In the end it was on a slight uphill so Barry wasn't able to go as quick as I could. I suggested another one on a flatter finish. We gave it a good run but after a hard 70km it wasn't as fast as Heffron Action. Nothing was happening at camp, but I chatted with some Vollies for a while. Alan rolled in and we took a turn back into town. After a relaxing smoothie and scones we were ready to face the challenge of the luggage truck. It was quite warm by this stage, but I had grabbed a shady area for the camp site. All important as tomorrow is a rest day. Once set up and cleaned up, I wandered into town and had a few drinks at the pub. There is a band on tonight, but no official party.
Having spoken to other regulars, it seems really odd that there seems to be very little organised entertainment. The last few nights I was not aware of much, if anything organised, and having read the newsletter for today, there doesn't seem to be a lot on tonight. I have worked out a bit of a ride for tomorrow so that should be good.
| | |
| --- | --- |
| Distance | 71.95 km |
| Average | 30.12 km/hr |
| Time | 2:23:38 |
| Maximum | 75.70 km/hr |
Images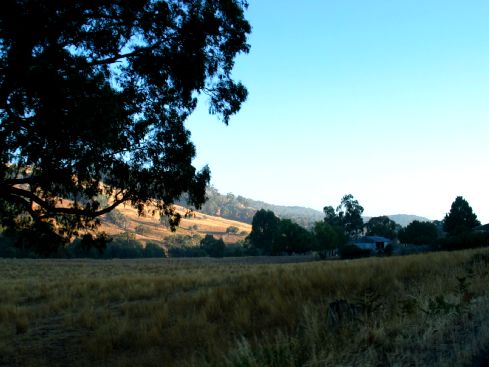 The beautiful scenary early on.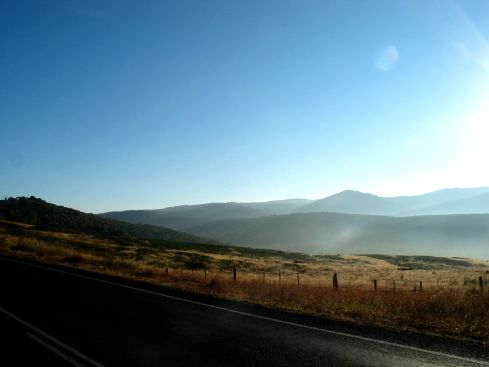 Fog and sunshine on the hills.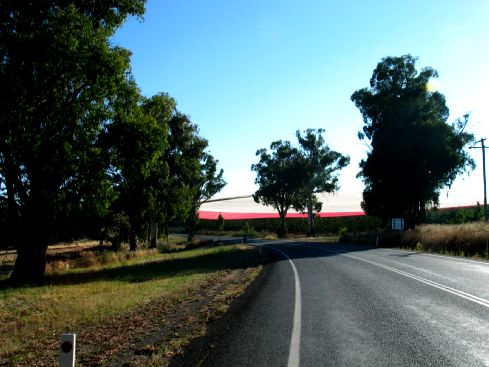 Some of the many acres of shadecloth over the orchards.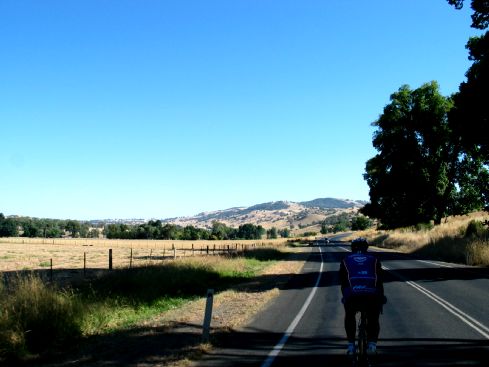 Not far from Tumut now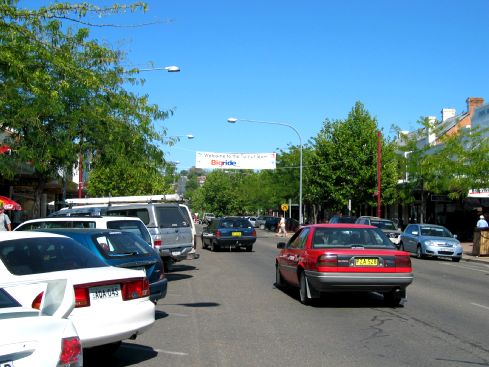 Tumut welcomed us gladly into town
Click Here
for more Photos from Day 3.