Day 4 - Tuesday, 28th February 2006 - Tumut Rest Day
There was no Rest Day Party last night. It was mentioned in the Ride Guide but that was the only place there seemed to be any listing. There was a band on at Cafe Big, but that was it. I wandered into town to one of the pubs to see if anything was happening there. There has been a real lack of live music on this ride, be it either at Cafe Big or in the town pubs. I think that the first town that has something will have people swinging from the rafters. Last night, a gum tree near camp dropped a branch. Luckily it was away from any ones tent so there was no danger. It is a bit of a wake up call to stay away from the gum trees at future camps.
Breakfast was an hour later this morning, which was a good thing as I slept like a log. I got up only a few minutes before breakfast. I had a relaxing breakfast and a good change with Alan, John and Gaye, I had a decided on a ride today of Blowering Dam and then to Talbingo and back. There was a morning tea at the Dam Wall that was organised by Tumut Rotary, it was there between 9 and 11. I left camp at about 9am and rolled towards the dam. It was about 6kms to the turnoff and then another 6 to the wall. Once at the wall, I climbed the hill to get to the top. There were some nice views and it was really enjoyable up there. There was older couple who were driving to Talbingo. Steve who I met on last years Queensland Ride was going the same way. On the way out of the Dam, crowds of cyclists were coming in, so I had just beat the rush.
The ride to Talbingo was an interesting one, it was scenically fantastic, it followed the lake, and there were some impressive hills around to. The actual ride itself was really hard. The road was pretty dead and good long undulations. Early on, I thought the road was downhill but I was working quite hard for a fairly low speed. I actually stopped to check my wheels to make sure nothing was wrong. The road was the Snowy Mountains Highway, but there was very little traffic on it. Very often it was 5 minutes between vehicles in either direction. The main problem I had was actually with kangaroos, not live ones, but ones that had already encountered a fast moving vehicle. There must have been one nearly every kilometre or so. By this stage the day was warming up, and Talbingo was still no where in sight, I was starting to think twice as I was beginning to feel hungry, one of the early signs of the wall. Luckily I was only about 10km away at this time, so I knew I could make it. I sighted town and made it in, only to find that there wasn't a lot there. I asked for directions and managed to find the only food joint.
The couple from the Dam Wall were there (they drove) and I had lunch with them. Steve showed up after a while and joined us. We rolled out together, we had about 40km to cover back to Tumut and we knew it would be hard. We stayed together for a bit but Steve said that I could go ahead and I thew the throttle open. It was a lot easier on the way back which I was thankful for. I was getting along quite well when I noticed a front flat. I swapped it out and found a very small piece of stone in the tyre, I am pretty sure that is what caused it. Steve caught up to me and we chatted briefly before he rolled on. Once fixed and inflated, I was back on my way chasing Steve. I was about half way back by this stage and I had originally been hopeful of a 1:15pm finish, this was thrown out by the puncture, but I was still rolling pretty well. I saw Steve ahead on one of the many hills and I knew I was closing the gap. I came across him a few hills later walking up a hill. The heat was still way up and he was sweating that hard that he couldn't see, hence the walk. I rode with him a bit before tearing away again and finally finishing just after 1:30pm, but not before a) missing the turn into camp, and b) having someone make a right hand turn in front of me.
Once in camp I had to do my washing, something I really didn't want to do, but a necessary evil. Then it was off to the shower trucks, only to find them closed for cleaning. So instead lunch got bumped up the queue and I had a very enjoyable sit down lunch. At the cafe, a little girl took Stranger Danger a little too far by locking me outside. One back at camp the showers were open, but on my way there I stopped to have a chat with a few other riders. While talking the camp was hit by a willy willy. For someone it was bad timing as they had emptied their tent for a clean, and it was facing the wrong way. End result, one flying tent. It did land again within camp, but it was an interesting sight. I need to clean up the inside of my tent before the morning as it is a mess. Tomorrow is only 60km, but it is undulating so it isn't going to be easy.
| | |
| --- | --- |
| Distance | 108.29 km |
| Average | 28.14 km/hr |
| Time | 3:51:47 |
| Maximum | 61.60 km/hr |
Images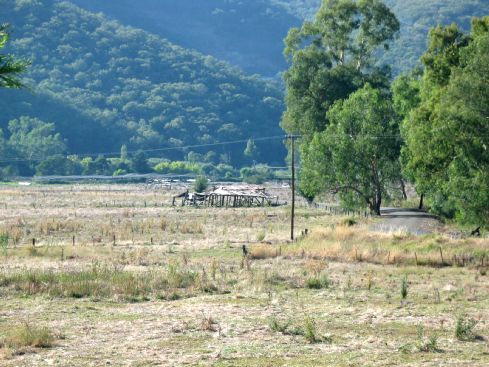 For sale, one shed, may need some restoration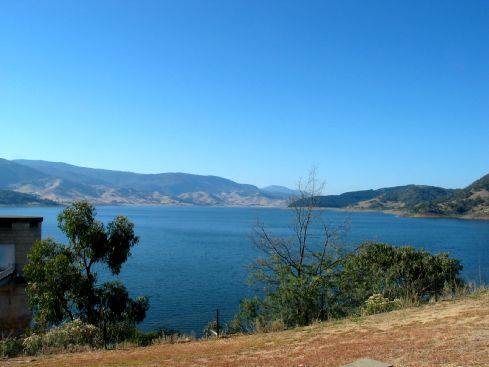 Lake Blowering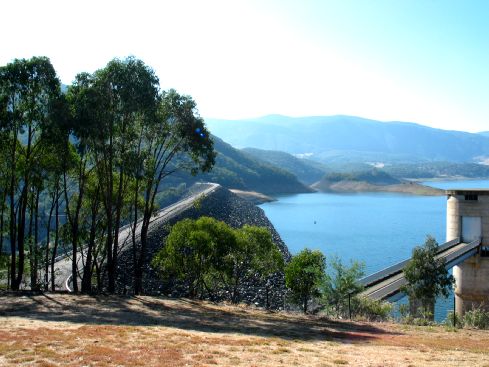 Another dam photo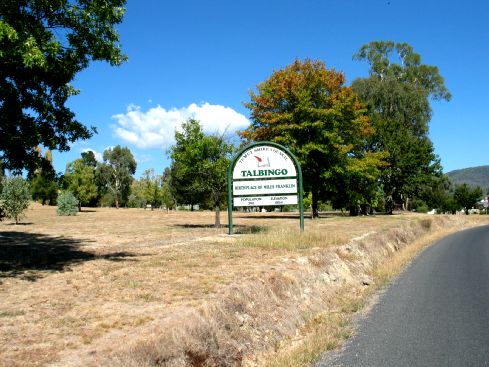 I made it!
Click Here
for more Photos from Day 4.