Day 5 - Wednesday, 1st March 2006 - Tumut to Gundagai
There's a track winding back, To an old-fashioned shack, Along the road to Gundagai. I had that tune stuck in my head all day today, so I thought I would spread it around a bit. Last night was the Red Faces competition, unlike last year there were no outstanding acts. After that was a movie, The Triplets of Belleville, a French Animation loosely based around cycling, it was good fun and got plenty of laughs. I was thankful for the tiding up of the tent as it made the pack up easier this morning.
After a nice hot breakfast of scrambled eggs I was ready to roll. At the start line we had the same group of cyclists waiting for the green light. Today started with a 20km out and back east from Tumut, the return was along a different route so it wasn't just for the hell of it. I was hurting a bit from yesterdays ride, so I started off easy. I was in the front group of cyclists, and we had a train of about 4 cyclists, initially I was in the pack, but I moved up to the front to stretch out the legs. We were cruising at about 30km/hr through some really nice countryside, and for once it was actually flat. At the turn around point there were a few short climbs, and while I didn't attack, I did keep my pace high, end result, only Alan was still with me at the end. There was a bridge at the turn around point, and it was down, left turn, across the bridge, uphill and left turn. I nearly blew it and had to ride up the hill to shed some speed before I could take the left hand corner, by this stage, on the wrong side of the road. I mentioned it to the policeman with me, that it was a bit dicey, and he agreed.
A bit of a head wind had picked up, so once we turned around it was a nice tail wind. I hit the pace and Al initially couldn't hold my wheel so I eased off to let him catch up. We passed morning tea and climbed the few small hills. At this time we were riding beside the Tumut River, the vista was classic Wind in the Willows type shot. At this point the lead policeman got word that cyclists were on the route ahead of me and so he left in pursuit. We rejoined the Snowy Mountain Highway north of Tumut and we had 2km of this road which we were sharing with Logging Trucks. Only one passed us so it wasn't too bad. At this stage, another rider, Rudy, had caught up to us, we hit the turn off to Brungle, our lunch stop for the day. There were a few hills soon after the turnoff, and Alan and Rudy couldn't stay with me. A Vollie drove past me going the other way, and he told me that there were 5 riders ahead of me. I opened up the pace in the hope to catch them. There was a steep technical descent, there were some good corners, but I had a clear view of oncoming traffic, so I crossed to the wrong side to take the corners faster and safer.
I passed John Lindsay going the other way about half way down. I passed two riders a few k's short of lunch and kept on. Lunch was at Brungle, population 60, so it was a really small town. Another rider was at lunch so there were still two ahead of me, and by quite a bit. I ate some stuff and then set off chasing. I had less than 20km to cover and I was told they were about 20 minutes ahead of me, at least. I started really pushing the pace, I wanted to try and do a sub 2 hour ride today, so the riders ahead were just extra motivation. I crossed the Tumut River again, and I got a time check of 18 minutes. I knew I would have a lot of difficulty closing this down. There was another good hill, but nothing like the previous days monsters. I then had a descent down to Gundagai, just before I hit the outskirts of town, the lead policeman passed me going the other way, so I knew I was beaten.
I was passed by the Vollie bus just into town, I belted along behind him and as he hit a slight hill and went hunting for the right gear, I shot past him. I pulled into camp with 56 seconds to spare on 2 hours. The two riders ahead had left early so I really had no chance of catching them. Once the truck was unloaded I found an area right on the edge of the camp ground that we hoped would get some afternoon shade. Once setup Al and I decided to take a quick ride out to the Dog on the Tuckerbox. When I went to my bike I couldn't find my computer, a quick search located it, but it had already been run over by a toilet truck, so no definite figures for the day, and I had to get a new one. The Dog is out of Gundagai (5 miles by the poem) and although it was along the highway, it was pretty easy. Al and I stopped at a Cafe/Roadhouse out there for a drink before heading back to camp, but not before I saw the chocolate coated ginger.
I went for a wander up to town after rehumanising myself, and saw that the pub has a live band for tonight, as well as a buss to and from camp. I went to the Gundagai Museum, the amount of history in there was amazing. The hour I spent there wasn't nearly enough. Back at camp I bought a new computer and camp stool as that too was starting to give up the ghost. I think tonight the pub is going to be the place to be, and Junee seems to be doing a good job of getting ready for us too.
| | |
| --- | --- |
| Distance | 62.4 km |
| Average | 31.20 km/hr |
| Time | 1:59:04 |
| Maximum | 67.00 km/hr |
Images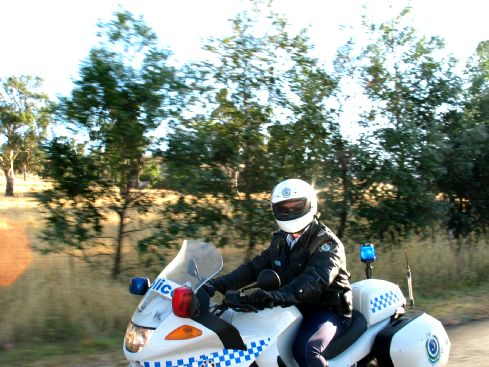 The lead policeman for the day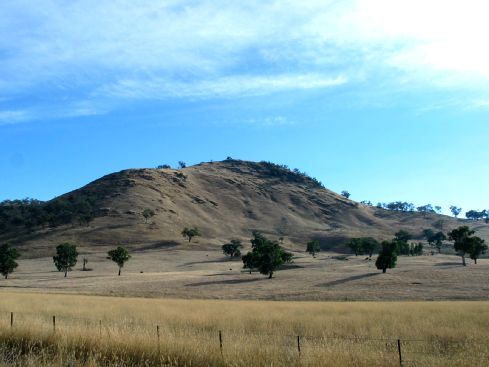 Some of the hills along the route, we didn't have to climb this one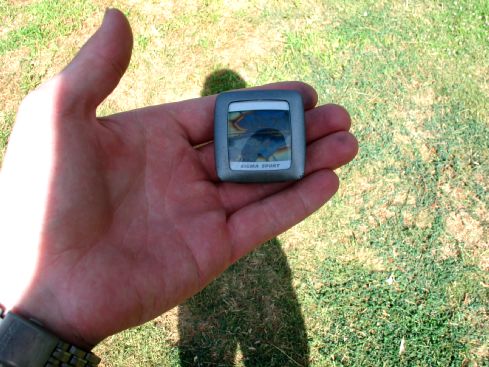 The computer didn't survive being run over. Who would have thought...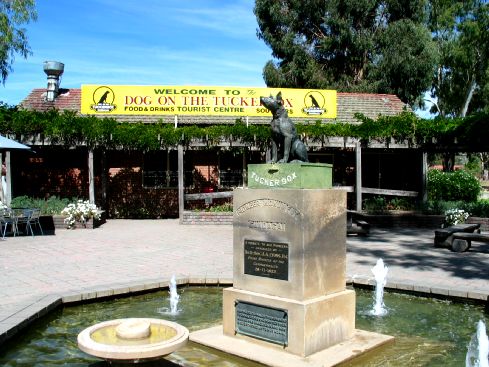 The famous dog of Gundagai
Click Here
for more Photos from Day 5.