Day 6 - Thursday, 2nd March 2006 - Gundagai to Junee
Last night we had a poet from Junee entertaining us and getting us ready for our visit. He did a few classics, there were lots of calls for Mulga Bill, and he did some of his own works. He was very talented and funny as well. We had a wind pick up overnight, and while it made it a noisy night, it did mean that the tent was bone dry in the morning, both inside and out. Breakfast this morning was some dodge sausages, so I avoided them and just went for the cereal. I was rearing to go at 7am or so and the main point of discussion was about the wind direction and cats heads. Cats Heads are a seed pod a bit larger than a grain of rice, but they have several large thorns on them. They were in the camp ground last night, so not only was everyone walking around in shoes, but they were also carrying their bikes around. Many people had punctures because of them. We thought the wind was going to be a crosswind and a bit of head wind. We left on time and once I was moving I was riding with Bruce, who I met on last years ride up Black Mountain, and Michael.
Bruce was going to stay with me to morning tea, and Michael was hanging on for as long as he could. We started off fast this morning, and as I had a new computer, I thought that maybe I had the wrong wheel size in it. As it turned out, we actually had a tail wind for most of the day. There were a few early climbs and Bruce was making me work as he was trying to ride only in the Big Chain Ring. Michael stayed with us until the second hill, but couldn't sustain the pace. Bruce commented about the sausages and it made me glad I had avoided them. Approaching morning tea, we were averaging about 35km/hr, and I said to Bruce that we were probably both hurting, but neither of us wanted to blink first. He pulled of at morning tea, which was hosted by the local primary school of 16 students. I rolled on through and soon turned north, so I got hit by a crosswind.
I eased back the pace as I didn't have any overriding desire to push the pace today, and the next two days were going to be hard. The road was quite flat, but it was lumpy, so it made it a rough ride. The lead policeman was riding a fair way ahead of me, so it made me feel that I was out alone on the road. Before lunch the route turned back to the west so the tailwind reappeared. A few times I saw signs that gave me distances to Junee and Gundagai, they agreed quite favourably with the new bike computer so I am happy with the settings. A few k's out from lunch I was caught by Barry, Rod and Steve. I jumped on and we kept a solid pace to lunch. Lunch today was in a tiny little town called Eurongilly, that seemed to consist of a shed and a playground.
I left lunch with Barry, Rod and Steve and we didn't do any really proper turns, but it kept the distance ticking over. We hit the areas around Junee that were affected by the New Years Day fires. They obviously hadn't had much rain since then as there was still the lingering smell. We all eased up at this point and basically rolled and chatted. On the last hill into Junee, Rod attacked and the race for camp was on for young and old. I went chasing and Barry wasn't far behind me and we went tearing through town. In the end Barry and Rod pipped me to the post. Nothing was evident at Camp, so Rod, Steve and I went back to a Bakery. Barry went to town to catch up with his wife. I went back to camp after and chatted with Paul, Alan and Michael until the luggage truck arrived. There was no rest for the wicked and it was unloaded fairly quickly.
Once I had built a home for the night and made myself presentable, I changed my rear tyre as it was looking a bit ragged. Last night Al and I bought a multi ticket to some of Junee's Attractions. There was a bus going around between them, but the first was only up the road so walked. It was the Junee Historical Museum. Again there was a lot of artefacts from around the area and relevant to the town. The real amazing thing though was the carpenter. He was making bush furniture using hand tools, including a lathe of all things. It was quite fascinating to watch and what he made was really good. After that we took a bus out to the Junee Roundhouse which is the largest train Roundhouse in the Southern Hemisphere with 42 bays. They had a lot of train memorabilia there as well. After that Al and I continued our whirlwind tour to Monte Christo, the most haunted house in Australia with 10 resident ghosts. The house was pretty amazing, it had been lovingly restored and you wouldn't know that it had been vandalised and was derelict at one point in its history.
By this stage, the time was getting on so we came back to camp for Dinner. The tours are still running till 9:30pm so we are going to go to the Liquorice Factory after dinner. Junee has really pulled out all stops to make this day memorable. The later towns on this ride so far have really made an effort to keep us entertained. Tomorrow I am planning on leaving later so I can have some fun riding through the pack. I am actually looking forward to it.
| | |
| --- | --- |
| Distance | 66.03 km |
| Average | 33.24 km/hr |
| Time | 1:59:12 |
| Maximum | 64.15 km/hr |
Images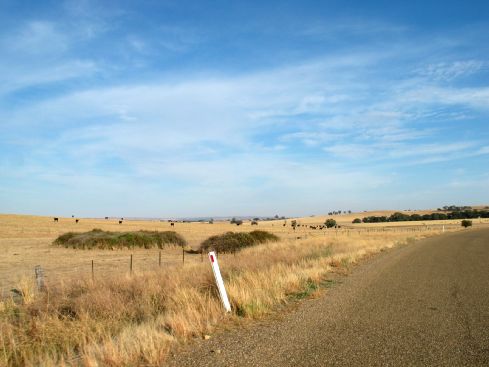 Some of the very dry country out here.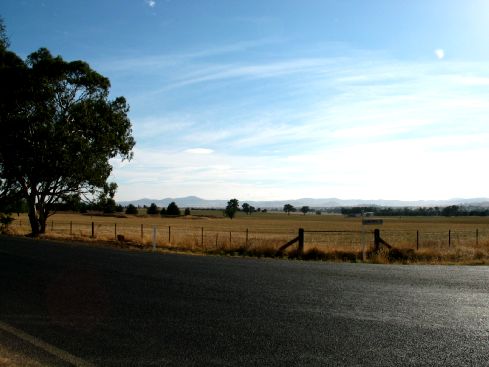 The view from lunch.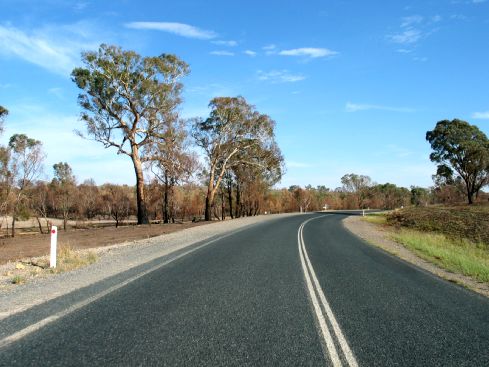 Some of the effects of the fires around Junee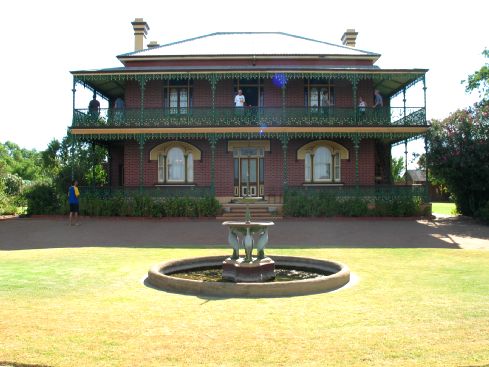 Monte Christo, this house was beautiful restored.
Click Here
for more Photos from Day 6.