Day 7 - Friday, 3rd March 2006 - Junee to Cootamundra
After Dinner last night, Al and I went to the liquorice factory, they had the finals of the liquorice bowling. Liquorice bowling was held in an old flour sack chute. The idea is to throw a ball of liquorice through the top, which then knocks down some skittles at the bottom. You then have to try and catch as many skittles as possible. Scoring is one point for each knocked down skittle, 1 point for each caught pink one, and 2 points for each caught yellow one. It was quite a funny game to watch and very unpredictable. The actually factory is interesting as well, as they are fully organic. Every ingredient that they use is certified organic, so if you buy an organic liquorice in Australia it is probably from them. Last night was another very windy one. It was windy in the morning as well, so it didn't bode well for the day ahead.
They opened the route early because of the forecast high temperatures as well as the wind. I planned on leaving later today, by half an hour so I got on the road at 7:45am due to the early opening. I wandered around camp speaking to other riders and Vollies to pass some time. I got away and quickly started chasing down the riders in front of me. Today's route was expected to be about 83km, and there was an unexpected unsealed section of about 1500m. It was supposed to be sealed when we came through, but obviously not everything went according to plan. Although the distance between Junee and Coota is only 40km or so via the Olympic Highway, we were taking a much more scenic path. The route as well went West, North, East, North and then East to Coota, so unlike yesterday, there wasn't going to be a solid tail wind. My legs were hurting quite a bit as I left camp, I think I may have done to many hard days riding consecutively without much of a break, and today and tomorrow weren't expected to be any better.
Initially I was passing cyclists easily and without incident, but the road soon became only single lane sealed, so I had to take more care passing two abreast cyclists. I caught up to a pack that was fairly large and they were pretty much taking up the whole lane. I called out and squeezed past them but it was a bit close. I caught Katrin and her father up on the dirt section, but didn't stay with them for long. The dirt was in two sections, the first was rideable, but it was pretty rough. The second section was in much better nick. At the end, we had to turn right but one rider, John, had his head down and went straight ahead. I took off after him (on more dirt), and pulled him up after about 500m or so. We rolled back onto route and then chatted for a bit. I knew John from the 2004 ride. On the run into morning tea I passed a few tandems and criticised the Captains (who sits on the front) rather than the Stoker (who sits on the back). Most people usually say something like "Their not pedalling on the back", and the Stockers tend to get a bit sick of it. I tried racing a tandem down a hill but it is a good exercise in futility, and as they passed me, I jumped on their wheel for a good run to Morning Tea. They turned in but I kept on.
Up until this time the wind wasn't too much of an issue. It had died down a bit at sunrise, but had picked up by this stage. It became a good cross/head wind by now and my earlier high average was starting to fall. On one stretch into lunch, the crosswind was holding the bike at an angle. Several route marshals who knew me as a fast rider commented that I was behind today, I sounded like a stuck record telling them I left half an hour late. I pulled into lunch just as Alan was leaving but I told him not to wait. I ate some lunch, but it was still too early to really handle a lot of food. I had to fill up a bidon and then I was away.
The wind seemed to be a tail wind after lunch, but I think that it had just died down a bit. I saw a cyclists ahead and I slowly started chasing him down, but it was a two wheeled recumbent, so trying to draft off him was like trying to eat jelly with chopsticks. I chatted to him until a slight climb where I rode away from him as recumbents tend to be slower on the climbs. He caught me on the other side, as they are quicker downhill (lower wind profile). There were some better hills ahead though so I managed to get away. We made another turn and the wind became a straight on head wind. I slowed to a crawl, but kept on going as best I could.
I sighted two riders far ahead and as I closed in I saw the nearer was Alan. When I caught up, he admitted that he was pretty much done, so I held back my pace and gave him a wheel to follow. When you are stuffed, just having someone to ride with makes a huge difference. The other rider was Rudy, from Day 5. In the end I tried my best to shelter them from the wind, but Rudy took a turn on a descent, I didn't object. On the final run into town we had a last steep descent, something that was very welcome. Al and I rolled into camp pretty stuffed. We were given numbers of 12th and 13th in by some local spectators, so still not a bad effort. I commented that the wind from yesterday was collecting with interest.
Once the luggage truck was unloaded, we set up and rolled back to a pub for a feed and some drinks. While there, a local darts player was practising. He scored a few full triple twenties (all 3 darts in the triple 20 area, highest possible score from three darts). I spoke to him briefly, and he said that he had finished 6th in an Australian Competition last year. Tomorrow is the biggie, 93 odd kilometres, it is going to be tough, there are plenty of ups and downs, and if this wind keeps up, it is going to be murderous.
| | |
| --- | --- |
| Distance | 84.22 km |
| Average | 27.78 km/hr |
| Time | 3:01:52 |
| Maximum | 59.85 km/hr |
Images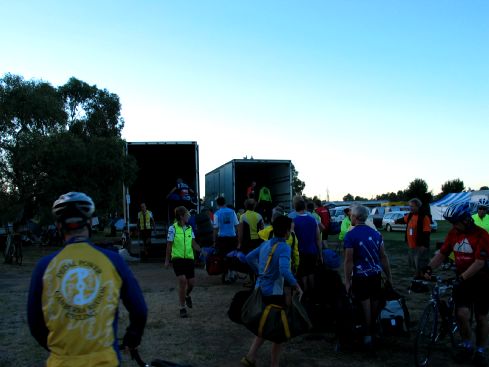 The queues for the luggage truck.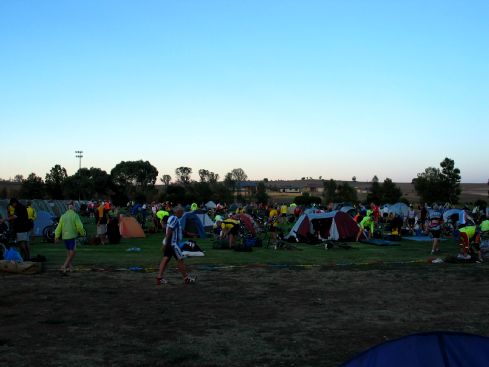 Tent city in various states of undress.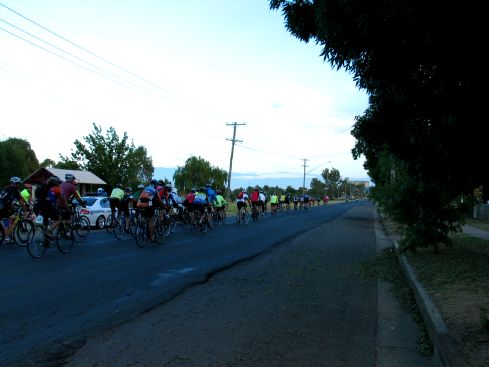 and they're off!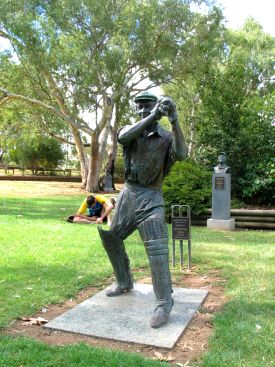 They had busts of Cricket Test Captains around the park, Bradman got the full deal. He was born in Cootamundra
Click Here
for more Photos from Day 7.