Day 8 - Saturday, 4th March 2006 - Cootamundra to Boorowa
What a day, and boy did it hurt. The wind died down overnight, so at least it enabled a peaceful sleep, but the dew came through in the morning. Today we had an earlier start, but as I have been ready by 7am on previous days I had no issues today. The start got away a bit before the scheduled start, and our lead policeman promptly took us the wrong way. We did three sides of a square and we were back on track. I moved to the front and started in a good rhythm. My legs were tied today, but at least they weren't hurting which considering the distance and terrain was a good thing.
A large part of today's route was a reverse of two days from 2003. I remembered parts of it and I knew it would be tough, there was a general climb to morning tea, then downhill to lunch, lots of undulations to afternoon tea, and then a general climb to camp. The wind didn't stay quiet for long, and about 30 mins in it started to pick up. All day it stayed at about 10-15km/hr, but it was still getting repayments from our trip to Junee. Although there was the odd downhill on the early run, the dead road and wind kept my speed down. I saw John Lindsay closing in on me, but I didn't ease up. A rider had left early, and I soon saw him ahead, I quickly closed the gap and passed him. He was also wearing a yellow jersey and John though at first that it was me, so he hung off the back hoping to make me sweat.
I passed the site of our 2003 Day 9 morning tea. At this point I thought I heard a hissing from my front wheel, so at the top of the hill, I stopped to confirm that it was the just the tyre rolling on the road. Luckily it stopped when I pulled up. Our morning tea for us today was supposed to be a few k's further along, it wasn't. At first I thought that they weren't up early but it turned out that they had relocated about 8kms up the road. I bet more than a few cyclists were cursing them. John had caught me by this stage and we started riding together. Although it was generally downhill to Lunch, it didn't feel like it at times.
John suggested a sprint into Harden, at first I baulked, but decided to give it a shot closer to town. I must admit I didn't give a lot of notice, but John did agree that it was on. I just managed to pip him at the post. We followed the signs through Harden and found lunch, we didn't stop for long and we simply grabbed the food on offer and rolled on. We left lunch and we back tracked a bit on our inbound route and then turned off. The route from lunch to the Burley Griffon Highway was an absolute pig. We had a mix between head winds and cross winds, so again downhills we were trying to milk as much speed as we could. I was feeling a bit average by this point so on one of the hills I made myself work to get the blood flowing. I gapped John so I stopped a bit further along to wait for him to catch up. I used the opportunity for a refreshment break while I was at it. From the top of that hill we rolled down to the Highway. The road to Galong for afternoon tea was pretty dead, and into the wind. It was slightly uphill still, so we weren't setting a blistering pace. By this stage we were pretty much riding side by side and just chatting, it certainly made the distance a lot easier to handle.
On the approach to Galong, I asked John if he wanted to sprint to the 50 sign again, he initially didn't, but changed his mind about 5 metres away so he easily won it. We passed afternoon tea, but I later heard that they weren't ready for the next group of riders anyway. Along the next section, we had more of the same, headwinds, dead road, but it was a bit flatter by now. I saw that we had about 20km to go by this stage, but John was starting to run out of legs, so he started sitting on my wheel.
We passed a Vollie at one point and he told us 16 km to go, that made the distance 5km more than I thought. We weren't sure who was right, but we did come across a Boorowa 10 sign several k's later, so the listed distance was 5km less than the real distance. So after a final flat section, we finally got to the town. We had another sprint to the 50 sign, but John blew me to pieces. We made camp at about 10:45am, so a long day for me. I avoided the luggage truck today and instead we vanished to a Cafe where we all demolished some food. I went to camp after an hour and set up. Then it was the much required shower.
Al was in so we went back to the cafe for more food. We went to the pub afterwards and plenty of cyclists were making it their first port of call. I heard that the sag wagon had already made one trip in, and it was pretty full. Tonight we have the final night party and the announcement for next years ride. Tomorrow is an easy (theoretically) 30km, with no mass finish.
| | |
| --- | --- |
| Distance | 98.53 km |
| Average | 26.20 km/hr |
| Time | 3:45:38 |
| Maximum | 64.15 km/hr |
Images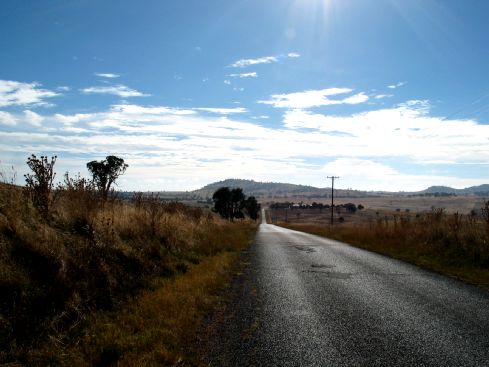 The reverse view of one of my 2003 pictures.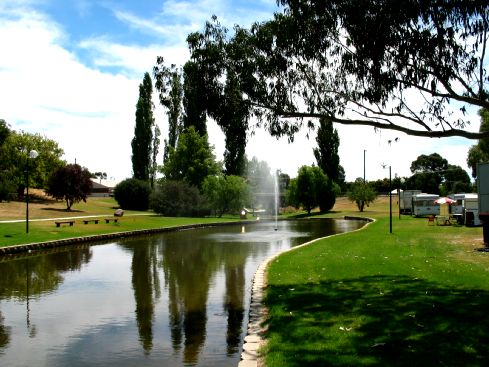 Not quite on the same scale as Lake Burley Griffin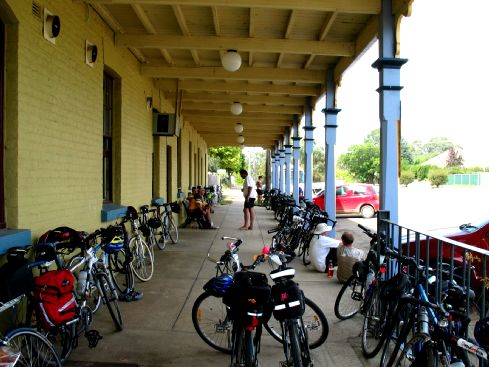 How many cyclists can you fit in a pub?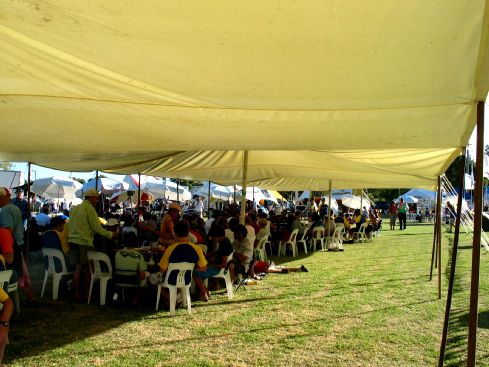 Due to the heat, shade was always being hunted.