Day 0 - Friday, 8th September 2006 - Sydney to Cairns
Today was all about getting to the start at Port Douglas. I was flying to Cairns, and then catching an organised bus to Port Douglas. I had received an email on Monday warning that a lot of people were flying to Cairns from Sydney and Melbourne, today and tomorrow, so the bike may not have been on the same flight. Subsequently I had delivered the bike to the airport on Tuesday (and even that had its dramas) and hopefully it has beaten me up here.
So, after a final run through the checklist, I grabbed my bags and walked out at about 7am. I hadn't booked a Taxi and just tried my luck on the street, fortune was smiling as I got one straight away. I saw the weight of my bags at the airport, and I should be fine, it is close, but I don't foresee any issues. I then had a long wait for my flight, because of the winds that were still going from yesterday, a few flights were delayed, and in the end, that included ours. I saw a few other riders who I recognised, including Dave from the NSW Ride this year. When we boarded, I saw at least six bikes waiting to be loaded, so there were quite a few cyclists on the flight.
The flight was about 3 hours long, and pretty uneventful, we were mostly flying over land, but near the end we were over the coast and I saw some of the Barrier Reef. We landed in Cairns at about 1:30pm to clear blue skies, about 27 degrees and a slight breeze, a pretty good improvement on what Sydney had to offer.
I met some other riders at the airport, and as the buses weren't leaving until 3pm we sat around and talked. The buses got away on time and an hour later we made it to Port Douglas. The terrain around here is not what I was expecting. I didn't have any particular image in my mind of what it would be like, but I wasn't expecting the hills to be so close to the coast. At Port Douglas there was a simple reminder that we were in the tropics, a sign warning people that "Crocodiles may infest these waters". We heard a story from the bus driver that at one of the golf courses, for the first 4 years, they had to employ people to walk around the greens and throw golf balls at the crocs, as they used to sleep there. I don't know if it was true, or if he was playing it up to the tourists.
Once at camp I set up in near record time and then Dave and I wandered into town. We went for a walk up to the lookup and then soon ended up at the pub for dinner. All up a pretty easy day, and I am really looking forward to the ride. The plan for tomorrow is to check in, get the bike and go for a ride.
Images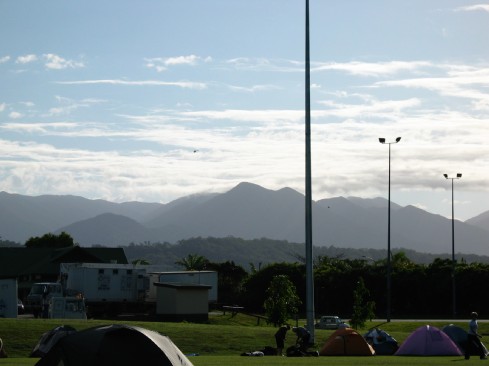 The lower slopes of the Atherton Tablelands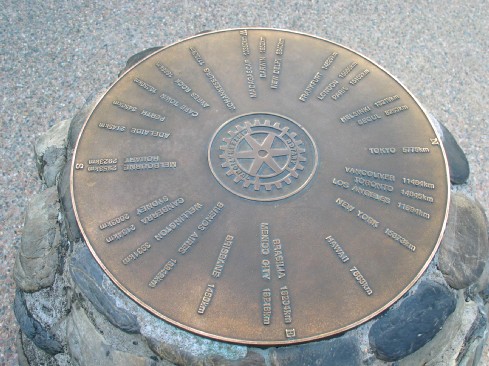 We're not in Kansas anymore...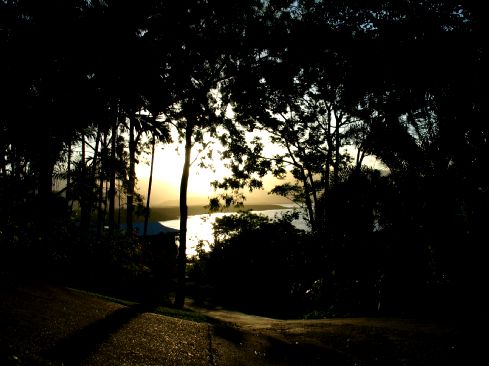 Sunset from the Port Douglas Lookout