Day 1 - Saturday, 9th September 2006 - Port Douglas Rest Day
Although today is the first day of this years ride, the official distance was 0. Today is designed to be another day that can be used to get to Port Douglas. Today, I had to check in, collect the bike and I was going to go for a ride. Breakfast wasn't provided today, but a local community group had put something together, and although it was simple, it was enjoyable.
Once checked in, I wandered over to the bike collection area and quickly located my bike. It had made it safe and sound. I reassembled it, inflated the tyres and then I was ready for a ride. By this stage of the day it was already quite warm, and I wanted to get the distance in early. I went into town and asked at Visitor Information. My target was Wonga Beach, and it was going to be via Mossman, tomorrows destination. First though, I rode up to the Lookout, just for the hell of it. I had no intention of going hard today, I just wanted to enjoy myself. Leaving Port Douglas, I was briefly held up at some road works and then I was away.
I headed north to Mossman with a nice tail wind, which I knew would hurt on the way home. The road was pretty flat, but there were some pretty big hills nearby and there were a lot of cane farms around me, but pretty soon I made Mossman, I rolled through and kept on to Wonga. Again the road was pretty flat with cane farms around me, and the odd banana plantation. I rejoined the coast just south of Wonga and that changed the scenery. I hit Wonga and turned to the beach, it was quite pretty and also very isolated, I couldn't see anyone else around.
I rolled back into town, and asked for a coffee shop, nothing seemed to be in existence, so I started to head back. The way back was harder as I now had the wind into my teeth more often. On the return, I saw Basil going the opposite way, he turned around and he asked about Wonga, I truthfully told him that there wasn't much there. We rode back to Mossman together and went to a Cafe for a break. We rolled out to Mossman Gorge that is at the south end of the Daintree Rainforest. It was really scenic riding out there, and the last bit had to be covered by foot. We locked the bikes up and I had to go barefoot as the road shoes weren't suitable. It again was really scenic and although it was the dry season, it was flowing quite well. It would be pretty amazing in the wet.
We wandered back to the bikes, but on the way out we stopped at another point and went back to the river for some more photos. We left Mossman behind us and headed back to Camp. The wind wasn't too bad, but it did make it harder. We saw a cane field on fire at one point, which I thought was odd as it didn't seem to be a good day for burning cane, further, I thought that the practice had died out. Sure enough, we saw two fire engines going the other way. We turned towards Port Douglas and we got some relief from the wind, we got straight through the road works and made town just after 2pm. We stopped at the first cafe and had a nice enjoyable lunch. After that it was back to camp which was considerably more full, I had a much needed shower and made an attempt at cleaning the tent. Tomorrow is back to Mossman, so only about 20km. I will probably find some more distance to do as well.
| | |
| --- | --- |
| Distance | 85.56 km |
| Average | 28.90 km/hr |
| Time | 2:57:36 |
| Maximum | 40.80 km/hr |
Images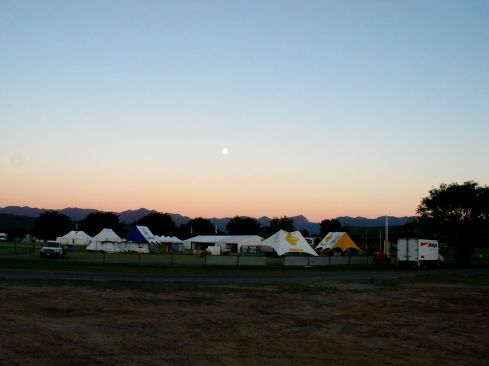 Moonset over the campsite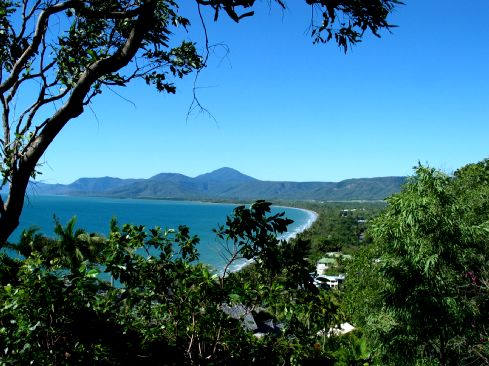 Overlooking Four Mile Beach, Port Douglas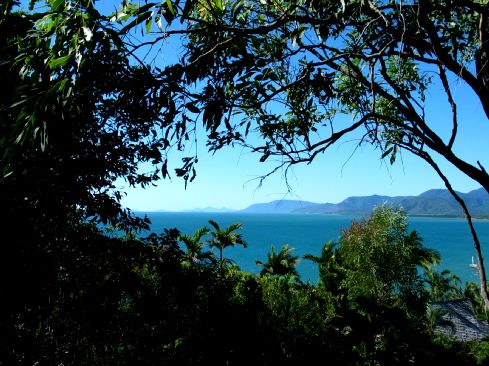 Looking down the coast from the Lookout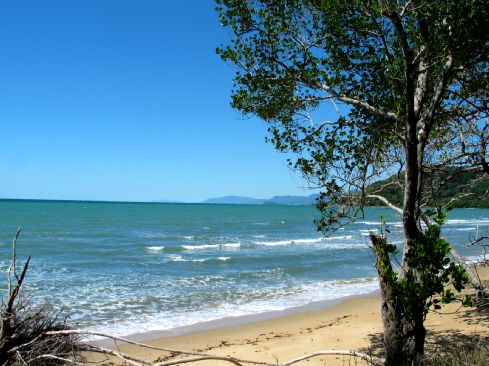 South from Wonga Beach, you can see Port Douglas (if you know where to look)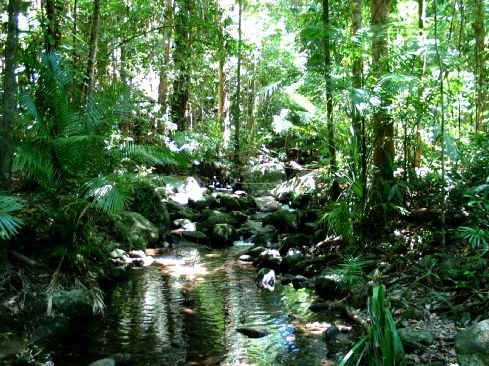 The southern end of the Daintree Rainforest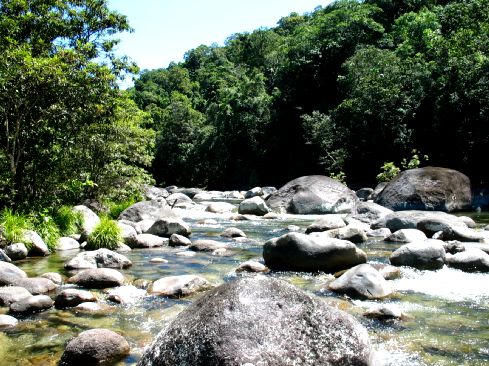 Mossman Gorge
Click Here
for more Photos from Day 1.