Day 2 - Sunday, 10th September 2006 - Port Douglas to Mossman
Today was a really mixed day. Although it was Sunday it was still possible that people were showing up and registering. Because of that, it meant that we were only due to start at noon, and leave by 2pm. Port Douglas had their Sunday Markets which was something to do. I was up at about 5:45am, as breakfast was only at 6:30am instead of the usual 6. I was a bit slow packing up, but was still pretty much done by breakfast.
After breakfast I applied the sunscreen and insect repellent to keep the nasties away. I had to weigh in before putting my bags on the luggage truck. I was a little bit over and although I stated that I would help unload the trucks, I got no sympathy. So $50 later my bags were loaded. This really got to me, mainly because I later found that numerous other people managed to get their bags loaded either without being weighed, or by pulling the wool over the Vollies eyes. I have no issues with them weighing bags and charging people who are over weight, but they have to be consistent with it, further, as someone pointed out, they had no Certificate of Measure, so we had no way of knowing if their scales were accurate. I warned a lot of other riders about it, and one, Rabbit, split the cost of the over weight bags later on, which reduced the pain.
I rolled into town and checked out the markets, they were very similar to the The Rocks Markets in Sydney, but with some local variations. They were selling bananas for $5/kg. I did a small amount of riding around town, and up to the lookout again, just to get the blood pumping. Although the start was at noon, I had no intention of getting away that late, having ridden the road to Mossman yesterday, I knew it wasn't one to ride with a lot of other riders. So after my second visit to the Markets, and having purchased two badges ("Gravity Sucks" and "Do I Look Like a F&%cking People Person") I was away at about 10:30am. Plenty of other riders were leaving at abut the same time, so I had no qualms. Up the road, I caught up to Basil & Owen, I soon left them behind though and I was hitting the pace pretty well. I passed several other cyclists, and there were a few times I had to watch out for traffic.
All up it was a pretty uneventful trip and I covered the 20km in just over 1/2 an hour. Although the official route went to Mossman Gorge, I gave it a miss as I went there yesterday. There was a Lions Club BBQ on camp, but they weren't ready. Graham had rolled in by this stage, having also skipped the Gorge, we claimed our camp sites and awaited the arrival of the Luggage Trucks. I had managed to grab one of the few pieces of shade available in the camping area. I just hopped that other people would respect it. When the luggage trucks showed up, I didn't help unload them, because of the over weight charge. The problem is, that this hurts the Vollies, and they aren't who I have a gripe with. In the end I helped get the last few bags off as I was right up the front. I set up, and luckily there were some showers in the sports grounds that were a lot better than the truck showers.
After that I wandered up town, it is a real country town, and as it was Sunday afternoon pretty much everything was closed. The pubs were open and as is usual, the cyclists had already found it. Tomorrow is the first full day and with a pretty decent hill. It should be a good challenge.
| | |
| --- | --- |
| Distance | 19.28 km |
| Average | 35.34 km/hr |
| Time | 0:32:45 |
| Maximum | 43.97 km/hr |
Images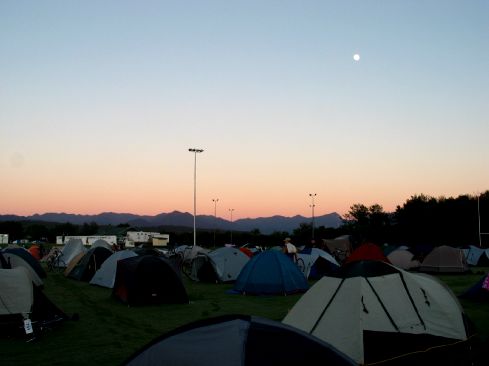 Campsite at Dawn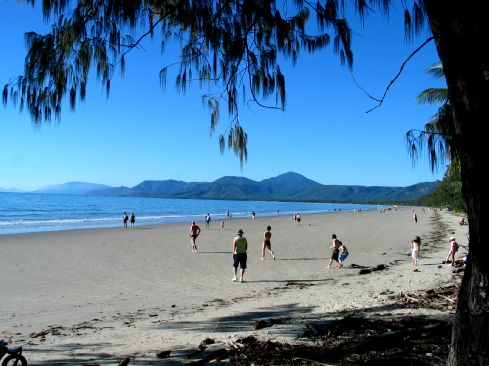 Four Mile Beach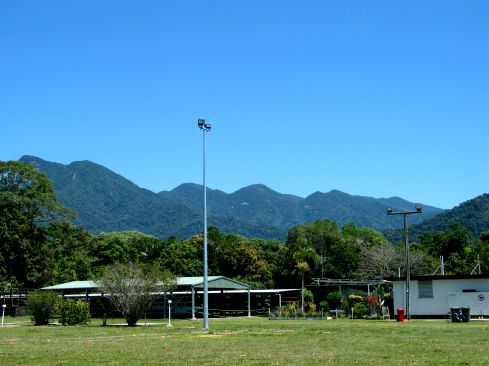 An empty Campsite, overshadowed by tomorrows mountains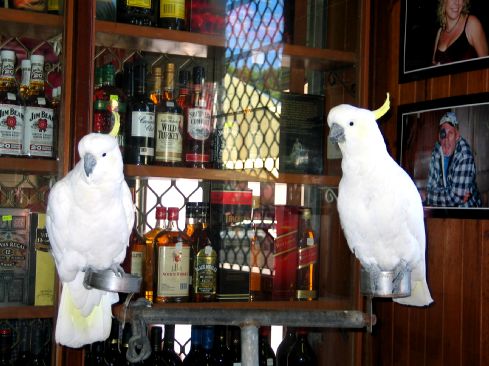 A couple of regulars at the Mossman Pub.