Day 3 - Monday, 11th September 2006 - Mossman to Mareeba
Today was the first full day of cycling. I was up early, packed by breakfast and ready by about 6:40am. I wanted to get away at 7am to try and beat the heat and the forecast headwinds. I rolled to the start and although some people had left early, I decided to wait until the official start time. Unlike the NSW Rides, there isn't as much mollycoddling, and so the start was without all of the fanfare. I met Michael on the start line who I knew from previous rides. We set out together, but he was a bit unwell so I suggested he sit on my wheel.
The highlight for today was a 7km climb at approx 5% gradient, I wasn't that worried as I am used to that sort of gradient, although the hills are usually a bit shorter. At the base I started a stopwatch to see how long it was going to take me. I actually really enjoyed the climb, it was very similar to the climb from Brooklyn in Sydney, just a bit longer. It was really consistent and subsequently I found a good rhythm and stuck to it. I passed several riders who had left early, but I was still chasing the elusive Rabbit who had left about 20 minutes early. I was making a good time and although I was working, I wasn't hurting. I passed a few points where it was really scenic, looking back over Mossman and Port Douglas. I rode past a lookout which Rabbit had stopped at, a few k's later there was another, and soon after that I crested the hill. My final time was a bit under 23 minutes, I was aiming for a sub 25 site unseen, so I was pretty happy. I went back down to the second Lookout to get some pictures.
I went over the top and kept on towards Mareeba, I rode with another cyclist briefly, but he stopped at Morning Tea. The terrain was some nice slow undulations that broke the pace up nicely, the scenery was pretty spectacular. At some times it was possible to forget that we were in Far North Queensland, there were plenty of large termite mounts that served as a reminder. I also passed a Fish Farm that was obviously breeding Barramundi, as they were selling it for $10/kg.
I pulled into Lunch pretty early and it turned out to be Hot Dogs, so I grabbed a few things that were easy to carry and kept on. Another rider pulled in just as I left, after Lunch, the terrain got really dull. It was flat, the road was dead and there seemed to be a slight headwind to top it all off. I was riding pretty well but the k's didn't seem to be going past very quick. One thing that really caught my eye was the number of birds of prey that I was seeing. I am not enough of an ornithologist to know exactly what they were, but compared to other areas that I have been in, they were very numerous. I reached afternoon tea that was at a fruit plantation, I purchased two bananas at the princely sum of 50c each.
The rider from Lunch stopped briefly and we rode out together to finish the day. Scott was from the Gold Coast and typically did Triathlons. We chatted all the way to town. On the approach into town, I finally saw some Cane Toads, admittedly they were about 2mm thick, as they had already encountered a car. At Mareeba we pulled into a Cafe and had something to eat and drink. We were soon joined by two other riders, Michael and Bruce who was from Nowra. Bruce was training for the Warrnambool (a 299.1km road race in Victoria), so he was heading out for another 100km of training. We rolled into camp to see what, if anything was happening.
Luggage Trucks were MIA, but we grabbed some good spots and hung around. The Luggage Trucks eventually showed and there were plenty of riders to help unload, and I wasn't one of them. Once set up and cleaned, I decided to head into town. I caught a shuttle bus at the front gate, and I ended up at The Coffee Works, who roast a lot of the coffee that is grown in the area. This area produces 90% of Australia's Coffee. I took part in a tour, and although I don't drink coffee, I was interested in the production of it. I learnt a lot and it was interesting to find out that there is an art to actually roasting the beans. I found out that approx 40% of the taste of coffee comes from the growth of the beans, 40% from the roast, 10% from the blend and 10% from the brew. Despite this people are regularly able to make a bad cup of coffee.
After the tour I wandered back into town and bough a new bowl (my old one had cracked) and a pair of swimmers. I came back to camp and plenty of other people had packed into the shaded area. Right now the temperature has dropped down a lot and we are forecast for a cold night, even so, I don't think that it is going to be as bad as Stanthorpe.
| | |
| --- | --- |
| Distance | 76.8 km |
| Average | 28.84 km/hr |
| Time | 2:39:47 |
| Maximum | 53.44 km/hr |
Images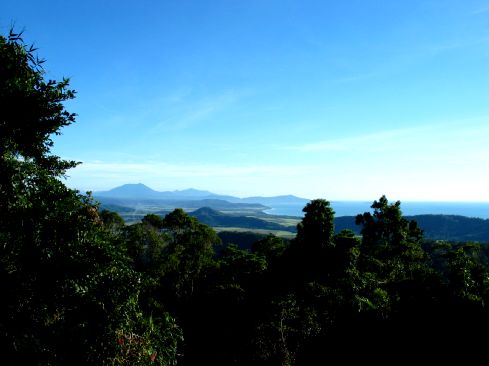 The view from the lookout at the top of the climb.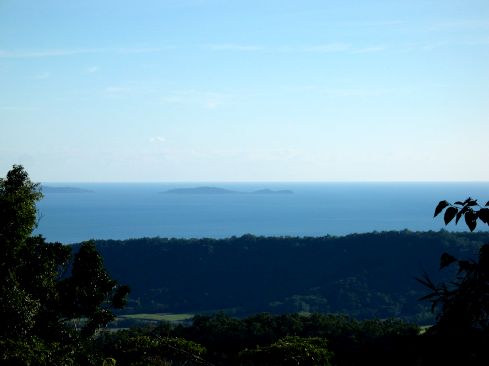 Crikey! Now that's what I call a big Croc!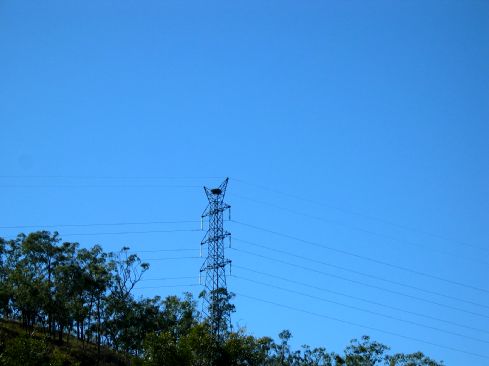 Great Location, on site power, amazing views...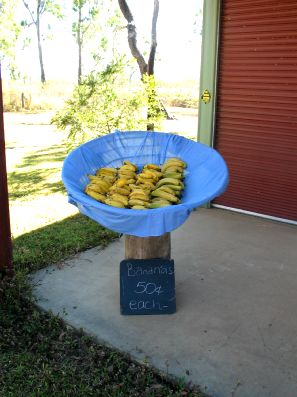 Now thats what I call a bargin!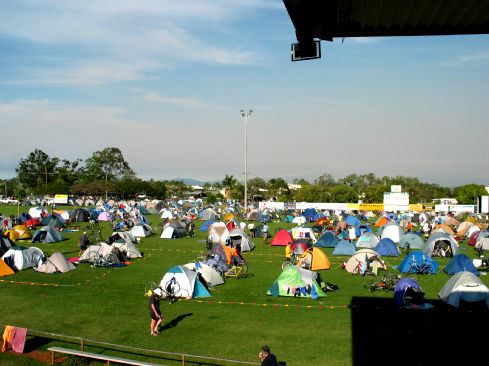 Obligatory campsite shot.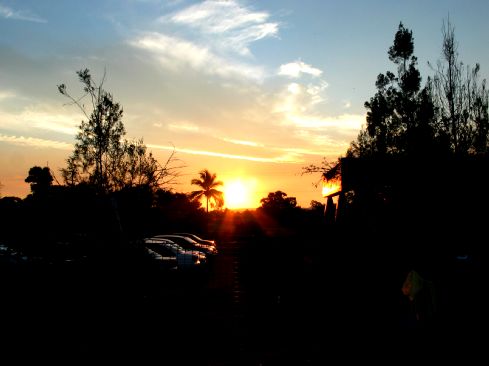 Sunset at Mareeba.
Click Here
for more Photos from Day 3.