Day 5 - Wednesday, 13th September 2006 - Malanda Rest Day
Last night was the Rest Day Party, it was a bush dance that was on the camp site, so it was convenient. Despite being in the tropics, it was a cool evening, and every one was pulling out the warm gear. Some people hadn't packed much though so they went hunting at the local op shop. I went to the dance which was run by the local community, the band were excellent and really got the crowd going. They were running a raffle, and the prizes were pretty simple. I took out one of the more major ones and won a toy Tree Kangaroo.
I had a bit of a restless night, and part way through the wind, which had died down at sunset, picked up again with a vengeance, and it brought the rain with it. It was on and off so I was hoping it wouldn't hang around. As it was the Rest Day, breakfast was later, so after eating I grabbed the bike and headed out a bit after 8am. I was originally going to go to Gordonvale, but with this weather I knew it could be a real problem and make the ride a lot harder. I was heading back up yesterdays route towards Yangaburra, I noticed that my front tyre didn't look the best. I stopped and checked it out, sure enough it was going soft, so I pulled into a Road House to change it.
The didn't have a compressor that worked, so I had to pump it up by hand. by this stage the wind was still going strong, and a few showers had come through, so I pulled the pin on riding to Gordonvale. Instead, I revised my plan to go to Heales Lookout, the Cathedral Fig, and Lake Barrine. I hit some road works, but they let me through against the traffic as I could stay out of the traffic flow. I got to the top of the Gillies Range, and started descending down.
I got to Heales Lookout a few k's on. Someone had told me that there were 260 corners or so on the hill, I could well believe it. You pretty much came out of one corner to enter the next, there was very little straight road. While at Heales Lookout, a small tour group of Motorcyclists pulled in. I could see that a Motorbike rider could have a lot of fun on a climb like that.
I headed back up the hill and noticed that the corners were numbered, even this far from the top, maybe 5km (probably less), I was at about corner 50. I found the climb not too bad, and quite easy to find a rhythm. Once over the top, I headed back up the road to the Cathedral Fig. Like the Curtain Fig it was pretty amazing. After that, I headed back to Lake Barrine, another crater lake like Lake Eacham. I wandered up the track to the Twin Kauri Pines, these trees are giants and approx 6m in diameter, this means they are 700-1000 years old!
I stopped off there and had some morning tea with some other cyclists who had driven down. Then it was a return to Malanda. After a nice warm shower (as opposed to the cold showers I was getting on the road), I wandered into the local Bakery for some lunch. I spoke to a couple there who were on their first Cycle Queensland. I had to do some washing and some minor adjustment to the bike. Even now (4pm) it is quite cool, the wind is still blowing and the showers are still coming. I have no idea what to expect weather wise tomorrow, but it is likely to be another tough day.
| | |
| --- | --- |
| Distance | 70.75 km |
| Average | 28.60 km/hr |
| Time | 2:28:26 |
| Maximum | 69.25 km/hr |
Images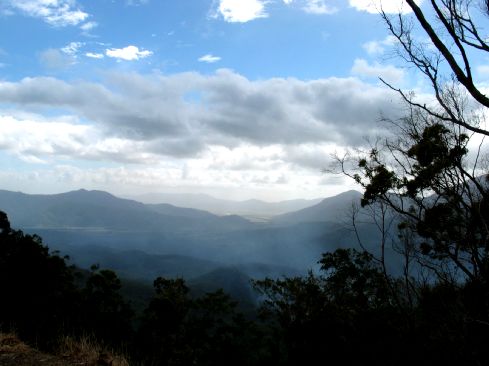 The view from Heales Lookout, imagine what it would be like on a clear day.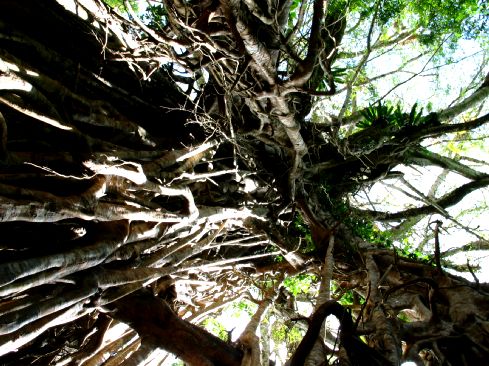 Looking up inside the Cathedral Fig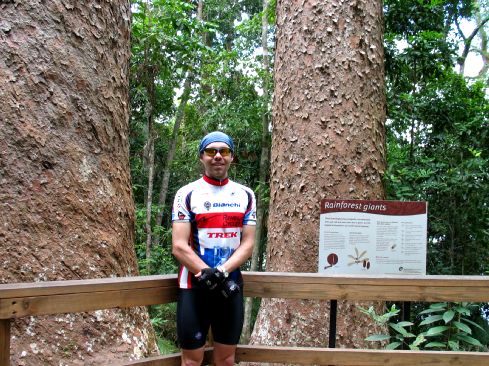 This gives an idea to the size of these Kauri Pines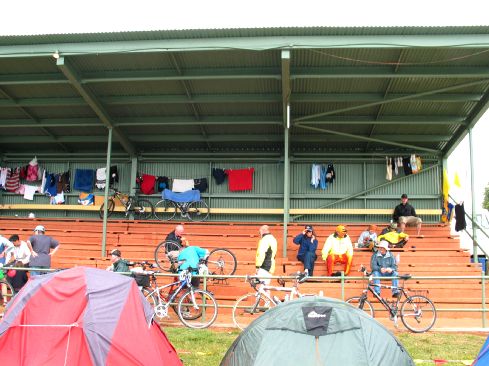 Grandstands, good for bike storage, drying washing and lounging around.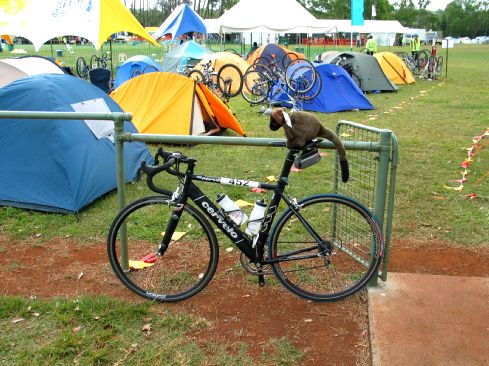 This Tree Kangaroo tried to steal the bike, I caught him and had him stuffed.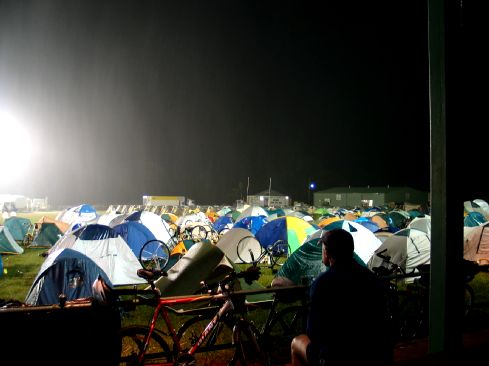 The night camp, compete with rain.
Click Here
for more Photos from Day 5.