Day 6 - Thursday, 14th September 2006 - Malanda to Ravenshoe
Last night was another windy and wet one. I got up this morning and luckily there was enough of a break in the rain that I could collapse the tent in the (relative) dry, as I was near the grandstand I had somewhere to store my bags undercover. Breakfast was a ham and cheese crossiant which I decided to skip. Again, I managed to have breakfast during a dry spell.
I had arranged to ride with Scotty today, so although I was at the gate early I hung around for him. He showed up and so we were under way shortly after 7am. Although Ravenshoe is only about 40km from Malanda, we had about 70km to cover. I also wanted to take a deteur and vist The Crater at Mt Hypipamee, which was about 5km off route. Today was a day for Highest. We went over Queenslands Highest Sealed Road (1126m) past Queensland Highest Railway Line & Station, and Queensland Highest Pub.
The first 16km was heading North West from Malanda, so we had a nice tailwind to push us along. Subsequently we made Morning Tea in about 30 minutes. We went straight past and were told that only a handful of riders were still ahead. We pressed on with the rain showering us occasionally, but it wasn't really getting us that wet. Just before the big climb of the day we caught up to Michae and then Rabbit. Michael jumped on but lost contact on the hill.
The hill was about 3km long, at about 8%, so steeper, but shorter thatn the climb up from Mossman. Early on I saw a car that had either come to grief, or been pushed over the side. I waited briefly at the top for Scotty, and then we were pushing to lunch. Several times I thought that the views would have been pretty spectacular, but we couldn't see much as we basically had our head in the clouds. We made Herberton, the lunch stop, in just a shade over an hour.
Two riders had beaten us in, Eddy and Christine, but they had both left early. We pulled out of Lunch and then it got hard. By this stage, we had swyng around to the South East, so we had a no nonsense head wind. We struggled on over the undulations and kept swapping turns or just chatted. Scotty asked about The Crater, but said he just wanted to get to Ravenshoe, I folded and decided against it as the weather wasn't the best. At one point Scotty noticed a small troop of Kangaroos grazing in a nearby paddock. It also looks like a large part of the Army use this area for training, as I noticied several signs with unit numbers on them.
We left the loop road to Herberton, and again felt that the views and scenary would be brilliant, if we could see them. We turned off the main road to Ravenshoe for another deteur, and straigh up a hill, the crest of which was the highest road. So theoretically, it should all be downhill from here. Over the crest we got buffeted by some strong rosswinds, I could feel the bik lurching sideways underneath me. Even so, at times the road and the winds gave a good opportunity to get some speed going, we blasted past Afternoon Tea. We kept on going and keeping a good pace, we finally saw a sign that Ravenshoe was only 9km away. We finally made town at a bit after 9:30am.
We went to a Cafe and had some hot drinks. The Camp tonight is in an Old Railway Yards, which besides having an old Train Station, and Line in the middle (which is still used for tourism), the Fire Station and a Play Ground. I helped unload the luggage truck and set up. I wandered up to the Baker and after that I had a sudden bout of insanity and jumped back on the bike.
It looked like it was fining up a bit, so I headed back up the route towards The Crater. I made pretty good time and there was a fairly solid stram of cyclists going the other way. When I made the turnoff to Herberton I asked the WICEN (Wireless Institute Civil Emergency Network, who provide the Radio Communications for the ride) person if he knew where the Sag Wagon was (it had just left lunch) and how far it was to The Crater. He wasn't sure but he did know it wasn't too far, and another woman had already gone that way. I headed off through some Rainforest and on a descent I saw the woman heading up. I asked her how far and she told me about 2km and it was worth it. I kept on descending and nearly lost it on one corner.
I made The Crater and headed off down the walking track. It was worth it. Although it was simply a hole in the ground, it was about 25m across and about 60m down to the water level. I didn't walk to the falls in the area as cycling shoes aren't designed for walking. I headed out and back towards the route and Ravenshoe. At the intersection I noticed that riders were still coming through, so the Sag Wagon hadn't made it yet. I pressed on and passed several cyclists on the hills.
I was still pushing hard and passing cyclists like they were standing still. Although you should call "passing" when overtaking, I often wasn't bothering. I ended up back in town at about 2pm, and went straight to the Bakery as I could feel "The Wall" approaching on the final leg. I grabbed a shower and took a wander up town and bought a beer from Queensland's Hightest Pub. Ravenshoe is putting on a Street Party for us tonight, which is a real shame, as the weather is still pretty miserable. I asked some locals, and they said that it could either stay for a day, or stay for a week. Tonight we are at about 1000m above sea level. Tomorrow we are pretty much back to 0.
| | |
| --- | --- |
| Distance | 127.18 km |
| Average | 29.63 km/hr |
| Time | 4:17:30 |
| Maximum | 61.76 km/hr |
Images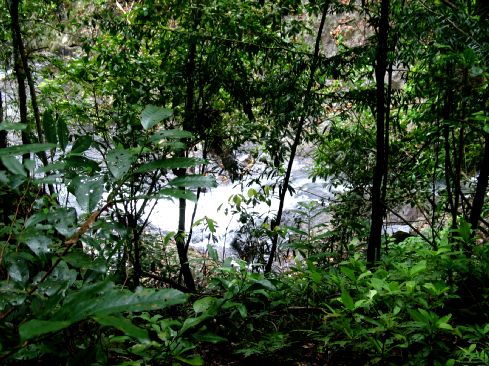 Near the start of the Baron River, this feeds Lake Tinaroo at Yungaburra and it's mouth is just north of Cairns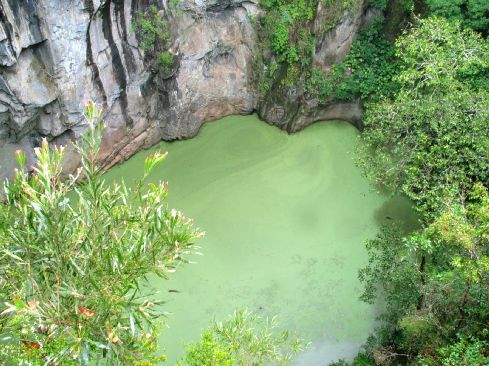 Looking down in to The Crater, this is about 60 meters down.

This might give you an idea of The Crater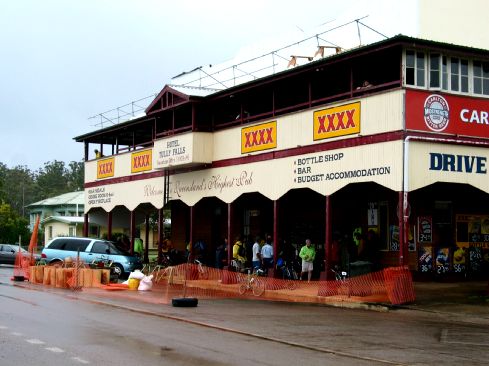 Queenslands Highest Pub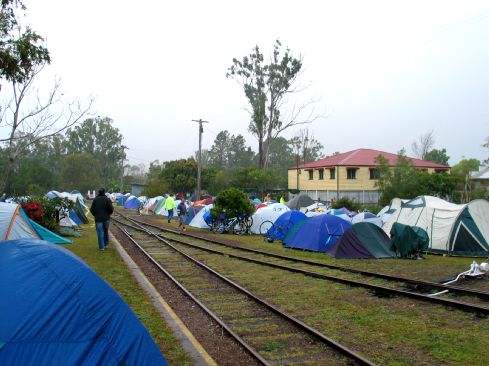 Proof we were camping in a Railway Station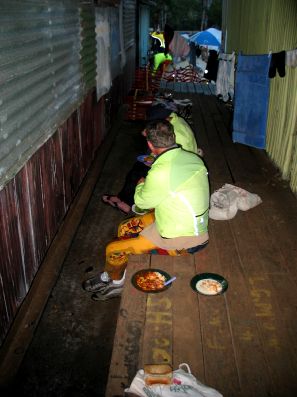 Our 4 star Dinner for the night
Click Here
for more Photos from Day 6.