Day 8 - Saturday, 16th September 2006 - Innisfail to Tully
Last night the band was really rocking at the Cafe, so I went and listed to them. They stopped playing at about 8:30pm and I hung around and watched the movie until about 10pm before seeking my tent. We had clear skies for once and I hoped that it boded well for the next day. About 30 minutes later though the heavens opened up and it rained intermittenly for the rest of the night.
This year I haven't been sleeping well at all, and last night was no exception. I was up at 5:30am and managed to pack my tent up and get my bags under cover during a break in the rain. I had breakfast under cover with everyone else, and commented that it reminded me especially of boarding school. I had originally organised to ride today with Bruce who I met at Mareeba, but he had a minor spill yesterday and decided to take it easy. I met John at the front gate, and after waiting for Scotty for a few minutes before we rolled out without him.
As it turned out Scotty had a mechanical today and subsequently finished the day on a borrowed bike. Last night at briefing they mentioned that there were lots of railway lines, but the route was basically flat. We set off and about 2 mins up the road a rider was fixing a flat. I asked if he had everything and he was lacking tyre levers. I turned around and let him use mine, he obviously didn't know what he was doing too much and I gave him some help. Once his tyre was back on, I left him to pump it up and we went on our way. A bit further up the road were some road works that caused a few minutes delay, it was annoying as we were trying to catch a bunch ahead of us.
I had left Johyn behind and approaching a Sugar Mill there was a nasty railway line through the road. I tried to take it at 90 degrees, but I wasn't succesful, so combined with the wet road I went down on my left. I jumped up, put the chain back on, checked both wheels, and set off again, up the road I took stock of my injuries and found some road rash on my left forearm, a torn left glove and that was about it. I kept passing riders and many others had also fallen on the same line. I later heard a figure of about 60 odd riders went down on lines today, one unlucky woman, got off to walk, stepped on the line, and then fell over. John caught up, and I found that he had stayed up, but only because he had crossed to the wrong side of the road to get a good angle. We presed on and John dropped behind again. I caught up to Trisha, and although she staued upright she was in a bunch where 3 riders went down. I caught up to Basil and Owen just as they stopped for a flat, they both had managed to stay upright. The country side was cane farms with mountains in the background. With the storm clouds near the mountains it was really picturesque.
Just past Basil and Owen, I caught up to Eddy just at a nasty plank bridge. There was a section down the sides which had it's slats perpendicular to our route, so I travelled down there instead (even though I was on the wrong side of the road). We caught up to Chrstine a bit further up the road. The three off us stayed together and chatted. We discussed the Tour and drugs in cycling, the bad rail lies on the route and few other topics. We felt that CQ made a mistake not signing any of the rail lines, they said that there were too many at brieifing, but as some were a lot worse than others, I think that some should have been signed.
There was more evidence of cyclone damage in the area, but the predominate feature was the cane fields (and the cane trams as well). We went past Morning Tea, and it wasn't much further to Lunch. On the approach to Lunch a Cane Train engine was on a line parrallel to us, Eddy and I gave him a race for something to do. We made lunch and it wasn't long before other riders came in, a large proportion with battle wounds. My bike came through relatively unscathed with only some scrathes on the handle bars and the saddle. Others weren't so lucky with one guy who had a loose spoke on a Ksyrium Wheel. As I went to leave lunch with a group, I noticed my front tyre was soft, so I pulled back in to change it. Although the Mechanic wasn't there, his Track Pump was, so it made pumping the tyre up a lot easier.
I left lunch and we were soon on the highway. It was dead road, and combined with the crosswind it wasn't much fun. I caught up to a few riders andpressed on. One jumped on my wheel and I had no issues, until we came to another railway crossing. I wanted to hit it right, but I couldn't see oncomming traffic as my passenger was blocking my view, and as I had to turn right for a good angle, that would put me right in his path. I ended up hitting it as I was, and I felt the back wheel kick out as it crossed one line, luckily this time I stayed upright.
We turned off the Highway into more cane fields which meant more railways. The road was still very dead so it was a really tough day. A bit further on, we came across another bridge which I opted to take down the senter, as again it had perpendicular slats. It was quite rough, but ridable, until I saw the 3 inch lip on the other side, I managed to jump the bike without an issue though. Up the road Trisha had stopped for a flat, but she had two helpers so it was all good. I finally made made Tully at about 10am.
I rolled into town and found John and Gaye at a Cafe where I joined them. We swapped stories about the route, partly about the bad railway lines. Although the weather made them more treacherous, CQ could have done more to warn about them, or put a roll of carpet over them to reduce the danger. I went to the chemist and bought some Tegaderm, which I find best for trating road rash. Back at camp, the luggage trucks were nearly unpacked, so I grabbed my bags and went to setup. This norning I leant my chamois to Michael to dry down his tent, when I came back I didn't see it and assumed that he had packed it in his bags. He hadn't so someone had lifted it. Not a major loss, but still annoying.
After a shower, and scrubbing the wounds clean, I patched myself up and booked a Sugar Mill Tour. It complted the first side of the Bundaberg Rum Distillary Tour I did in 2004. It was interesting that they produce power from the cane, so to an extent they are a perpetual motion machine. I bouth a new chamois, but Michael had got one for me as well.
Tomorrow this all comes to an end with a 25km jaunt to Mission Beach. I am planning on leaving at about 8am as there is a 9:30am Mass Finish. I have a Hotel in Cairns tomorrow night which I am looking forward to, as well as having a good shower and finally getting clean.
| | |
| --- | --- |
| Distance | 72.85 km |
| Average | 28.96 km/hr |
| Time | 2:30:55 |
| Maximum | 48.48 km/hr |
Images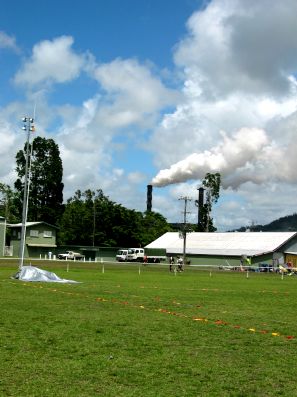 The Tully Sugar Mill, also showing the strength of the wind.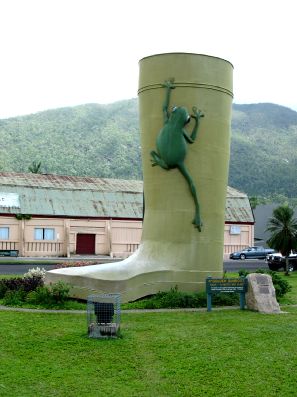 The Golden Gumboot, it's height matches the amount of rain received in Tully in 1950, 7.9 metres, an Australian Record.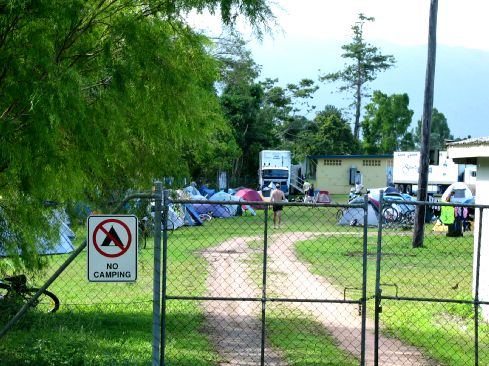 Whoops....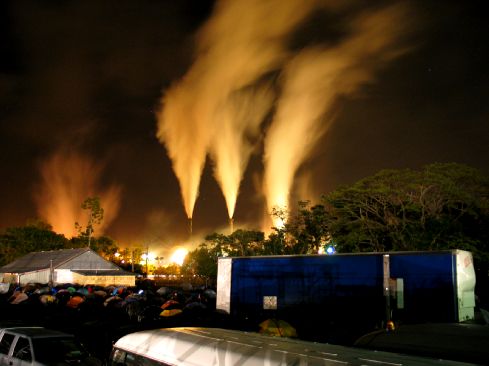 Tully Sugar Mill at night.
Click Here
for more Photos from Day 8.