Day 9 - Sunday, 17th September 2006 - Tully to Mission Beach
Last night, the route for next years CQ was announced, they are going from Milles to Mooloolaba on the Sunshine Coast. I think that it is going to be similar to to last years ride, just further north. The Final Night Party was on last night as well, but I didn't attend. Instead, I sat with Grahame, his partner Aneeta, Christine and Rabbit and we discussed previous rides, especially the 2004 Great New Zealand ride, this one suffered from a lot of rain, wind and cold weather.
Todays ride was only about 25km, with a 9:30 Mass Finish, there was a short section on the Highway, so they were going to take us out in groups under controlled conditions. There were 4 departure times, 7am, 7:30, 8 and 8:20. Originally, I had wanted to do the leg three times, there, back and then back to Mission Beach, but I picked up the cold that was going around camp so I decided against it. I was up early and had a slightly lazier breakfast.
Although I was packed early, I didn't put my bags on the truck as I wanted them further back. Grahame and I decided to leave at 8am, but there was a bit of a mass start, which a few of us commented made us nervous. I know that I can ride in a fairly massed bunch, but I wasn't sure about the other riders. It went off without a hitch, and once off the highway, the lead policeman peeled off and the pace opened up.
I saw a small lead bunch go off the front, but I had nothing to prove and I wanted to enjoy the ride, so I didn't give chase. I rode with Grahame today, and even though I dropped him a few times I eased up. The initial road was a bit dead, but it did improve, there were a few small rolling hills, but nothing huge. We were riding through rainforest that apparently had a lot of Cassowary's, we didn't see any, but there were plenty of road signs warning of them. About half way, we started to pass cyclist who had left in the previous group, this wasn't a problem as they were mostly riding single file, and there was very little traffic. We rolled into the marshaling area with about 40 minutes to spare.
I went to the nearby supermarket to buy some throat lollies and then chatted with Michael. I was near the back of he bunch for the Mass Finish, but I saw Grahame and Aneeta so I watied with them for the real tail end. As we set off, I noticed that I had another front flat, there must be something wrong with the tyre as that is my third front flat in a week. It was only soft, so it got me to the finish.
Once over the line, I found my bike box and got the bike packed and on the correct truck. Then I went looking for my bags. I got changed, and then chatted to people I knew. There was a Rotary BBQ, and so I grabbed a vegie burger from them, I went back later, and they had sold out. It turned out that twe went through about 600kg of sausages. Rabbit, Christine and I were all on the 12:30 bus back to Cairns, so we had a bit of a wait. I didn't have my Hotel Information, so I borrowed a Phonebook to try and locate them, no success, but directory assistance helped me out.
There were two food places nearby, and usually neither open on a Sunday, but both had opened today. Rabbit and I went to the Thai Resturant and bought some lunch. The owner didn't originally know about the ride, but someone had told him about it on the day, so he rushed over and opened. The busses got away a bit late, but we weren't rushing for flights, so it wasn't a major problem. We travelled back through Innisfail and then onto Cairns. I said my goodbuyes, and then started the short trek to the Hotel with my two bags and the Bike Box. Once there, I found a few other cyclists as well.
I found there was a guest laundry and so I did some much needed washing as well as turning my room into a makeshift camp to dry out my tents and tarps. I went up the road looking for a Chemist as I needed some dressings for my injury from yesterday. I eventually found it, but I did run into plenty of cyclists in the process. I also booked a Train/Skyrail trip up to Kuranda for tomorrow. One of the big attractions being that it isn't weather dependant. Once my washing was done I had a good shower and finally managed to get most of the road muck off me from the previous week.
After that it was finding somehwere for dinner, it surprised me just how "touristy" Cairns is, it really reminded me of Surfers Paradise, with the sheer number of Tourist shops selling Australiana. In any case, my next priority is a good nights sleep in a real bed.
| | |
| --- | --- |
| Distance | 22.96 km |
| Average | 31.08 km/hr |
| Time | 0:44:19 |
| Maximum | 43.13 km/hr |
Total
| | |
| --- | --- |
| Distance | 485.36 km |
| Average | 29.29 km/hr |
| Time | 16:34:11 |
| Maximum | 64.09 km/hr |
Total + Extra Riding
| | |
| --- | --- |
| Distance | 641.69 km |
| Average | 29.16 km/hr |
| Time | 22:00:13 |
| Maximum | 69.25 km/hr |
Images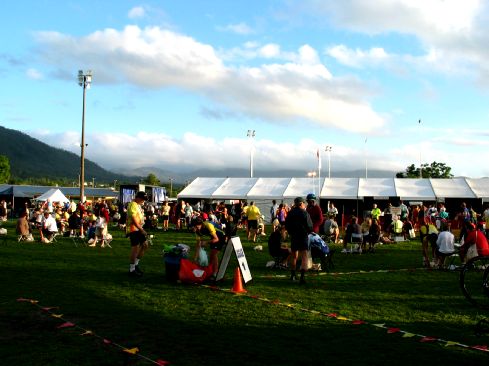 The last Breakfast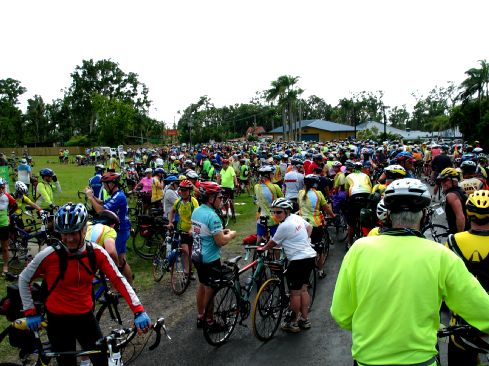 Lining up for the Mass Finish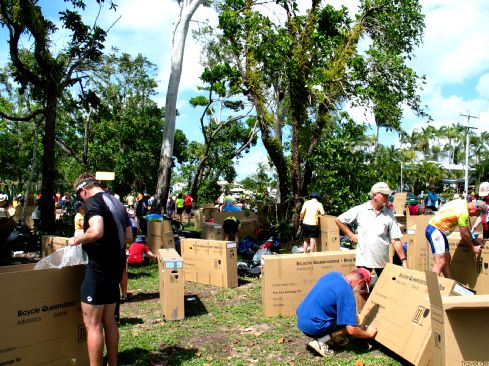 Everyone madly boxing their bikes for the trip home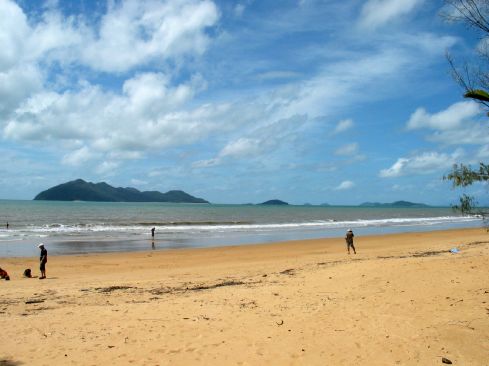 Dunk Island, off the coast at Mission Beach.
Click Here
for more Photos from Day 9.