Day 0 - Sunday, 7th June 2009 - Sydney to Alice Springs
And so it begins. Today started early, while I had done a certain amount of packing yesterday afternoon. I pretty much ran out of time, so I still had a certain amount to do this morning. It was never rushed (unlike last year), and I was able to get away at my planned time and I got to the airport with plenty of time to spare.
This year, All Trails are able to transport my bike box to Darwin, so I am making use of that and bringing the hard case. However, Qantas have changed their baggage allowance, and I was limited to just 25kg, and the bike box was considered part of this. As a result, I got slugged with a hefty excess baggage fee. As I said to the lady on the desk, "I have to bring it". Not the best way to start the holiday, but there wasn't much I could do. I had trimmed my baggage down as much as possible, and I don't think that there will be much that I won't be using, so I didn't have a lot of choice.
Before getting aboard the plane, I watched the baggage to see if my bike was going to make the trip with me, I could see it and two other bikes on the trolleys, so I suspected that there were at least two other riders on the plane with me. I couldn't recognise anyone in the departure lounge, but there could have easily been riders who I didn't know.
The flight was about 3 and1/2 hours, but I had plenty of things to keep me amused so it was never going to be a problem. We left Sydney behind with cool temperatures, overcast skies, and some threatening rain and occasional drizzle, the flight was uneventful, but the lady on the desk must have taken some pity on me with the size of my excess baggage as I was given one of the emergency exit seats, so at least I had plenty of leg room.
We landed in Alice Springs to some cloud, a slight southerly wind (which if it keeps up will be a tail wind), and a very nice temperature. I met one of the riders when we went to collect our bikes, Katrina, who is from Western NSW, and then we met Jan, who is from New Zealand. We called up Phil who arrived to pick us up and take us to the Hotel.
I found out that there are only 12 riders on this trip. So very low numbers, there are some who I do know, and some new faces as well. The Broome ride is completely full, so I will be going from a small group, to a slightly larger one. On arriving, I saw Pat, who I met last year, and I greeted him, he was having a few issues with his bike, so I assume that it received a bit of damage in transit.
I went to reception to get my room key, and once I had it, I dumped my stuff in the room. I was pretty hungry by this stage, so I went and saw Katrina and Jan to see if they were interested in getting a bite to eat. They had eaten on the plane, but were keen on just getting a coffee. We wandered to the Todd Mall, but as it was Sunday, most places were closed. I had to get some money out, but the NAB ATM was out of order, so I had to use a foreign one. That means that I now need to get in touch with the Bank to get the fee reversed.
I had a Camel Steak Wrap that was very nice, and certainly filled the hole in the stomach. While it was a bigger lunch than I would normally have, I was pretty hungry, and I know that I am going to need plenty of energy over the next several days.
On getting back to the Hotel, I found out that I was in the wrong room. There were already two people in the room in which I had been placed, I went with Sue back to Reception and it turned out that they had managed to make a name up out of one persons first name, and their room mates surname, once it had been sorted out, I was put into the right room with Alan who I knew from last years ride. The All Trails crew were after my bike box, so there was a quick rush to get the bike out and get what I needed to get it together. It doesn't look I managed to forget anything, and I was pretty careful when packing to ensure that nothing got left behind. Yesterday I cleaned the bike as well as changed both tyres. Hopefully over these next 5 weeks, I will have relatively few mechanicals. I have done as much as I can to ensure that that is the case.
We have tonight in Alice Springs (where it is already starting to cool down), and then we are away. Tomorrow is a 130km day, and as a result we get away at about 8:30am. Tuesday is the big day with 240km to cover, so there isn't much chance to ease into it this year. I have brought along all of my winter riding gear, and I suspect that I am going to be using all of it, especially early in the ride, and in the early mornings. It is regularly getting down below 5 degrees at night even this early in Winter. As the ride goes on, the temperature will rise, but the initial mornings are going to be cold.
I still need to pick up my ride pack for the trip, then we have a quick briefing for the night, and we need to organise ourselves for dinner.
Images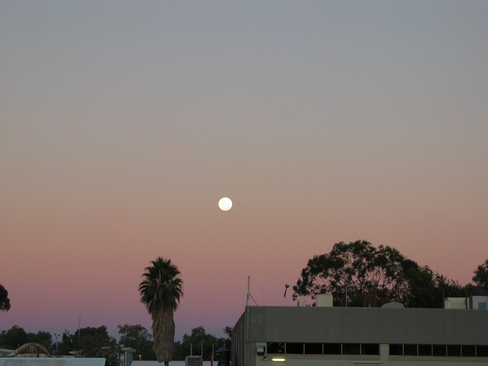 Moonrise