Day 1 - Saturday, 3rd May 2008 - Adelaide to Clare
1 down, 15 to go. Today was an amazing day to be on the bike, sort of conditions that make you glad to be outside. About 20 degrees Centigrade, low humidity and a slight breeze, admittedly it was a head wind for most of the day, but you can't have everything. After breakfast at 6:30am I was packed and pretty much out of the room soon after 7am. All of that practice on NSW Big Rides and Cycle Queensland's seems to have paid off, and I didn't have to pack up a tent which made it even better.
After checking out I took the bike around the block to make sure that it was all OK after having been reassembled the previous night. As I said when I returned, "I went, it stopped" so it passed the test (as did I). Once all the bike boxes were loaded and the bags were crammed into the remaining space, we had a short briefing, a quick photo and we were away shortly after 8am, our planned departure time.
Because we had to ride through Adelaide to begin with, we started with a police escort, just a single car, but the best thing was he attempted to trigger the lights to green on approach so we wouldn't have to stop. We left at a fairly sedate pace of about 25km/hr. After about 10km we had left most of suburbia behind and our Police Escort left us to get on with the ride. I soon found myself on the front and we were rolling along at a pretty steady 30km/hr, not enough to destroy you but gets through the k's.
The day started off very flat and would remain that way until about lunch time, Morning Tea was at Two Wells, about 40km into the day, it was just off the highway and once leaving it we wouldn't return to it. Morning Tea was a Home Cooked Treat made by Sue which went down like a treat. After about 30 minutes we were back on the road with about 50km to cover to Lunch.
I rolled out by myself with the idea being to catch up with a group who were slightly ahead, or to get swept up by a group from behind. I caught up with a small group after a few k's and they were sitting on about 30km/hr, so I just sat in with them. I did some fairly long stints on the front which was appreciated by the other riders, it is a very nice feeling, peeling off and being thanked by the other riders in the group. One advantage of sitting on the front is that it gives you a good opportunity to look around. This is part of Australia's Wheat Belt, and as it was just after the Summer Harvest Season, many of the fields were stubble, some had sheep grazing, but many did not. In many places, the group was flat pretty much all the way to the horizon, the only exception was to the North where some hills were in evidence. Between Two Wells and Mallala, the road had been designed by ruler and pencil, the only time it wasn't occurred when we had to cross the railway line. Because the road was so flat and straight, the biggest issue I had was from saddle soreness, or more accurately, numbness. Normally this isn't a problem for me as I am used to riding through suburban areas where you have to stop for traffic lights, or I am riding through hills which allow you to change your position on the bike. Because we had neither, the only solution is to get out of the saddle on occasions to give your backside a break.
While were were on a secondary road, there was still enough traffic so that we stayed riding in single file. According to the profile we would start climbing before lunch, but I didn't notice, and I don't think the other riders did either. We pulled into Balaklava at about 11:30am, our Lunch stop for Day 1. Lunch was provided by Wendy's Cafe in Balaklava, who opened specially for us as they don't normally open on a Saturday. It was a very nourishing Chicken Soup and Pasties, which after about 90km, hit the spot pretty well. On rolling out of town, I was again with the leading group, it was a bit bigger this time, but the pace was pretty much the same. For once the road had a few small dips and bends, but it didn't take long for the road designer to get their ruler back out. We were heading towards Auburn, and it was a bit confusing as we ignored a turn off to Clare, our destination for the night. We finally hit a reasonable hill, and to get a change in, I climbed it out of the saddle, I wasn't riding it particularly fast, but the group splintered behind us, there were 3 as we crested, and after the next hill there were only 2.
There was about 55km to cover after lunch, and Auburn was about the half way point. David and I split the turns fairly evenly as I was starting to feel the distance in my legs. On the run towards Auburn, there were some more slight hills, but compared to what I train on in Sydney, they weren't overly Challenging. After Auburn, we turned North again, back into the the headwind. It was only slight but you could feel it when you were sitting on the front. By this stage we were riding through vineyards which make up the Clare Valley, they were also plenty of Wineries offering tasting, which while tempting, didn't encourage us to stop. Both David and I were starting to feel pretty ordinary, but we only had about 25km to go, Dave was probably a bit worse for wear, but I wasn't far behind him. We passed through several small towns on the way to Clare, many of which had a surprisingly large number of B & B's (as well as wineries). As Dave and I counted down the k's to go, we passed through Seven Hill, ominously named, but after a short climb out the other side we started a slight downhill run to Clare, both Dave and I perked up at this and it certainly made the last few k's vanish pretty quickly. On arriving in Clare, we were looking for the nights accommodation, and as we had nearly ridden through town, started to wonder where it was.
It was on the Northern side, so luckily we didn't have to turn back to find it. Dave and I were first in, and we helped Phil unpack the luggage (that sounds familiar), but as there are only 25 riders, it didn't take too long. Unfortunately, my room was right at the end of the block, so I had to lug the bag a short distance. After a stretching session and a shower, Afternoon Tea was ready and so we sat, chatted and relaxed as most riders were in by that stage. I went for a brief walk, and found a Winery just around the corner who also did a Larger, which I purchased some of to enjoy back at the hotel with Chris, my room mate for the night. Tomorrow we can expect about the same distance as today, but with a few more lumps. Should be good.
| | |
| --- | --- |
| Distance | 147.82 km |
| Average | 29.65 km/hr |
| Time | 4:59:04 |
| Maximum | 55.92 km/hr |
Images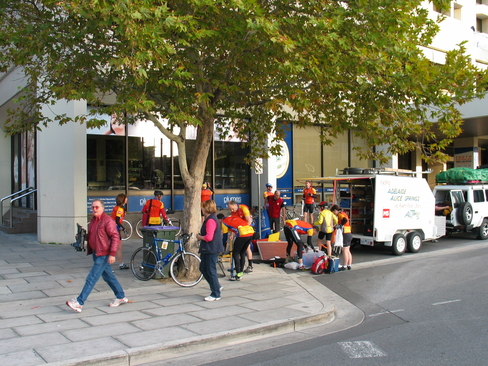 Loading for the first time, trying to get ready for an 8am depart.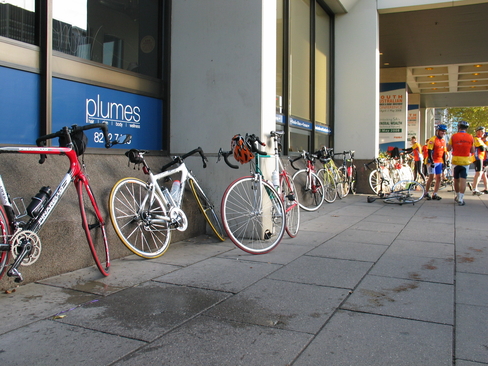 Bikes, waiting for the start...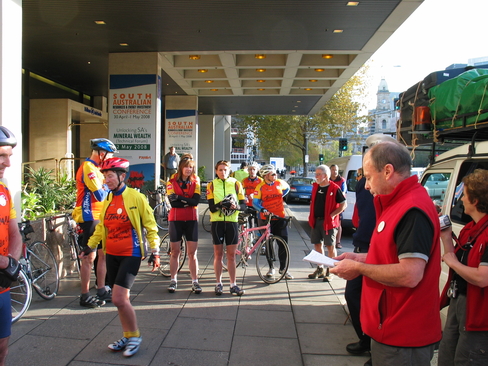 Phil giving us a few words before the start.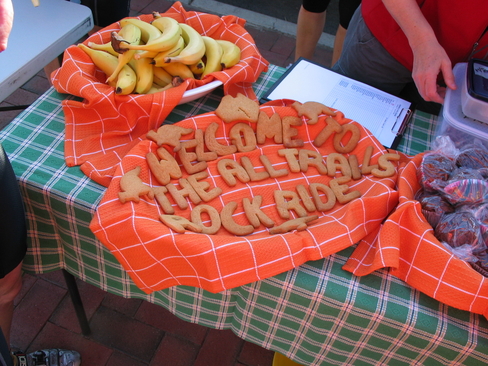 Sue's baking isn't just delicious, it looks good too!
Click Here
for more Photos from Day 1.