Day 10 - Monday, 12th May 2008 - Marla to Kulgera
Last night at Dinner, I opted for a vegetarian choice, after the Dinner at Cadney, I felt like something with a bit less meat. Considering that this is a Truck Stop in the middle of nowhere, they made a very good vegetarian meal. All up, we had a very enjoyable 3 course meal consisting of soup, roast and Bread and Butter pudding. I checked in with my parents last night as well as it was Mother's Day even being in the middle of Australia is no excuse for forgetting.
We were all up early for a very large breakfast, Andrew said that there was a whole pigs worth of bacon, a plantation of tomatoes and lots more to go round. As today was a 179km trip, it was well appreciated. Phil was giving us some instructions about the day, and was managing to play both the Good Cop and Bad Cop in one go. He wanted us to take it easy, but kept on reminding us that we had a schedule to keep. Last night I had confirmed that I could change one gear higher or lower, but I would have to stop and get off the bike to do it. Even so, any change is better than none if I need it.
I set off with pretty much all of the riders at about 7:15am, initially we all stayed as a single group. Before I loaded my bag this morning I made a last minute decision to make use of my arm warmers, I was glad of the call as it was pretty cold and with the fingerless gloves, almost painful. About 3km up the road some cattle made a sudden dash across the road in front of us which was a shock to the system, about 500m past that was a sign warning of cattle in the area. As someone pointed out, a bit late.
For the first time in a few days, there were some small hills on the horizon, the road seemed to be threading it's way between them, so they didn't add to the difficulty of the ride. I had warmed up by this stage, but I hadn't adjusted the chain back to it's correct position after stuffing around with it last night. I pulled over, made a quick adjustment and continued on my way. The initial group had split by this stage and I set off in pursuit of the faster riders. I caught up, and Graeme was the tail marker and wearing nicks with "Catch me if you can" splashed across his backside, I quipped that I just did.
The group consisted of Pat, David, Rob, Jane, John and Graeme, I was told that it was 30km/hr, with 3km on the front, that suited me fine and we were all able to stick to it pretty well. Morning Tea today was at about 50km and 10km shy a shout of horses suddenly went up from the bunch, a horse was running along side the road to our right, a second one soon joined it. We slowed our pace and kept a keen eye on them to find out what hey were going to do. They ended up crossing about 40m in front of us. This made us extra cautious and I spied two more ahead of us as well, they were stationary initially, but they soon started running and they too crossed the road in front of us. David observed that they were shod and so unlikely to be wild, they also looked to be in amazingly good condition. I doubt that there is sufficient feed in the wild to keep them in that sort of nick. The entire event reminded me of the Horse that joined the peleton in the Tour de France several years ago.
Phil and Susan overtook us and they had seen the horses and managed to capture them on film. Further up the road we came across a Rest Stop, it was at about the right distance to Morning Tea, but initially we couldn't see the All Trails vehicle, we did catch sight of it and pulled in for our first break of the day.
After our break, I headed out with the same bunch, Phil had put an extra break in at about 90km, but it was only designed to be a short rest before lunch at about 120km. Just out of Morning Tea we crossed the Central Australian Railway again, it is now to the east of us and out of sight until we reach Alice Springs.
The group was the same as before, and all riders were taking their turns, although some were hogging the front at times, most were doing their 3km and dropping back. The wind continued to be unkind, and a slight breeze had cropped up, and true to form it was pretty much dead on. It was only gentle, but it made the turns on the front just that little bit harder, we really haven't had a lot of luck with the winds on this trip so far, at times we have had tail winds for short sections, but they have generally been against us. On the approach to one of the cattle grids, there were some cattle to one side, they just watched us pass and caused no trouble. Today again, the vegetation varied wildly, at times quite dense, and at others very sparse, with everything in between. A few times again, we crossed more dry river beds, and as before, the amount of vegetation increased dramatically, even Gum Trees were in evidence in the bed. Considering that a Eucalypt is a fairly drought resistant tree, you know that the conditions are harsh when they normally don't survive.
Just over one of the bridges, Phil and Susan had their extra snack stop, although there was a rest shelter just off the road, it was set up on the verge. Despite being next to the highway with a 110km sped limit, it wasn't an issue as there was so little traffic. Soon after stopping, Pat and Graeme who were both wearing Heart Rate monitors quickly compared their Heart Rates, obviously trying to see who was recovering the quickest. Because we were crossing into the Northern Territory today, where you are not allowed to carry fruit, bananas were the staple of the snacks, after a short break, we reformed our group and set off for the lunch break. Again, the same 7 riders were together, and we were sticking to the same formula as before. Jane is our resident Botanist and she was much more observant of the plant life than the rest of us, even going so far as pointing out the few green patches that were in evidence from time to time
Pat and Graeme kept their Heart Rate competition alive by seeing who had the lowest while sitting in the bunch, if anything else, it was entertainment for the rest of us. On our way to lunch, we passed an inflatable rhino at the top of a pole, I would love to know the story behind it, it certainly was unusual. Someone had also constructed some sheep out of scrap metal that were quiet clever, I was unable to get a picture as I only saw them as they flashed by. Again today, we saw numerous Wedge Tailed Eagles, most of the time they were circling around, and we often speculated that they were watching us. They seem very relaxed at times around cars, but very skittish around the bikes, I suspect that they are more used to the vehicle traffic than us nut cases on bikes. At one point Jane was taking her turn on the front, and by her own admission she can't read her bike computer while riding, as a result, she ended up doing about 4.5km before I rolled up the line and told her, ironically, her husband, John was next in line to take a turn. A few kilometres shy of our Lunch Break, the pace had started to take it's toll on John and he started to fall off the back. Even though he said he was content to fall off, we eased the pace and got him back on the group for the 5km run into Lunch at the Marryat River Rest Stop. Lunch today was a piece of roast chicken and some salad, all up a very filling and tasty lunch The banana supply was still plentiful and so they were being dished out again. I seemed to be at odds with the rest of the cyclists as I enjoyed my lunch while sitting in the sun, while the rest were scrambling for the shade.
On rolling out of lunch, Graeme decided that he wanted to have a ride by himself so our group had shrunk to 6. John and Jane stated that if they fell of this time not to wait up, but we kept our speeds as before and this time Jane had someone to keep an eye out for her 3 kilometre stretch on the front. Our next stop was at the border, where Phil wanted to get a group photo, unfortunately, we had to get there first and we had another hill that we have learnt to hate, the gentle ones which have a crest somewhere over the horizon. At one point we were approaching a cattle grid and the All Trails vehicle was parked on the other side, and we could only see Susan. I had overheard Phil talking at Lunch and I suspected that he was hiding under the grid, so I told the group to get their water bottles ready. As we neared, a sign popped up from under the grid with "Hurry Up" written on it. That generated some laughter in the group.
Later on, when I was on the back of the bunch I saw Pat ride forward, then a Wedgie on the right hand side of the road flew off, it was the best chance we had had so far of a good photograph, but even that wasn't good enough. We finally made the boarder just behind Graeme and although it was only a snack it looked like a veritable feast with the amount of food Susan had laid on. We managed to get all the riders in and a group photo was taken in front of the Northern Territory border sign. As Chris said, he always knew that he would visit the Northern Territory some day, but he didn't expect to cycle there.
By this stage we were behind schedule, but strangely Phil told us not to worry, I think that is a first for this trip. After the photos we set off to cover the last 20km to Kulgera. I wanted to ride solo, and run at a nice solid pace. On leaving the rest stop we encountered some interesting signs, one telling us about the maximum speed limit (110 unless otherwise marked) which was immediately followed by a sign giving the speed limit as 130km/hr. There was a sign giving Kulgera as 18km away, and then about 500m away, another giving it as 19km. As strange as it sounds, the terrain seemed to change almost straight away, we had some large stones at the side of the road, and some largish hills beside us and in the distance. About 2km up the road, I heard a noise from the bike and on stopping, my suspicions were confirmed, I had another front flat. Both this time and the one into Coober Pedy were caused by a nick in the tyre, so this time I put a bot into it to ensure it gives me no further problems.
Several riders offered to assist in changing it, but I had everything I needed, so I waved them on. Chelsea stopped behind me so it meant that not only did I have an audience, but she gave me protection from the traffic as well. Once changed I set off again and I knew I wouldn't catch the front runners but I set off after others as best I could. Now that we are in the Northern Territory I noticed that the road quality has changed, and not for the better, it was noticeably pockmarked. The profile showed it as downhill from the border, it wasn't, but there were downhill sections. In the end I managed to overtake some riders and I made Kulgera at about 3:30pm. I got my room key, and reception thought I was by myself, I checked with Sue and I with Sam tonight, so the oldest and youngest rider are in the same room, average age, 50. The tap water here isn't safe to drink and the sink and shower rose have mineral deposits around them. Tomorrow is a shorter day, only 130km, then 192km and we are at Uluru for the second rest day.
| | |
| --- | --- |
| Distance | 179.81 km |
| Average | 29.91 km/hr |
| Time | 6:00:36 |
| Maximum | 43.13 km/hr |
Images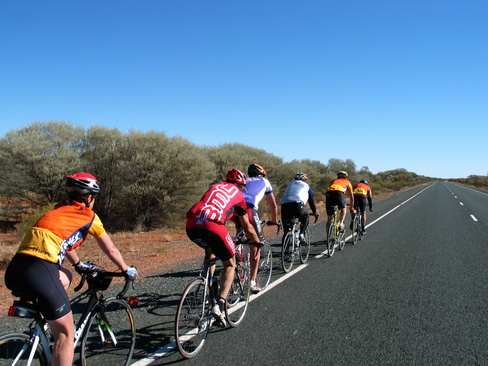 This group stayed together to Lunch, from the top, Rob, John, Pat, David, Graeme and Jane.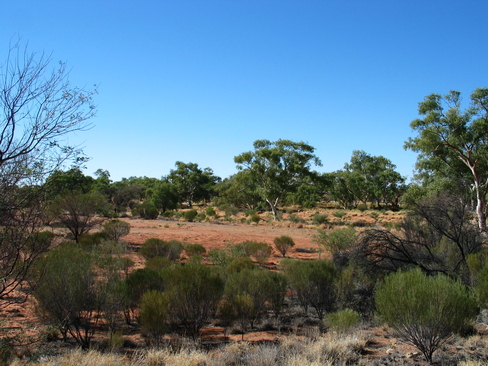 One of the many dry river beds.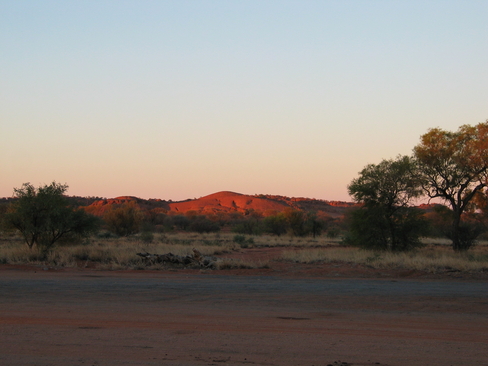 The last rays of the sun catching the hill behind Kulgera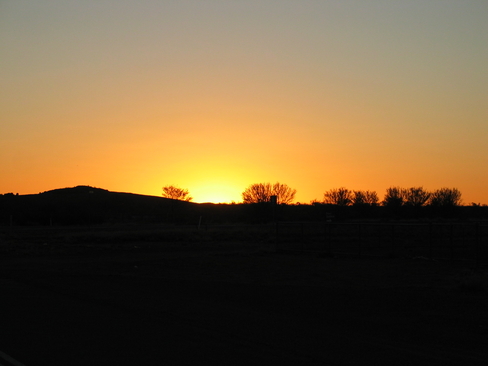 Kulgera Sunset
Click Here
for more Photos from Day 10.