Day 12 - Wednesday, 14th May 2008 - Mount Ebenezer to Yulura
As always last night's dinner was another enjoyable meal, the highlight being the Apple Strudel for dessert, it was a home-made one. The original plan was to get on the road at about 6:30am for the early riders. But as we have changed our location, the sunrise has been getting later, in the end, most riders left at about 6:45am at the earliest. I rode out slightly ahead of Pat, Graeme and David and I was wearing long fingered gloves as well as arm warmers, it was bitterly cold this morning. Despite my warmer clothing, I was still cold, especially on my legs and toes. I set out at a reasonable pace in an attempt to warm up before the other faster riders caught up to me. As we had left before sun up, we were treated to another beautiful sunrise,as before though it was over our shoulder so it was necessary to turn around to see it in it's full glory. That said though I was treated to the western sky at sunrise which I have rarely seen, the mix of colours was beautiful.
When the other riders caught up to me, Graeme blasted past, but I wanted to enjoy the day at my own pace so I didn't chase, he was only playing anyway, so when Pat and David caught up the 5 of us set off together working well as a group. We caught up to a group and Rob, who has been pushing himself quite hard for a lot of this ride, jumped across and joined in. I finally sighted some live Western Red Kangaroos, there were 3 going from North to South on the road ahead, they passed well in front of us, but we kept a cautious eye out for any others.
The terrain at this point was rolling hills, none of which were particularly steep, but the valleys had trapped cold air and so it was pretty cool riding through them. Our first break today was about 40km in, but before we were there it was possible to catch sight of Mt Conner, which is another rock mountain like Uluru and Kata Tjuta. A few kilometres short of our first stop, Graeme alerted Rob that his bicycle pump was coming loose, and presented a danger to him and the other riders in the group, Rob pulled over to attach it more securely, we all eased up and rolled into the first break at about 8:20am, we were behind schedule as we had left later than originally planned.
I pulled off my winter clothing and put my fingerless gloves on as well as eating some food and refilling my bidons. Phil tried to tell us that it was about 45km to the next break, but I had noticed a sign on my way in that gave it as 39km. Phil pointed out the disclaimer at the bottom of his maps and told everyone the correct figure.
On leaving, I again rolled out solo, but soon caught Pat and Fiona, I sat with them waiting for David, Graeme and Rob but when they caught up, I stopped to photograph a distance sign as has been my habit. I then set off in pursuit, I was riding well, and when I caught up I raced past them before easing up. Graeme then dented my ego by saying they had been waiting for me. By this stage, our friendly North East wind had cropped up again, but luckily for us, we turned to towards the South West and we finally had a slight tail wind, as a result, the pace shot up, despite the state of the road.
There were a few cattle grids today, but they were a different design compared to the ones on the Stuart Highway and so they were a lot smoother. We had left our first snack at about 8:35am, and based on the signs to Curtain Springs, we covered about 20km in 35 minutes, so the wind was really helping us. We were taking good turns, and we were approaching another rest stop. I was unsure if it was our Morning Tea stop or not, but the others thought that it was too soon, but Phil and Susan were behind us, so we didn't know. Luckily they passed us about 1km short and they went straight past. The road swung back to the West and we lost our beneficial tail wind, it was still behind us, but not as good as before. We passed another Salt Flat to our left, and surprisingly, the temperature dropped as well. As we passed through a small cutting, I saw a large roadkill at the side of the road, I had no idea what it was and guessed a horse, Pat correctly identified it as a Camel.
I very nearly learnt the danger of taking photos while on the bike, I pulled the camera out of my pocket, and then very nearly fumbled it. With my heart in my mouth I managed to keep hold to it and it probably wasn't as bad as I thought, but still not a good feeling. Because of our tail wind, we made Morning Tea pretty much on schedule. We had some good views of Mount Conner, and I climbed a dune on the North side of the road. At the top, I saw another Salt Flat further North, some other tourists said that one of the Mad Max films was shot out there. We only had about 20km to lunch and on setting out Jane joined David, Pat and I. Graeme had left earlier and was just up the road.
As we neared him we shot past him, but initially he didn't bite and so we eased up, he started to close and I suggested we let him get within about 10m, and we shoot off again. We tried it, but in another dent to my go, he easily climbed on the train while I was in the drivers seat. Jane didn't know where John was, but stayed with us until Lunch. We had two more animal encounters. There were some cattle to our right, and they started running along side the road, luckily that's all they did, but we kept a close eye on them. A bit further up, we passed some more cattle standing in the shade, and one was a Bull with a reasonable set of horns, they watched us ride past with no issues.
On the approach to a cattle grid, I called it out as soon as I could identify the sign, Pat stated that he would have forgotten about it by the time he got there. When we were about 50m away, Graeme asked what I said before and I sheepishly said "Cattle Grid" much to the amusement of the bunch. My pride was taking a real hammering today.
We made lunch at about 10:45am, and we were told that it wouldn't be ready till 11am. There was an Emu wandering around, and with al of us tourists, it must have felt like a celebrity with all of the paparazzi wandering around it. I again checked the price of fuel, Unleaded, $2/L, Diesel, $2.25/L. By the time most riders were in Lunch was ready, Lasagne and Salad. I opted for the Veggie stuff as it sounded quiet nice. I am glad that I did as it was really delicious, and I even went back for another small slice.
After lunch, I had to use the loo and so I was behind the others I had been riding with. I set off chasing and when I had nearly closed the gap in about 2km, I realised my front tyre was flat again. While I was at lunch, George had asked how my flats were going, and I admonished him for asking as it can lead to bad luck, as had just been proven. I waved the other bunches and Chelsea on, and even a tourist vehicle going the other way who was checking on my welfare, in the end Greg caught up and waited until I had changed the tube. The cause of the flat, I had put my tyre boot under the wrong nick. I resolved to change the tyre at Yulara.
Once the tyre was reinflated I set off chasing, I was now the tail marker on the ride and so I was after anyone else. I was about 62km to our Afternoon Tea stop, and soon into it, I was worried. That distance is normally about 2 hours for me, and that seemed to be about right given my current pace. The problem was water, I had filled my two bidons, but I was going through it too fast. The day had started to heat up, and as it was a dry heat, my mouth was constantly dry. By this stage I had passed Sam and Russell, and so Greg was no longer directly behind me, while I knew I could just stop if it got desperate I would prefer not to.
I caught up to Pack 4 and as I passed George I told him about the flat and called him all sort of names. Phil and Susan were shadowing Pack 4, so that was extra security for me on the water front. I still had about a bidon, so I still wasn't super concerned, and I kept on riding. We were still riding through rolling hills, but we now had quiet a few Desert Oaks for company. When riding through the small cuttings I noticed something about the red soil, if you turned your head, it changed colour as the light struck it differently. It would start off as a redy brown colour, and end up as a very vivid red when you were looking back at it. It made my glad that I was riding solo as I wouldn't have had a chance of seeing it if I had been riding with a group. I also noticed some graffiti in the sand in places. There were some small white stones, that some people had arranged into words in the sand. The first time I saw it I thought that it was quiet clever and as it wasn't environmentally damaging, it didn't bother me. After about the 6th or 7th time, it was starting to feel very hackneyed and it started to annoy me.
Later on, I had the camera out to take a picture and I startled a Wedge Tailed Eagle on the other side of the road, I blindly pointed the camera at him but I didn't even get him in the frame. By this stage I was down to about 150mll of water and I was starting to ration it. I only drank in small sips and not just because my mouth was dry. Although I knew I was at no risk, I could just stop and flag someone down, or wait for Phil and Susan, it did give me a rough idea of what the early settlers and pioneers went through when travelling this part of the country, not quite knowing where the next water supply was coming from.
Then my saviours arrived, Phil and Susan, I madly indicated for them to stop and luckily they did. I was about 15km from Afternoon Tea and Phil correctly guessed I needed water. I refilled my bidon, nearly drained it and then refilled it again, that would see me to Afternoon Tea. I had been closing in on another rider, and I saw that Phil and Susan had stopped for them too. It turned out to be Michael, who was really suffering in the heat. I chatted to him for a while, told him Afternoon Tea was about 10km away and pressed on.
At about 5km to Afternoon Tea I crested a small rise, and there it was, Uluru. I had always expected it to slowly appear on the horizon, not just jump up like that. At this point I would have been about 35km from it, and it was already looking massive, it was a distinctive colour as well, a paler red than the surrounding red sand. It would continue to sneak in and out of sight for the rest of the trip in. I pulled into Afternoon Tea and a fair few riders were already there. Mary and Allen enquired after Michael and I told them he wasn't far behind. We had a nice Lamington for our snack, and there was a brief discussion about their origin.
On the lead up to Afternoon Tea, my left knee had been giving me some pain, it wasn't enough to make me slow down, but I was aware of it. I had aggravated it at the game of cricket the previous afternoon. I asked Chelsea if she had an ice pack as I wanted to try and relieve some of the pain before heading on, she only had an emergency one, so I didn't bother. After the break, Andrew and Bronny left and she was looking worse for wear, David, Pat, Graeme and Alan left and I jumped in. I was on the back and I got another surprise, Kata Tjuta or the Olgas were also visible, even though there were about 80km away.
I soon got itchy legs and tried to escape from the bunch. Graeme latched on, and my short burst of speed soon petered to nothing, Pat resumed his turn on the front and gave me a serve for my riding, and after my next turn, I dropped of. Not because of Pat's comments, but because I wanted to enjoy the ride and sight see, something which is very difficult in a bunch. This late in the afternoon the wind had swung around to the West, although only slight, not something you want after about 160km and 30 to go. The group was slowly opening up a gap, but it wasn't happening fast and I pretty much kept them in sight for the last leg. On the same token, I slowly caught Andrew and Bronny, and she was in no mood to talk.
I pressed on and I was surprised at how quickly the last kilometres were tumbling, I knew I was enjoying myself. I passed the turn off tot he Airport and swung South towards Yulara. Suddenly, I heard a horn behind me ad I knew the vehicle was large. He sounded like he was in m armpit, but he was about 50m behind, and it was a Road Train. I gave him as much room as possible and he was able to to overtake with no dramas.
I turned into Yulara and found our Hotel, Sails in the Desert, a 5 Star Hotel, I landed at about 2:40pm, and Andrew and Bronny weren't far behind, Andrew called Anthea and we all said hello to her, it turned out that she also had a minor fracture in her pelvis as well as her collarbone. Our rooms weren't ready and Phil was genuinely annoyed, check in time was 3pm, but he was frustrated that there was a delay. Some of us went to the bar for a celebratory drink on a job well done until our rooms were ready. Once they were, I gratefully had a shower and got ready for dinner, tonight we are dinning at The Sounds of Silence, it is basically a fancy Al Fresco Dinner, but we are treated to sunset views of Uluru and Kata Tjuta. In either case, most of us are probably interested in the food as today was a long hard ride.
| | |
| --- | --- |
| Distance | 189.96 km |
| Average | 32.61 km/hr |
| Time | 5:49:29 |
| Maximum | 45.95 km/hr |
Images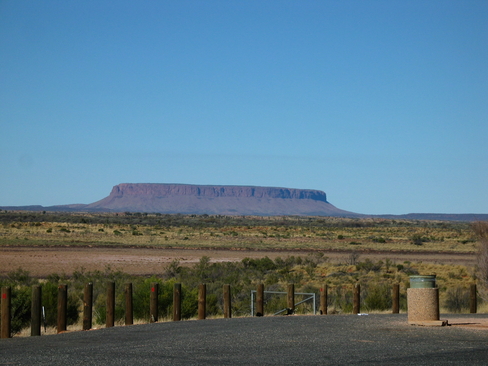 Mount Conner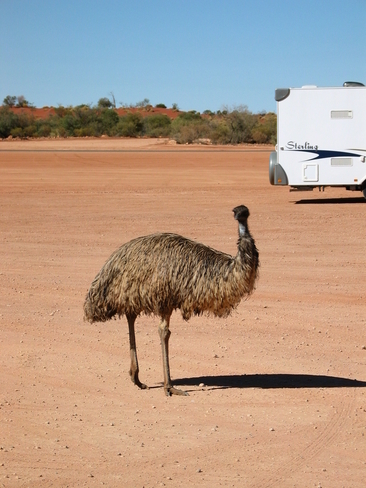 One of the Emus at Curtin Springs.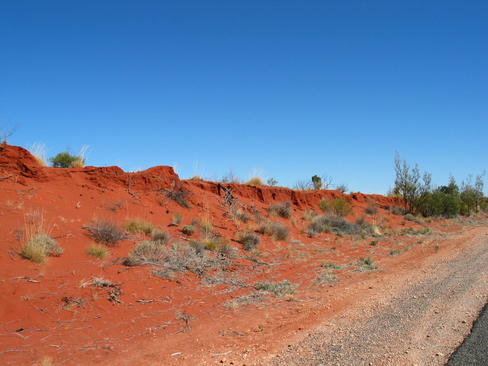 The striking colour of the red sand.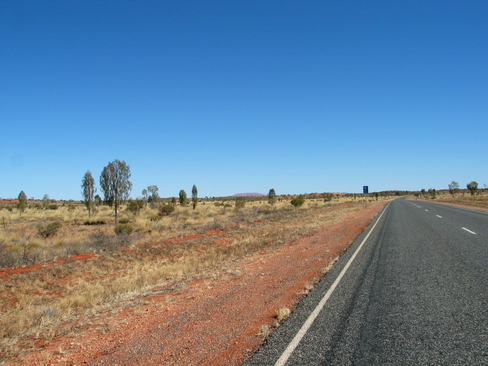 My first sight of Uluru, still about 35km away from Yulara.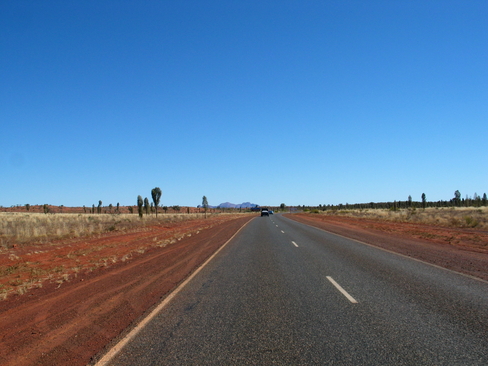 Kata Tjuta on the horizon.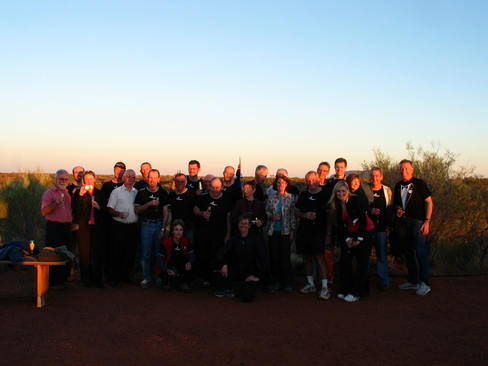 The Group, at Sounds of Silence.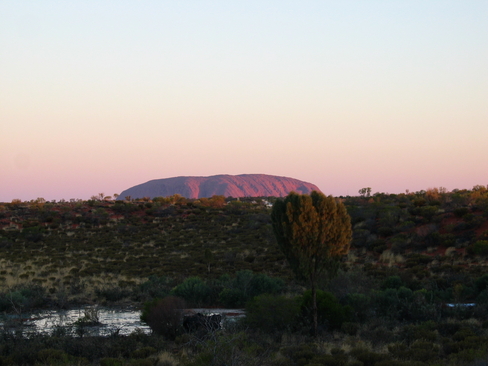 Uluru at Sunset
Click Here
for more Photos from Day 12.