Day 13 - Thursday, 15th May 2008 - Yulura Rest Day
Last night we had our Sounds of Silence Dinner. This is an Al Fresco meal in the outback near Yulara and you have views of Uluru and Kata Tjuta for sunset. There is also a talk about the stars and some other basic Astronomy. Our night started earlier in the bar. We weren't the only ones at this particular Sounds of Silence Meal, but it soon became apparent that we would be the loudest, it all started when the driver stalled the bus leaving the Hotel and we all cheered. We had some good views of Uluru, and from where we were, as our driver said, Kata Tjuta looked like Homer Simpson lying down.
A few photos were taken of us an entire group and I got some good shots of Uluru at sunset. When we were seated, our host introduced us to the staff and about the rules, one was don't leave the roped area as they didn't know what was out there, again our group yelled out Bunyips and Drop Bears. We were told that the toilets were the best that could be provided, I suggested a hole in the ground, and someone else volunteered a cardboard box. In either case, the dinner was superb and it was a buffet, so I was quite happy to sample pretty much everything, including a crocodile salad, kangaroo and several other dishes that contained native Australian flavours, sadly though, Witchedy Grub wasn't one of them. The dessert was also a very fine course with the apple crumble being particularly nice.
Our host then asked for some quiet and he recited a short poem, unfortunately, the final line "The Sounds of Silence" lost it's drama as he had a lisp. We were then told about some of the stars in the night sky, and despite the 3/4 moon, many were easily visible, probably due to the clear skies (we haven't seen any clouds since our day into Coober Pedy) and the lack of light pollution. While the talk informative, the lady conducting it had a sing song voice, often an indication that they are reciting from memory, there was also mention of light years at which point I pretty much tuned out as I can still remember all of it from High School Physics. Despite my criticisms, I was basically nit picking and it is certainly a unique experience.
For today I had organised a sunrise tour of Uluru, and I was also hoping to climb it as well as having a guided Base Tour, because of this I had to be up early and so I was out the front of the Hotel at 545am, the bus didn't show until about 6am, and I was getting a bit anxious. We got to the sunrise viewing area and I grabbed a stool, my camera and the borrowed tripod (thanks Narelle) and tried to find a good viewing area. The one I choose wasn't the best, but it did give me a good view of the Rock.
Sunrise wasn't unit 7:16am this morning and the colour of Uluru didn't change much until the last few minutes, when it did it was pretty sudden and dramatic, very impressive and I glad that I had seen it. I thought that there was breakfast with the tour, but it turned out to be tea and coffee and biscuits. I caught the bus back to the Marla Car park and found that the climb was closed due to high winds, the Climb is closed for various weather conditions, or for spiritual reasons for the local Aboriginal People, and Anangu. I found out that on average, the climb is closed 200 days every year.
The way the Base Tour was going to be done was confusing, so I set off to do a Base Walk. This is about 9km round and I quiet enjoyed it. This is an amazingly large rock, it rises abruptly out of the surrounding plain, I can see why the Aboriginal people, who place so much of their culture on upon natural features, have so much of their spirituality on something like Uluru.
There were some places which were of cultural significance, and as a result photography was not allowed, I respected this, and while some areas which I would have loved to capture, I restrained myself. From a distance, the surface seems to be quite smooth, but up close he surface of The Rock is flaky, and up close it is very multi coloured. There is no way to understand how big this rock is without seeing it yourself. It surprised me that many of the tourists were international visitors. It seems that when it comes to travelling most Aussies don't think about their own backyard as a destination.
There were also cave paintings at particular places that were still quite distinct, it is difficult to date many of them as most methods date the material the paint was made from rather than the paint itself. About half way round, I encountered my bus driver and I then understood what was meant by the Guided Base Tour, it wasn't well explained earlier, but when I returned to the bus, I found I wasn't the only person who made that mistake.
Despite not having a guide, there were some signs explaining the Dreamtime legends of how the features of the rock were formed, and I did pick up some from other guides. Interestingly as the rock is porous, there is more vegetation at the base as the rock itself becomes a source of water for them, there were even a few places where trees were growing in the rock. After my self guided Base Walk, I headed back to Yulara for some lunch as I hadn't eaten anything since the previous night. I also tracked down the laundry, but there was already a queue of cyclists waiting to use it. Some of them had also been having fun with trying to dry it. Some had tried hanging their washing up on lines outside their rooms, but for some reason the grounds keepers didn't like having their 5 Star Hotel turned into a ghetto.
I headed to the shopping area for lunch as well as trying to get my photos onto CD. Before I came on this ride, I purchased a 2Gb Card which can hold about 1700 pictures, I lent my first spare (512Mb) to Anthea at Cadney, and I was worried about my remaining space. There were two photo kiosks, but both of their CF slots weren't working. I had to buy something at the Supermarket, and I asked the Cashier if she knew of anywhere else that could hep me. She also worked at the News agency (who double as a photo lab) and she said that they had a USB Card Reader that the kiosks could use.
I returned and I was able to get all of my photos burnt to CD. After a pleasant lunch with Sam and Graeme, I got my current diary photocopied to send to Anthea, which I then dropped in the mail, hopefully it will get to her place soon. I also decided to get rid of my front tyre and replace it with the spare I brought along, hopefully I can finish this ride with no more dramas.
Tomorrow is an unusual day, we have to get to Erldunda, 240km away, we aren't expected to ride the whole distance and so we are being based along varying sections of it. In either case, it is going to make it an interesting day.
Images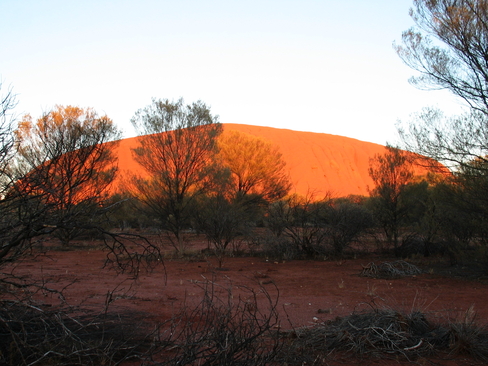 Uluru at dawn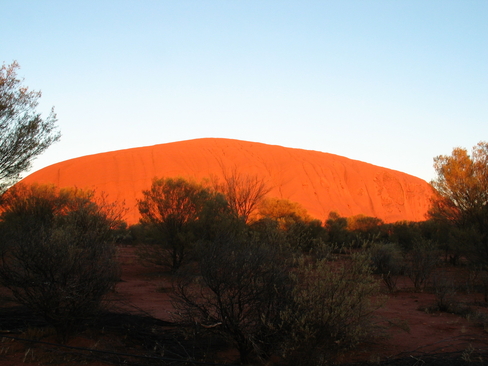 Uluru at dawn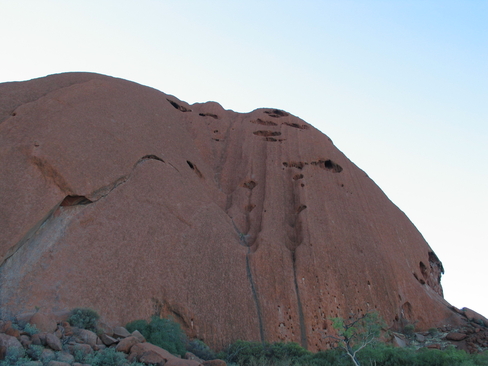 The western side of Uluru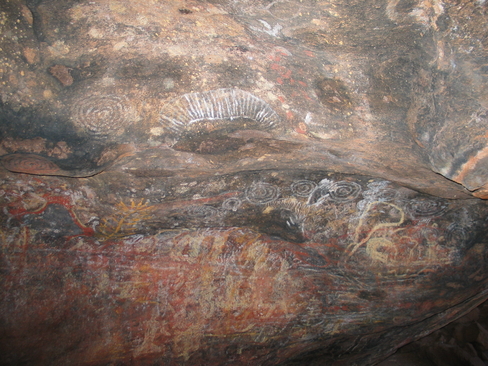 Some of the many rock paintings on and around Uluru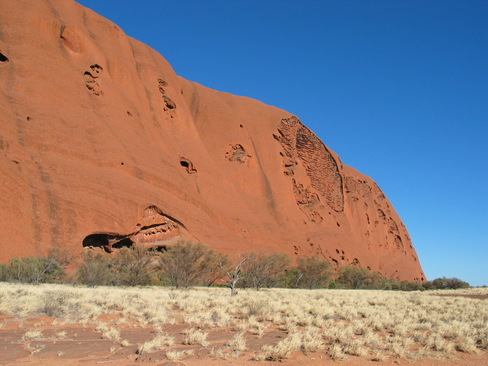 The north eastern face of Uluru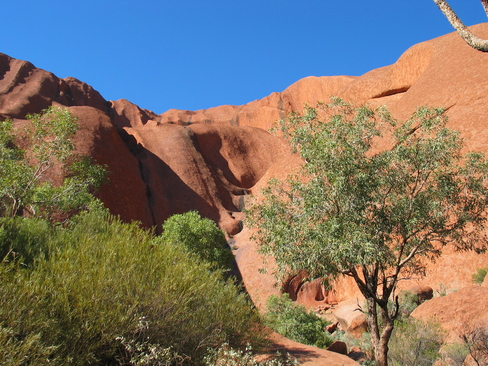 Up close, the surface is quite lumpy
Click Here
for more Photos from Day 13.