Day 14 - Friday, 16th May 2008 - Yulura to Erldunda
Dinner last night wasn't included in the cost of the ride, even so, most of us were going to the Pioneer Outback Grill. Rob, Graeme and I walked over via the lookout so we could watch the sunset over Uluru. Compared to the sunrise, it wasn't as spectacular, but I suspect you need to view The Rock with the sun behind you for maximum effect.
Over dinner we had a discussion about how today would work, the total distance from Yulara to Erldunda, which is at the Stuart Highway, is about 240km. Phil and Susan had decided that this was too far this late in the ride. So, there were a few options, the idea was to regroup at Mt Ebenezer for lunch, and there were three ways of getting there, bike to Curtin Springs, approx 85km, then bus to Mt Ebenezer, bus to Curtin Springs then bike to Mt Ebenezer, approx 105km, or bus all the way.
John and Jane had contracted the Dreaded Lurgi, and so they elected to bus all the way, 8 decided to do the longer stretch from Curtin Springs to Mt Ebenezer, Pat, Andrew, Bronny, Rob, David, Chris Graeme and I. The first challenge was to determine how many riders were i the first group, there should have been 13, but a few of us counted 14. It was comical seeing Phil trying to count the riders and keep coming up with 13, and we would recount and still get 14, after way too many attempts, Phil finally got 14. He was a bit sceptical about carrying that may over the second leg, but obviously decided that he could do it, so the first group rode of with Chelsea as support.
Then came the challenge of packing 10 bikes and everyone's bag onto the trailer, in the end, it was accomplished with some clever packing by Phil. We all packed into the bus, and we finally got going. Andrew had purchased a CD from the musician at Dinner last night, and by his own admission was yet to purchase a CD from a budding musician that was a Gem, we would never know with this one as the CD was faulty and it started skipping about 5 seconds into the first track. He then asked if anyone wanted to buy a CD.
We left Yulara behind and many of us had really enjoyed our stay and felt that it wasn't long enough. I really which I could have spent an extra day or two as I would have loved to have seen more of Uluru, as well Kata Tjuta and Kings Canyon. The resort as well wasn't "touristy", there were shops selling souvenirs, but none that I could see selling Australiana Crap which I so hate about Surfers Paradise, as well as Cairns. The trip was fairly quiet, with some of the riders using the time to catch up on some sleep, we caught the first group at their first snack stop which was about 30km out from Yulara, after a brief stop, we continued on our way.
I talked to Jane a bit about the plants in the area and they way that they had adapted to survive as well as to beat the competition. She also told me about some of the grass that grew here, when it is undisturbed, as it has been this close to Uluru, it grows outwards in a ring. It does this slowly, and some of these rings have been estimated at over 2,000 years old.
We pulled into Curtin Springs and our bikes were unloaded. Only the pedals had been removed, and so reassembly was quick and easy. After some Morning Tea, we rolled out at about 11am, way behind the original time, but not a problem according to Phil. We started off with Phil and Susan as our support, while Greg returned to the other bunch to relieve Chelsea who would then relieve Phil and Susan. We were initially riding two abreast and rolling along at a pretty steady pace, the road was dead and so it can really slow you down.
I chatted to Bronny, and after about 20km, Chelsea had arrived and so our vehicles changed. We were back at the Mount Conner lookout, and so we pulled into there to do the change. We only stopped for a few minutes before continuing. We had a snack point about 40km away and again we just cruised, only pushing the low 30's. We were riding single file and we all took turns on the front, with some spending more time there than others. Just out of the Mount Conner lookout we passed the dead camel again and Bronny saw it with an exclamation of surprise.
By this stage, a slight breeze had cropped up, but for once it was more to our side than directly at as. Graeme was feeling a bit crook and so he was spending most of the time at the back as he was feeling a bit addled. We made our snack stop at about 12:15pm and Chelsea got to play at being Phil by telling us to get a move on. We had about 45km to cover, and so initially estimated our ETA at about 1:45pm, way later than the schedule had, but there was nothing we could do about it. We set off, again in single file and again all but Graeme taking turns. At one point we disturbed some Wedge Tailed Eagles and a Dingo enjoying some road kill, so another Australian Native animal that I have now seen on this trip. Later on, a Road Train overtook us at a very civilised pace, and it was really tempting to jump in his slipstream, and try and hitch an easy ride.
Our pace had increased and the other riders were yet to catch us, I was surprised by this, and I started to think that we may beat them to Mt Ebenezer. We sighted a Radio Mast, which I remembered was a few kilometres out from the Roadhouse, and so I knew we were close. I was on the front by this stage, and Andrew asked me to ease up as Bronny was starting to hurt. We crested a final hill still in the lead and about 2-3km away, we could see the roadhouse as it had darker green trees around it. Andrew suggested that Bronny lead us in and so I dropped back so she was second wheel with Andrew in the lead.
I looked back and I could suddenly see Phil and Susan behind Chelsea, they swept by and Graeme tried to latch on the slipstream closely followed by Pat, I laughed as Phil had about 3 bikes strapped to the top of his truck and trailer. When the bus went past, I tried to jump onto it's tail, but was unsuccessful. I dropped back to the bunch with Pat so Bronny could lead us in. I now know how a breakaway feels when they are chased down by the bunch in the last kilometre of the race. We were so close, and very nearly beat them in.
Lunch at Mt Ebenezer was a good meal, Spaghetti Bolognaise with Salad, just what I needed after the run in. It was good to have all riders there for the meal. There was still 56km to cover to Erldunda, and we had the option to ride or bus it. Because Graeme wasn't feeling the best, he opted for the bus, but the rest of the 8 went for the ride, we were joined by some from the earlier group as well, I felt like riding it solo, but I set off with Pat, David and Chris. Chris soon dropped off the pace as it was pretty solid. The lunch may have contributed, or the rest day, but the tail wind helped the most. Also, looking at the profile, there was a general downhill run.
I had to stop soon after leaving as I had to select a different gear. I opted for a 53x16 which meant that my sweet spot for speed was in the low 40's, because of the conditions, I could sustain it. I rarely saw my speed drop below 40, even on the uphill sections. When I rode this section going the other way, I was pretty much over it, this way I was having a blast. I caught up to Pat and Dave, but they were only cruising, so I pressed on, I motored past Barry, and that left Andrew and Bronny in front. I caught and passed them still pushing my big gear and enjoying it. I had spied a Radio Mast that I thought was Erldunda, but it was still 13km away. I finally made it at about 3:55pm.
I don't know exactly, but I think I covered the last 56km in about 90 minutes, I was certainly pushing it. Despite my pace, the others weren't that far behind me and everyone was really happy to have finally had a fast ride. I knew when I was out riding that let that I would pay for it tomorrow, but so far this ride it has all been about survival, from here there are just 2 days left on the road, 109km tomorrow, and 91 on Sunday. This late I felt I could afford to push the pace when the conditions allow it and enjoy myself. The only problem is that my rear tyre is starting to wear a bit thin, I used up my only spare on the front, so I hope the rear can last these last two days.
It is hard to believe that the ride is nearly over, 2 weeks ago I was in Adelaide getting ready for it to begin, that seems so long ago now. Tomorrow's ride is only short in comparison to some days we have covered, but according to the profile, there are a few lumps which could be interesting for me on limited gearing. In either case I am sure I can manage, as I proved today, it is possible for me to change gears, but it does require me to get off the bike first.
| | |
| --- | --- |
| Distance | 160.34 km |
| Average | 34.08 km/hr |
| Time | 4:42:15 |
| Maximum | 57.51 km/hr |
Images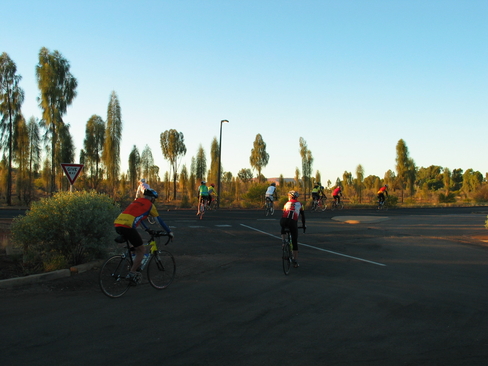 After getting the count right, they're off!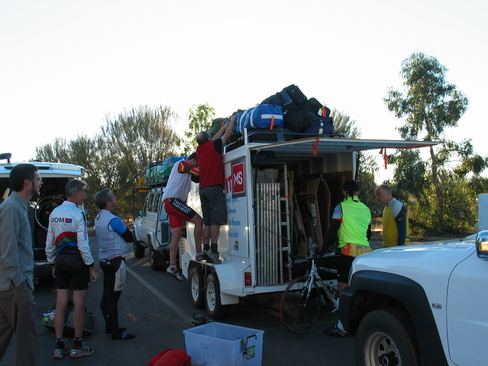 If it doesn't fit, use a bigger hammer.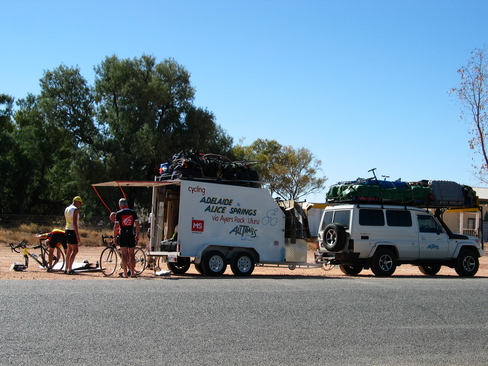 The truck and trailer loaded to the gills.
Click Here
for more Photos from Day 14.