Day 16 - Sunday, 18th May 2008 - Stuarts Well to Alice Springs
Our Last Supper, again a great meal from a little Truck Stop. As it was our last night on the road, there were a few formal sides to it. Each rider was presented with a medallion to commemorate their efforts on the ride. A Jersey was auctioned off which had each riders name written on it with the proceeds going to MS. Also, Kevin had an opal pendant which he had been given in Coober Pedy which was also auctioned off. There was also discussion about the route of the ride, particularly, the cobblestones on Day 3 into Port Augusta, and the option of the bus out of Yulara. Even so, the ride wasn't over yet and we still had to make it safely to Alice Springs. Only one rider is flying out on Sunday, Ken, so there is probably going to be a get together tonight as well.
Our day started early, 6:30am breakfast, but were were pretty much kicked out of bed at 6am as Phil was getting onto Macca (from Australia All Over) telling him about the ride and Dinky. Dinky put on another performance for Macca live on air. Macca wanted to know the temperature and Jim recorded it at a nippy 8 degrees, no wonder I felt cold last night in the donga.
We set off at about 7:10am and there was a fairly large group initially, probably half the riders or so, Because of the cool morning, I started off in arm warmers and long fingered gloves, but I was still feeling the cold. It didn't help that the sun was behind some hills. My left knee wasn't hurting as much, which was a relief, but I had no plans on pushing the pace as I was back to the mantra of "Survival. Initially we were weaving through the hills and getting sun only on occasions, but even when we did, it didn't feel like it had a lot of strength.
Our large bunch continued, but because of a slight hill, most of the stronger riders were near the front. Occasionally we would crest a small rise and be treated to a vista with hills on the horizon. I knew that the MacDonnell Rangers were out there, but I didn't know exactly where to look or how far out I could expect to see them. We had a Morning Tea stop at about 35km, or about on third of the distance in and it arrived surprisingly quickly. It was still cool, so I kept the long fingered gloves and and arm warmers on.
We hung around for about 15-20 minutes before rolling out again. I again rejoined the super group I was in before, but after taking a turn on the front it had been shrunk to the usual complement, David, Graeme, Pat, John, Jane and Rob. All of us were riding well and enjoying our last day on the road, we were treated to similar landscape as we have seen since rejoining the Stuart Highway yesterday, low hills and flat plains.
With about 30 kilometres to go, my bike decided to have a last laugh. I had another flat. I pulled over and Phil and Susan were behind me, I motioned for the pump and I decided to see how much of a slow leak it was. I pumped it back up and set off again, but it was flat after about 5km. If I could get 10km, I would have probably done that for the last 30km. I pulled over again and with a bit of help from Phil, I put in my last spare tube, reinflated the tyre and set off on the last 25km. I caught and passed the riders who had over taken me while I was fixing the flat and continued at a steady pace. By now I was starting to have another problem, because of the pain in my left knee yesterday, I was subconsciously saving it to reduce the pain, so, my right quads were now starting to hurt because of their increased load. A few times I deliberately did more work with my left leg to give my right side some rest, but it was only a temporary measure.
I passed the Alice Correctional Centre, and then I saw something beside the road that I hadn't seen since leaving Woomera. Power Lines. We were back on The Grid. A few kilometres further on, we crossed the Central Australian Railway for the last time, I made a left hand turn past the Airport and pulled into the Alice Springs Sign.
We were all regrouping here before riding into Alice in convoy. We were about 10km out of town and I knew I could make it. After many photos, we formed up and rolled into Alice Springs. To enter Alice from the South, it is necessary to pass between the East and West MacDonnell Ranges. This is a natural pass, Heavitree Gap, and would only be maybe 100m wide or so, it contains the Todd River, the Stuart Highway, and the Railway, there is no dividing fence or barrier between the road and railway and it would be interesting to see a South bound train as you are travelling North.
We had to stop at a few Traffic Lights (our first since Port Augusta) and then we made the Hotel. Many congratulations hugs and handshakes were passed around. Just over 2 weeks ago, we set out from Adelaide, and here we are, nearly 2,000km later having covered a very large part of the distance between South and North Australia. We visited Uluru and Coober Pedy and many other small towns along the way. We saw some spectacular scenery, lots of wildlife and plains which were stunning in their starkness.
For me personally this ride became what I always said it would be, Epic. This has been my longest touring ride, 2 weeks, without the issue with my left knee I could have kept going, because of the injury I was glad that this is the end of the line. The biggest issue I had on this ride was the bike. I was on limited gearing 100km shy of Coober Pedy, I wore out two tyres and went through all 6 spare tubes I brought along on this trip. It was really annoying as the bike serves me so well on a week to week basis with very few issues on my normal weekend rides.
I grabbed my bike box and bags and had a shower. Lunch was served by this time and we all sat around discussing the ride as well as staying in tough with other riders to see their plans. For a lot of people, these rides are probably cost and time prohibitive, but they are incredible value for money. I came on the ride expecting to loose weight, but I think I either lost very little or actually gained some.
After lunch I boxed the bike (but only after throwing out the rear tyre) and I then went for a wander around town. I walked down to the Todd River which was it it's usual state, Bone Dry. Alice hold a regatta here every year, because the river is dry, they power the boats with vehicles or by simply cutting the bottom out, picking it up and running. There have been occasions when it has been cancelled because the river is flowing. I found my way to the Botanic Gardens as there was a high point I wanted to climb. I didn't find a path and so I started anyway. Right at the top, I found the official Path and the lookout areas. It present spectacular views of the East and West MacDonnell Ranges and of Alice Springs itself.
I wandered back down and I made my way to a hill in the centre of town, I found the path to the top and climbed that for some more views. On my way back down I saw Graeme on his bike, he asked the way back to the Hotel as he was a bit lost, I gave him the map I got from the Hotel as I knew my way back. Tomorrow I have a Tour through the Western MacDonnell Ranges which will be quiet amazing judging by what I know I will be seeing. I am still doing my best to stay detached from the real world though. I haven't had phone coverage since Port Augusta and I haven't turned it on here to check. I am sure I can leave it of for a few days more yet.
For those with a head for numbers, here are a few interesting figures from the ride, the total distance, translated into approximately 950,000 wheel revolutions, no wonder I managed to wear two tyres out, and I turned the cranks about 330,000 times to cover that distance. Because it was flat riding, you are generally turning the cranks to maintain your pace, and because there is no reason to stop other than rest breaks, you are generally moving all of the time.
When I was up the hill in the Botanic Gardens, I got a really good
panoramic
photo of the East and West MacDonnell Ranges, Heavitree Gap, and then looking North.
| | |
| --- | --- |
| Distance | 92.02 km |
| Average | 29.78 km/hr |
| Time | 3:05:24 |
| Maximum | 48.34 km/hr |
Images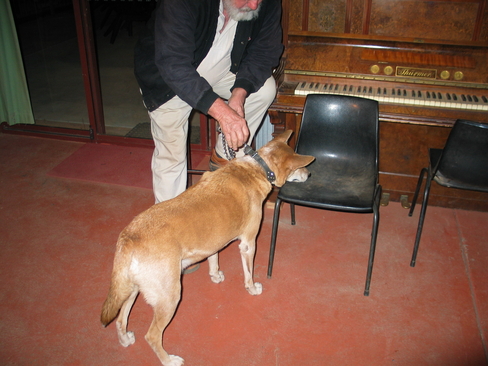 Dinky, getting ready to perform for Macca on Australia All Over.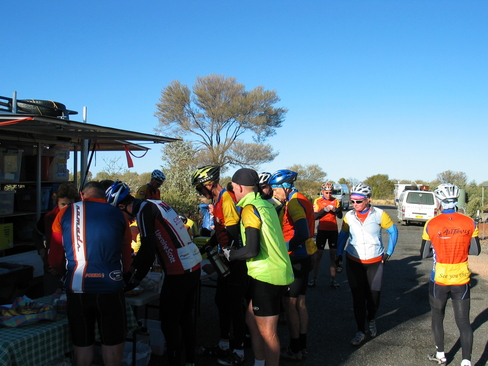 The scramble for a hot cuppa, note the amount of cold weather clothing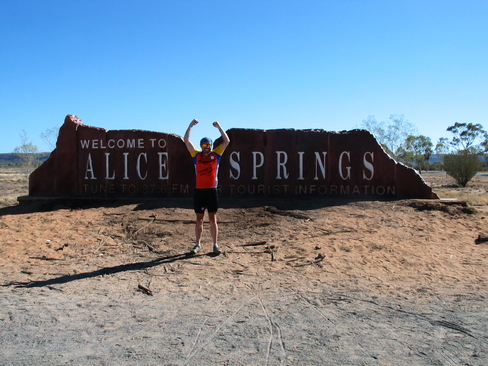 Made It!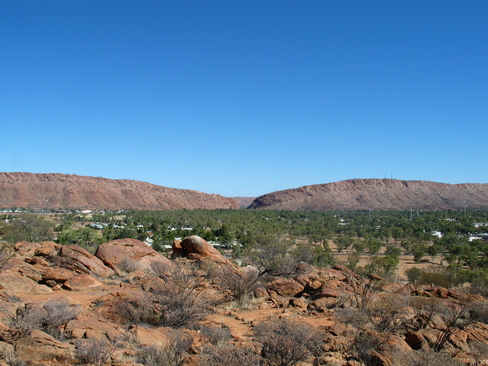 Heavitree Gap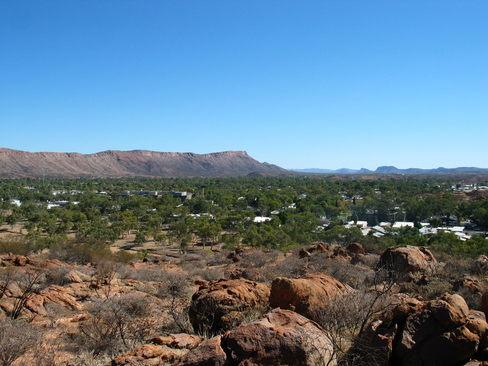 Looking along the Western MacDonnell Ranges over Alice Springs
Click Here
for more Photos from Day 16.