Day 17 - Monday, 19th May 2008 - Alice Springs Rest Day
As most us were still in Alice last night, most of us went out for dinner together, some of the riders had found apace and made a booking, as there were about 25 of us it was a good move as we may have had difficulty otherwise. It started at 6pm in the bar before we moved on to the restaurant. It was a good dinner, nice food and great company. While it wasn't planed it was a nice ending to the ride. Some of the riders planned on trying to party on but I don't think it eventuated, for some reason everyone was pretty tired.
I was up and about early and I had managed to find the local ABC Radio Frequency so I started to get in touch with the real world again. While I wasn't familiar with the presenter, the format and AM were still the same. I had a full day Western MacDonnell Ranges Tour today and it departed at 7:45am. I had breakfast at the Hotel and it was almost comical as most of the people there were All Trails Riders. They were a bit swamped and it was funny as Phil and Susan made sure that every other breakfast ran on greased rails. They are planning on using this Hotel for when they start Alice Springs to Darwin next year, but they are going to have to clean up their act in relation to breakfast first.
I said my goodbyes to the riders at breakfast and then waited for my tour bus to arrive. I had heard on the radio that there was a mountain bike event on in Alice Springs today and for a few days afterwards. So when we were driving around Alice to pick up the other tourists, there were quiet a few people riding on Mountain Bikes with race numbers on. Even despite these riders, there were a lot of general cycling commuters in evidence.
The tour today took in 6 sights in the Western MacDonnell Ranges, Simpsons Gap, Standley Chasm, The Ochre Pits, Glen Helen Gorge, Ormiston Gorge, and Ellery Creek Big Hole. After everyone had been picked up, we headed to our first stopping point, Simpsons Gap. It is one of the few permanent water holes and there is a colony of Black Footed Rock Wallabies who live nearby. I didn't see any, but there was evidence of them as they dig in the dry river bed, and then let it fill with water, this way they are able to get water away from the water hole itself and increase their chance of escape from a predator. The gap itself occurs as it was made from softer rock and it was eroded over millions of years. There are quartz boulders in the river bed, and they have been scoured clean by the occasion water flows in the area. If they aren't cleaned regularly, then end up a rusty colour.
After Simpson Gap we moved onto Standley Chasm, this is a gap in the Ranges that is only about 5 metres wide at it's narrowest point. As we were walking out to it from the car park, our guide pointed out some of the vegetation, there are remnants of prehistoric plants that have managed to survive to today's day and age. While they were originally adapted for a different climate, they managed to evolve and subsequently they are now able to grow in the much drier environment than they were first in. The Chasm was spectacular, it rises at least 15 metres straight up. Some of the other tourists and I went quite a way into it doing a rock scramble, according to the tour guide, you can go a fair distance through. It was something which I would have like to spent more time doing, but we had other sites to visit and only a single day to see them all. We wandered back and had some Morning Tea (not as good as Sue's).
While were in the Chasm, a group of motorcyclists showed up and we saw some of them walking to the Chasm on our return. They were members of the Adelaide Goldwing Motor Cycle Club, and so the car park had about 50 motorbikes in it. I think that we saw some of them on the road in Stuarts Well.
Our next stop was The Ochre Pits, this was a reasonable distance from Standley Chasm, so there was a bit of a drive involved to get there. On the way, there was yet another Wedgie sighting. They obviously aren't fazed by the cars, as we went past him quite fast, and he wasn't bothered. I was able to tell that he was only a junior, as he was still very brown, as opposed to the black of an adult. Our tour guide was also giving us some information about the way that the Aboriginal People ensured that they were able to survive in the harsh environment of the Australian Outback. Like a lot of native people in any land, they were able to use sustainable practices to a much better degree compared to our lifestyle today. As is often the case, we made a lot of mistakes in this sensitive environment, and we are now trying to restore the natural balance with the help of the Aboriginal people.
At the Ochre Pits, I ran into Alan, who was also spending an extra day in Alice Springs, and was on a similar tour to mine, he was just with another operator. The Ochre Pits have been mined by the local Aboriginal Tribe for many generations. The Ochre itself was a valuable trade commodity, and it was traded as far South as the Flinders Rangers, and as far North as the Kimberleys. Even today, it is still mined in small quantities and traded, notably the Bangarra Dance Theatre in Sydney purchase their Ochre from these pits. The pits themselves are a spectacular sight. There are four main colours, the strata have been pushed so that they rise out of the ground vertically, so you can see the stripes of the ochre rising out of the ground.
After The Ochre Pits we continued heading away from Alice Springs to our most Westward point at Glen Helen Gorge. On the way, we were able to see Mount Sonder which is the second highest point in the Northern Territory at 1380m above sea level. It is also the end point of the Larapinta Trail, a walking track that starts in Alice Springs. At Glen Helen, there was a helicopter ride option, which two of the other patrons took up, but I decided to skip and instead I walked down to the Gorge itself. This is part of the Finke River, which we crossed on our way to Stuarts Well, it is another near permanent water hole, there are a few other sights that are nearby, but I was unable to see them as I was too far away. I wandered down by myself, so I had a few minutes to myself before the others got there. It was very peaceful and scenic. On the way back, it was interesting to note that the river bed is stone, and despite the fact that the river only flows irregularly, they are all quite worn and rounded, from this alone, it is possible to believe the age of the river.
We left Glen Helen and started heading back towards Alice Springs. Next up was lunch at Ormiston Gorge, another Gorge through the Western MacDonnell Ranges for the Finke River. There was a walk up to a high point that most of us took on. The views from up there were again spectacular, and it was possible to see the different strata levels that make up these Ranges. From the high lookout, it was possible to continue North and meet the river bed and then return that way, as tempting as it was, it would be difficult to complete given the remaining amount of time we had left. Instead, we returned back down the original path and walked out to the water holes from the South, not as satisfying, but the best way given the lack of time. I tried to get some shots of the scenery reflected in the water, but there was a slight breeze that made it almost impossible.
On our return to Alice Springs, we had a final stop, Ellery Creek Big Hole. Some of the braver patrons who had come prepared went for a swim there, I wasn't among them. Those that did said that it was pretty brisk in the water. This late in the afternoon, the waterhole was completely in shadow, and it would be for most of the day, so I wasn't surprised that it was pretty cold. It is strange that in such a dry area of Australia, one of the driest continents, that there are that many gorges cut through these Ranges. It also shows that they are old, as the rivers flow that rarely, it would have taken a long time for them to be cut.
All that remained of our tour was the return to Alice Springs. Normally, this tour would visit John Flynn's grave as the first port of call. However, due to the location of one of the pick ups this morning, it was removed from the day's schedule. Our guide told us about it on the return. John Flynn is best know for establishing the Royal Flying Doctor Service. This wasn't all that he managed to achieve, he was very supportive of the Australian Outback lifestyle and was instrumental in setting up the School of the Air through use of Pedal Radios. When he was buried out of Alice Springs, his headstone was initially one of the Devils Marbles. This was controversial, as the Devils Marbles are of spiritual significance to the Aboriginals from that area. In the late 1990's, the stone was removed from the grave and returned to it's original site, another stone donated by the Arrernte people.
All up, this was a very enjoyable tour and I was glad that I went on it. It showed me a lot of the West MacDonnell Ranges. Despite that, I felt that the tour was very rushed, we visited 6 locations over about 280km. There would normally have been 7 stops. It showed to me the difference between the type of touring I had been involved with through All Trails, compared to what people normally take part in. On the bike, the Journey is just as important as the Destination. When you are driving or being driven, it is all about the Destination.
I return back to Sydney tomorrow, having been away from home for 2 and a half weeks, I am looking forward to it, but on the flip side of the coin, I wish that I could spend more time here and in the surrounding area. While there is no place like home, I know that there are many places much nicer to live than Sydney, Alice Springs being one of them, but no doubt while it is very nice this time of the year, it would be impossibly hot in the Summer.
This has been an amazing trip for me, I saw part of the Country that I had never seen before, in a way that many people would never entertain. I met some great people and I had a fantastic time. I can see why people keep coming back to these tours.
Total
| | |
| --- | --- |
| Distance | 1996.71 km |
| Average | 31.16 km/hr |
| Time | 64:04:34 |
| Maximum | 59.20 km/hr |
Images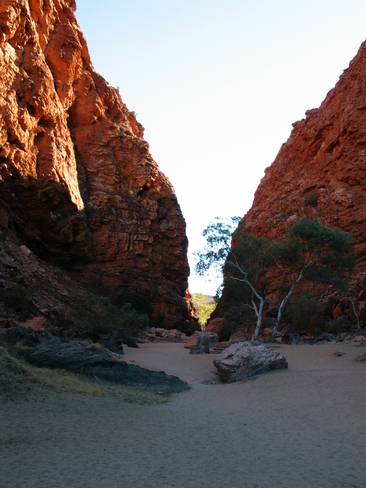 Simpsons Gap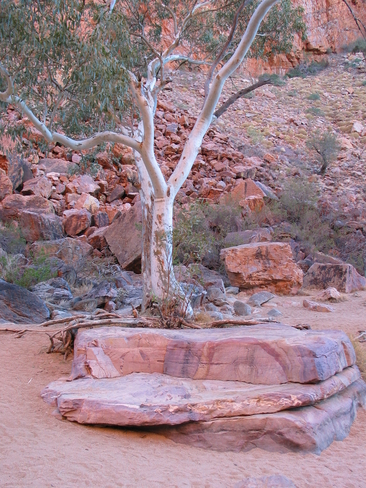 A Quartz Boulder in Simpsons Gap, it has been scoured clean by the occasional water flow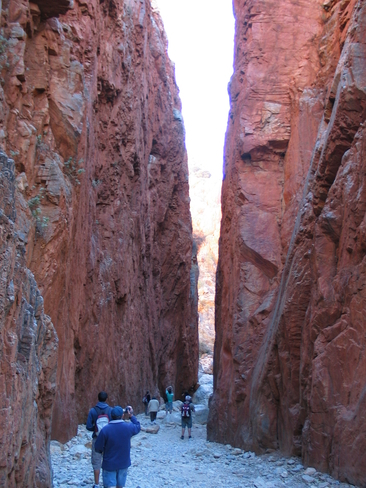 Standly Chasm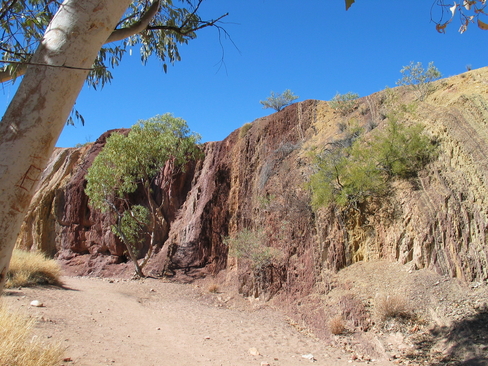 The different strata colours of The Ochre Pits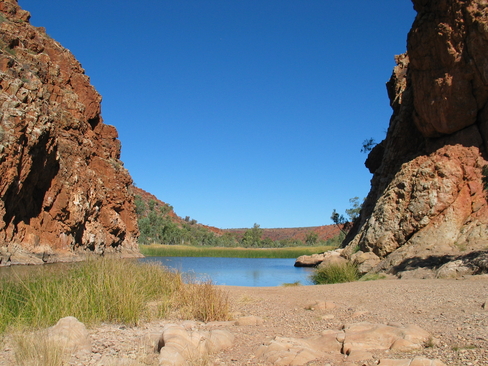 Glen Helen Gorge, on the Finke River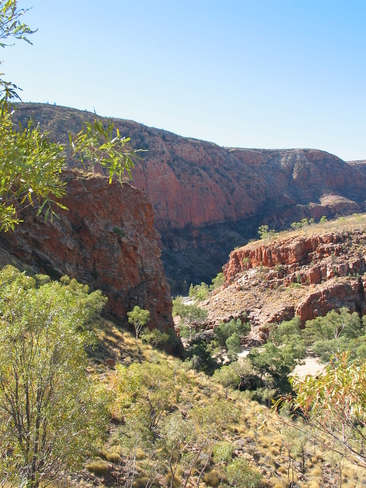 Ormiston Gorge, also on the Finke River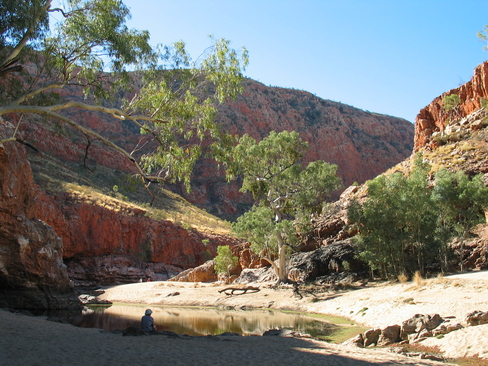 Ormiston Gorge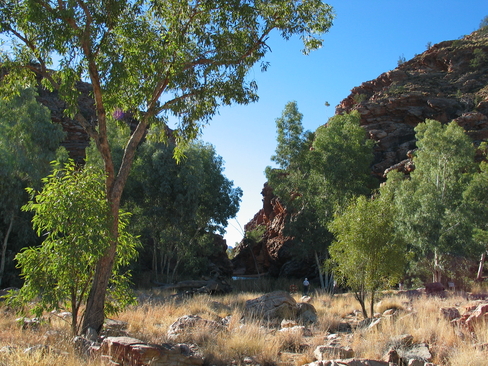 Ellery Creek Big Hole
Click Here
for more Photos from Day 17.