Day 4 - Tuesday, 6th May 2008 - Port Augusta to Woomera
Yesterday afternoon, I wandered over to the main town with Graeme as he wanted to purchase a Digital Camera, I helped decode some of the details behind them and he ended up with a pretty simple camera for not a lot of money. Dinner was next door at the Port Augusta Hotel, and it was another 3 course meal. As today was a longer day, we were expected to be on the ride by 7:30am, so breakfast started at 6:30am, the Hotel wasn't normally open at this time, but we were let in, no one from the Hotel was present, and we were left to help ourselves. We got away soon after 7am and after about 500m up the road, we had to turn right onto the Stuart Highway. The sign was interestingly marked, left was to Perth and Western Australia, or right to Darwin and the Northern Territory. Shortly after starting on the Stuart Highway, we passed a sign with Alice marked at 1,221km away, because we are going to Uluru, we have slightly more distance to cover, but it is still interesting to see it written down.
By now we were into Road Train territory, most were only double trailers, but there were still a few triple trailers. Just up the road, Graeme wanted to take a picture with his new camera, but he had never turned it on. Without stopping, he handed it to me and I got it going. The problem was, I was focused on the camera (with no hands on the bars) and Graeme was watching me, and neither saw the Cattle Grid approaching. Luckily, I looked up and I had just enough time to get a hand to the bars and negotiate them with no issues, but still a close call. We passed another sign showing a local council division, but this one had a difference. To the South, it was listed as the "City of Port Augusta", and the other side was "Out of District", a pretty good indication that we are leaving it all behind.
This early in the day the Flinders Ranges were to our right and the Gawler Rangers on our left. Both were in the distance and we were riding on the flat, luckily as well there was no wind so the pace was pretty good. I commented to another rider John, that you can see why it is called the Never Never. Today we left the coast and civilisation behind us, even though today was the 4th day, it was the first in the real out back, the previous days saw us pass a town every 20-30 km, not so today. After Port Augusta, the next town was Pimba, about 170km away. I had been told that the desert changes every 30km or so, I expected it to be gradual and early on, it was. At first, we were riding along within low scrub land, with most of the vegetation coming about knee height, later on, it was about 2m high, and then after that, a real mix. Today was about 180km to cover, 60km to Morning Tea, a further 40km to a snack, Lunch at about 130km and then a final stint to Woomera. On the run to Morning Tea, I was riding with the group I have been with for the last day or so, Graeme, Pat, Anthea, Bronny and some others. The road was absolutely fantastic today, it was in good condition and surprisingly smooth, that combined with no wind this early meant that we were finally turning a good speed.
We were currently riding alongside the Central Australian Railway Line which was opened in 2004, it runs between Adelaide and Darwin. It was also accompanied by a Water Pipeline. We had to cross the railway line once, but that was dwarfed by the number of Cattle Grids. About 10km short of Morning Tea, my policy of trying to avoid dehydration got the better of me and I had to pull over for a comfort stop. There was nothing to hide behind, so I just scrambled down the verge and made do. I then had a bit of a chase to get back on, but this early with a slight tail wind starting to pick up, it wasn't that difficult. I managed to get back to the group just before Morning Tea. Our stopping point was on top of a slightly higher area than the surrounding plain. It offered fantastic views of the Flinders and Gawler Ranges, and the desolate plain to the North. Everyone had a good run this early in the day, and so everyone made it to Morning Tea within about 10mins.
We were running slightly ahead of schedule and so we were encouraged to take our time. On leaving Morning Tea, I noted a sign "Next Services, Pimba 110km", the Morning Tea stop was just a Rest Stop, so if you were there and needed Services, it is still a long way to Port Augusta. I joined in with a larger bunch that was being led by Andrew, who turned out to be a real power house, he was just prepared to sit on the front. I took a turn, but he was soon taking over again. Today we were expected to climb again, but it was all pretty gradual, most of the time, you could only see the road going upwards, and nothing going down on the other side. I also sighted a Train on the Line which was obviously waiting on one to pass in the other direction, I didn't get an exact length, but it was probably at least 500m long. We soon caught sight of Graeme, and Anthea and I bridged across, and we soon powered away from the others. We did swap turns a few times, but Graeme was doing the lions share. Up the road we passed a guy who was riding all around the world, he had a Bike Friday which was heavily loaded.
The bunch behind had nearly closed and Graeme dropped the hammer and opened up the gap again. Soon after Pat and Dave managed to bridge, just in time for us to pull in for our Mid Morning Snack. Again we were still ahead of schedule, so we were able to take our time again. Phil had invited the touring rider in, Heinz Stucke, and he has been cycling around the world unsupported for about 30 years, he has all of the places he has visited painted on his bike. He was a real character, and had a very positive outlook on life. He was heading towards Alice as well, so we may see him a few more times. On rolling out of our snack break, the vegetation changed dramatically, it went from bushes about head height, to nothing higher than your ankle. Just around the corner we encountered our first Salt Flat, they were only small, but still striking.
I decided that I wanted to ride the next section solo, as it would me enable me to sight see a lot more compared to riding in a group. The sheer nothingness of the terrain was just staggering, as it was pretty flat with no major hills, you could see a long way. Apart from the road, the railway, power lines and the water pipeline, there was nothing. I stopped a few times to take some pictures, because despite the desolation, there was a striking beauty to see. At one point I passed a sign, well it was a car door against a telegraph pole, indicating that we were half way to Coober Pedy, we worked out later that it was from Adelaide. We came the long way to Port Augusta, but it was still interesting to note.
A bit further up, I sighed a Wedge Tailed Eagle land, and I stopped to try and get a picture. As I did a shadow passed over head and I quickly realised that there were about 6 or 7 circling around. I tried taking some pictures, but my camera wasn't good enough. As I did, I was thinking "I'm not dead yet guys". A bit further up the road, I saw a spot where the vegetation did change, for what of a better metaphor, it was like a line in the sand, to the South there was nothing, to the North some thicker vegetation. By this stage of the day the wind was a reasonable Westerly, but the road was snaking around so it was a mix between a cross wind or a tail wind. Even so, it was quite easy to sit in the low to mid 30's and pushing up to the high 30's and low 40's at times.
Lunch ended up being 10km beyond what we were expecting, but as the day wasn't onerous, it didn't bother me too much. Lunch was Al Fresco Dining at the side of the road, with a shovel and toilet paper for the amenities. Even so, it was a meal with character. Considering the amount we are being fed on this ride, I think I am more likely to gain weight than to lose it. When I went to get back on the bike, I found that my cleat covers had filled up with the red sand that is common to the area. I think that my pedals are going to need a bit of an overhaul after this ride.
On leaving lunch, the desert changed back to the very low vegetation and as there was only about 35km to cover, I just went solo again. There were a couple of short climbs on the last section, and while I know that staying seated is the best way to climb, I did them both out of the saddle. At the top of the second, there was a lookout that gave spectacular views to Island Lagoon, another Slat Lake, and it was huge. After a few pictures, I set out again with the distance tumbling. I soon sighted a group ahead, and it was made up of Andrew (on the front again), Anthea, Bronny and Pat. I pressed on past, and a bit further up, I found Andrew on my wheel, he was only toying with me, and he dropped back to the bunch. I saw a sign for the Pimba Roadhouse (Spuds) along with it's UHF channel. It is amazing that this technology is still used to a huge degree. At one point I crested a small hill and I could see a radio mast on the horizon, as I was about 8km from Pimba, I guessed that was it. our first sign of a built up area since leaving Port Augusta. I could also see Woomera, or building very close to it despite there being 5km between Woomera and Pimba.
At Pimba we turned off the Stuart Highway and headed to Woomera, despite Pimba being sign posted since Port Augusta, there wasn't much there, pretty much the roadhouse and that was it. With the final turn towards Woomera, the wind was right at my back and it allowed me to finally use the big chain ring and put some decent speed down to finish the day. I turned into the main drag of Woomera and followed Phil's arrows (made out of plain flour) to the Hotel. I got my room key and found I was sharing with Andrew for the night, as I walked around to the back he rolled in, so it made it easier for him. The Hotel tonight is an unusual one, they have had a past life as some sort of Boarding Accommodation, and they still have the common toilets in the middle of the block. Andrew, Anthea, Bronny and I all pooled in and did a load of washing, and I took a wander up the road as I needed some more sunscreen and I wanted to see the Missile Park. There was a surprisingly large number of tests done here as well as several satellite launches, for a long time Woomera was a Defence Base and off limits to the public, probably the main reason Pimba exists.
Today to me was an amazing day, I was staggered by the beauty of the scenery despite it sometimes reaching to the horizon with seemingly no change. Even though we are still close to the coast, it feels a lot further away, and the start in Adelaide was a world away. From here, we are going even deeper into the Red Centre.
| | |
| --- | --- |
| Distance | 179.98 km |
| Average | 32.22 km/hr |
| Time | 5:35:05 |
| Maximum | 59.20 km/hr |
Images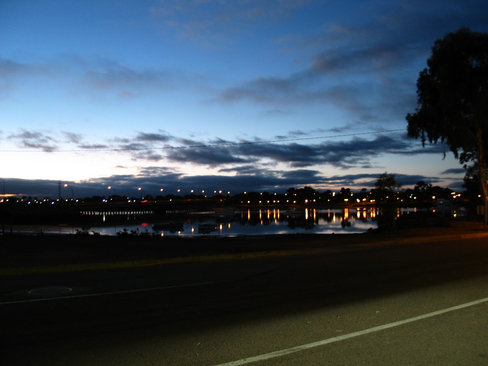 The early morning lights, reflected on the water at Port Augusta.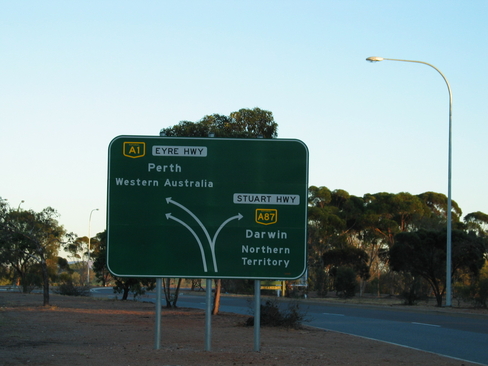 Make sure you don't miss the turn, the long way is really that, the LONG way.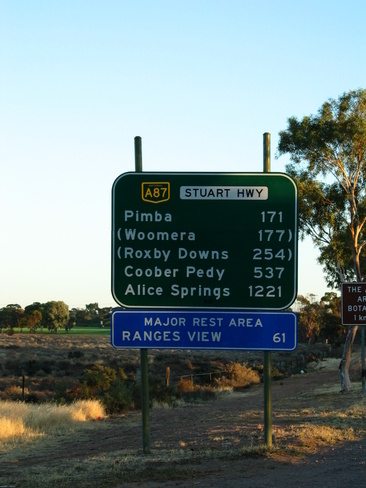 Nearly there, only 1221km to go before it's all over.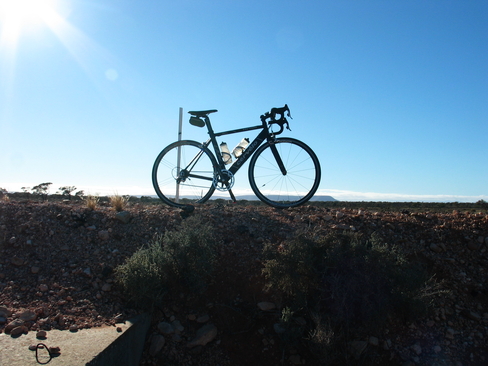 Obligatory Bike Shot.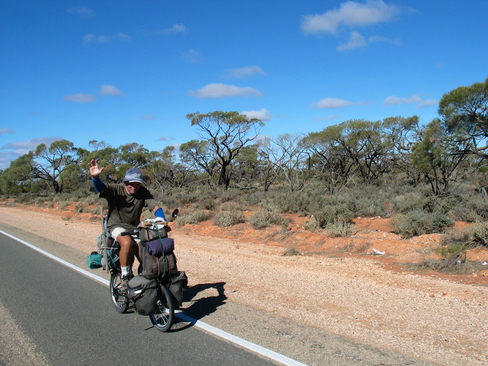 Hienz, the man who wanted to see it all.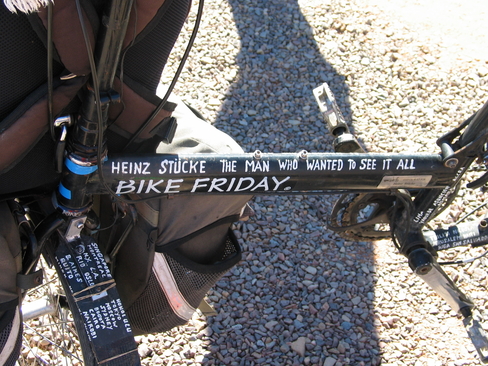 The bike says it all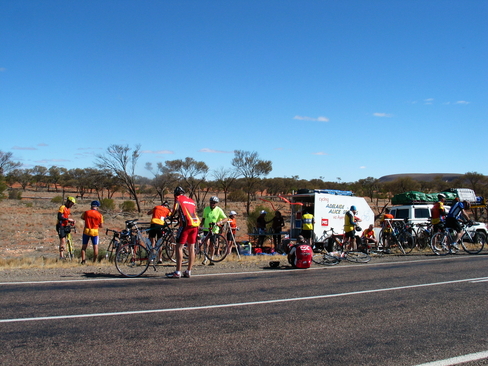 Lunch, Al Fresco dining at it's best.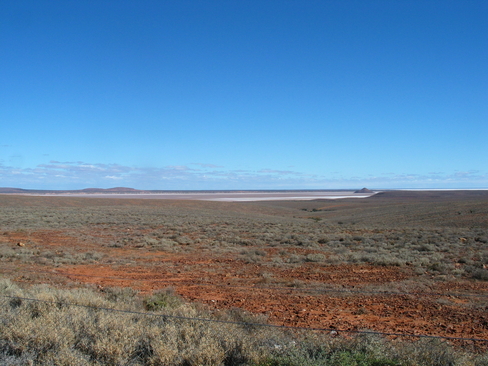 Island Lagoon, one of the many Salt Flats in the area.
Click Here
for more Photos from Day 4.