Day 5 - Wednesday, 7th May 2008 - Woomera to Glendambo
Last night at Dinner, there was a woman at another table who we got chatting to. It turned out that she was involved with Women's Health in the area, but was based in Adelaide. Andrew, my room mate is also involved in Medicine, and while they didn't know each other directly, they did have common friends. For dinner, I opted for the steak, but I neglected to select a sauce to accompany it, I queried if they had any HP Sauce and a bottle showed up. Judging by the label (I couldn't find a Use By Date), it was probably last used in 1982 when the British Scientists went home, considering it took three of us to get the lid off, that probably isn't too far wrong.
At about 5:30am this morning, Woomera had a power blackout, luckily I was relying on a watch for my alarm so I wasn't affected. Even so, it meant packing in the dark and it made breakfast an interesting affair. I normally only have cereal and toast, so it meant that my toast was a little on the rare side today. The coffee machine wasn't working, but the staff had an urn out the back so they could make one, it wasn't super hot, but it kept the caffeine addicts happy.
The weather also proved fickle as there was a slight drizzle that early and it had dampened the road. I rolled out in a group at about 7:15am or so. I thought that with the slight shower, it could make the cattle grids interesting, wet steel doesn't offer much grip to bicycle tyres. I expected to have to walk across the first few until they dried out. The group was only setting a moderate pace, but we were heading into a stiff breeze. I was near the back initially and the group slowed down for the first grid. I watched the first riders navigate it and as they were staying upright I had confidence to ride it rather than to walk it.
Our route today was to return to the Stuart Highway at Pimba, and then head West towards Glendambo. I stopped at the junction to get a picture and I then had to do a short chase to get back onto the group. By this stage the large group had split and I got up with the lead group with Graeme, Anthea, Andrew, Bronny, Pat and a few others. We were doing a good clip, despite the headwind, and as there was no high vegetation, no shelter.
The sky was still overcast, and despite looking ominous ahead, I didn't expect it to eventuate to much. About 30km out of Woomera, there was another lookout overlooking Island Lagoon which we saw yesterday on the way in. I was the only one who pulled in and Heinz was there ahead of us, who knows at what time he left. I took some pictures and set of chasing. Soon after, there was a small downhill which at the top offered spectacular views of the surrounding plain. Just before I caught up, I had to avoid some road kill that was in the middle of the road, I guessed that it was fresh and after I passed the crows resumed their feast.
After rejoining we passed a pair of Wedge Tailed Eagles, standing at the side of the road, we disturbed them into flight and they slowly winged away from us before settling about 10m from the roadside, a really amazing sight. We passed over another dry lake bed, this one was only small, but it still had some water in a few ponds, you could see the salt crystallising at different levels against the rocks that were beside the ponds.
Morning Tea today was at the Lake Hart Rest Area, we pulled in and for once I had packed a day bag that contained a pair of shoes so I could walk out to it, Salt and Aluminium don't mix too well. On the map this is only a small Salt Lake compared to may others in the area but it still vanished over the Horizon. When you first walk onto it, you can feel the reflected heat from the salt. There was also the remains of a pier of some description. Some of the other riders said that it was probably because the original European Settlers would have harvested the salt for preserving food. I wandered around for a few minutes before heading back to the rest area.
By this time, most of the other riders and been and gone, but Pat and Anthea were still around. After a few false starts and a lot of joking around the 3 of us rolled out towards a snack at about 100km and Glendambo. We were setting a good pace, and by this stage the wind was a bit more from the South, so it also made it easier. We were generally riding 3 abreast, but quiet tightly, so the right most rider was about in the middle of the lane. We had one scare from a truck, he had to overtake us when there was a vehicle in the adjacent lane, he had managed to sneak up on us so we had no idea he was there and he gave us a fright when he leant on the horn, we quickly went single file and he was able to overtake cleanly by this stage anyway.
A bit further up the road, Pat suffered a Mechanical, he broke a spoke in his rear wheel. Anthea had a Band-Aid which she always carries as they are good for emergency tape or for some basic first aid. Pat's wheel was able to turn after a bit of stuffing around, but you could see the wobble in the wheel as plain as day. About 2km's up the road we saw Chelsea heading back and we waved her to a stop, Anthea and Pat got to the car first and I suggested they say they wanted a massage (Chelsea is our masseuse on the ride). I didn't see the response, but from what I gather, if looks could kill, Pat and Anthea would have been a smear on the landscape. They got onto the Two-Way Radio to Greg, and he advised to just keep going until the snack stop, 30km away. Then Anthea noticed that she had a front flat. It was a team effort in changing it, Pat got the tyre off, found the offending piece of glass, I put some air in Anthea's spare tube, and Pat got the tyre back on. I then pumped the tyre up, and Anthea took pictures the whole way through.
After this delay we set off again having lost at least 20 minutes with mechanicals. Because of Pat's broken spoke, he wasn't prepared to ride across the cattle grids, so we had to ease up at each of them as he was walking across. The landscape had changed again and we had gone from red dust to rockier terrain, as before the vegetation was still changing, and each time it was a line in the sand that determined the change. We eventually made the snack stop and it was just in time, I was pretty much out of water and I was starting to feel a bit hungry.
As we had lost a lot of time earlier, we made it a lighting stop with just enough time to eat something, refill our water bottles, and for Greg to loosen some spokes on Pat's wheel so it was closer to true. On leaving Pat said that he wanted to ride at a slightly more sedate pace os he gave the green light to Anthea and I to ride ahead. By this stage there was only about 25km to go. Anthea and I rode two abreast and talked away, it certainly made the k's tick past, well, that and the low 30's we were pushing the bikes to. At one point we passed a sign advertising services at Marla, 500km away, now that is what I call forward planning. About 15km out of town, we passed over the Trans Australian Railway again, this is the last we will see of it, the Central Australian Railway forks off it and that rejoins the road north of Coober Pedy. I stopped at the top for a few pictures and Anthea said that she would ride steady until I got back on. Her idea of easy and mine are obviously different as it took about 5km sitting in the low 40's to achieve it. Luckily the road and the conditions did help.
By this stage we saw the signs advertising Glendambo and so we were nearly there. We pulled in at about 1pm on the nose and we went straight into the Roadhouse for lunch. Several riders had beaten us in but we weren't too far down on the order list. Even so, the Chef obviously wasn't used to such an influx as all of our orders did take a while. My lunch consisted of Poached Eggs on Toast to make up for the breakfast I missed this morning. I then checked in and ran through my post ride routine before hopping in the shower. My first surprise was that the shower rose had been improperly fitted, so it definitely got you wet. The second surprise was that it was hard water, even so, it still felt good after 120km on the road.
I wandered around Glendambo for a bit and I saw a triple trailer Road Train which had parked. I paced him out and he was about 45m long. I'm glad I don't have to put up with them on a daily basis. The sign for Glendambo put the human population at 30, so we have nearly doubled it for tonight. Tomorrow is the big one, 256km. Breakfast is at 6am and we are expected to be on the road by about 6:30am, just after sunrise which will be interesting. This will be the second time I will have ridden more than 200km in a day and I will be breaking that record by close to 50km. At this point I can't see any reason why I can't do it, the weather is the only thing which can make it harder. Overall my legs are feeling surprisingly good so I don't think I will have any issues on that front. I will take it as it comes.
Here is a
panoramic
view of Lake Hart.
| | |
| --- | --- |
| Distance | 121.98 km |
| Average | 29.55 km/hr |
| Time | 4:07:39 |
| Maximum | 51.80 km/hr |
Images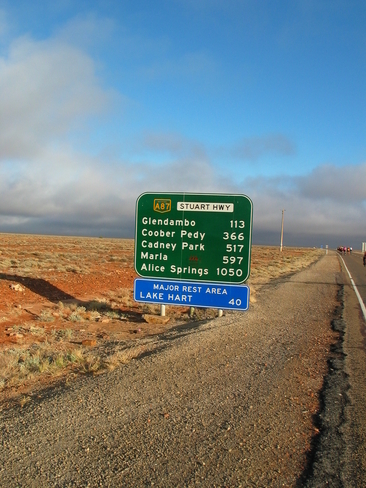 Counting down, at least it's closer than yesterday.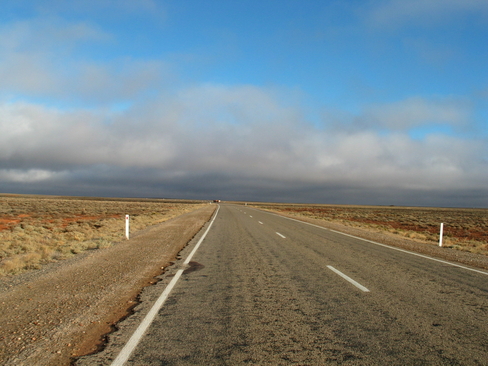 Riders in the Storm.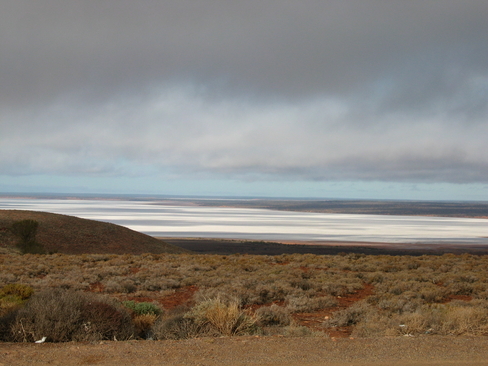 Island Lagoon, from the north this time.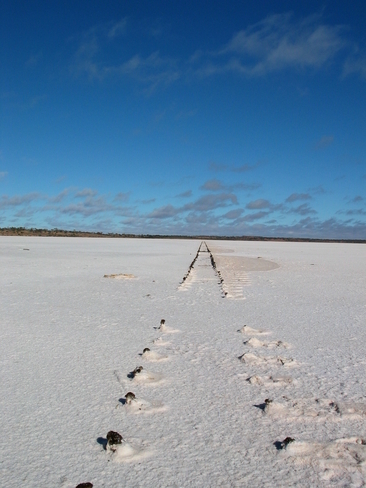 Remnants of a pier at Lake Hart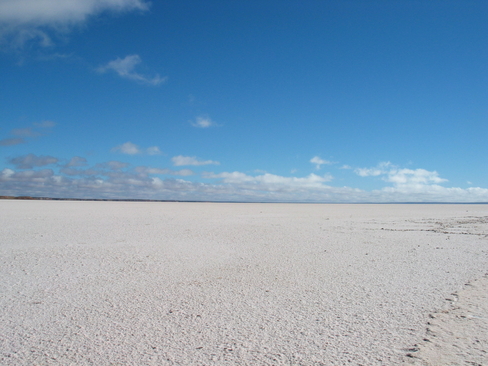 Looking North over Lake Hart, on a map it looks small. The edge is still over the horizon.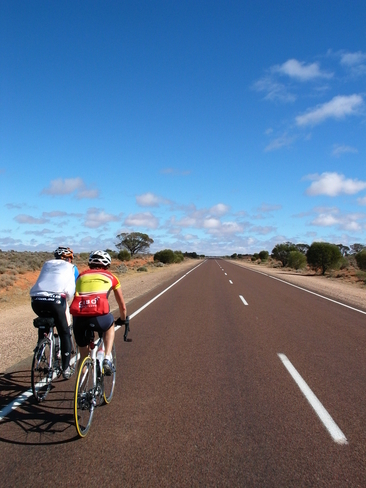 Pat and Anthea on the road.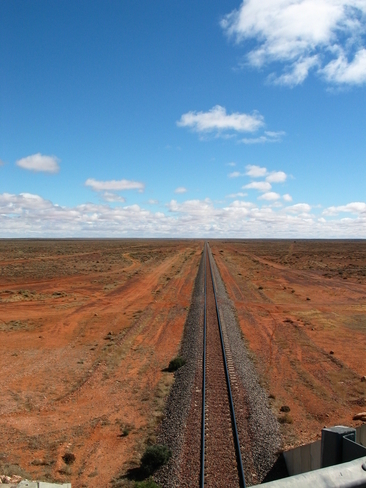 The last we would see of the Railway line until after Coober Pedy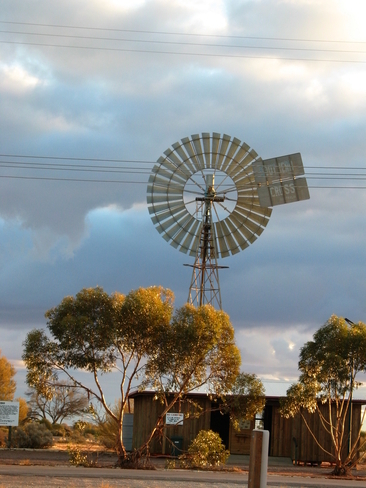 The windmill used to extract the Bore Water for Glendambo.
Click Here
for more Photos from Day 5.