Day 6 - Thursday, 8th May 2008 - Glendambo to Coober Pedy
Last night at dinner we learnt some interesting facts about Glendambo. Originally it was in a different location, but when the road was sealed it was also moved, so Glendambo was relocated, there were 3 businesses, 2 service stations and the Hotel. The original owner of the Hotel was building it out of imported Canadian Oregon and went broke building it, someone else picked up the project and finished it. They operate on a generator as there is no other power supply, and while thy have Bore Water, it is 3 times saltier than the sea and subsequently not suitable for drinking. All of the Hotel Rooms use the Bore Water on the taps, shower and toilet, and you have to go to a water tank for drinking water. Their drinking water is from the roof run-off, and every building has a tank as they only get about 2 inches of rain each year.
Currently there are only about 20 people living there so the sign out the front is wrong by about 50%. One of the menu options for dinner was salt bush lamb, despite the low rainfall it is sheep country and they do farm them for wool, even so the lambs eat the salt bush which gives the meat a distinctive taste. Evidence of the bore water was on the air conditioner units, they had stalactites of salt hanging from them.
Today was the big one, 256km, the profile was shown as dead flat but a lot of us didn't have a lot of faith in it. Because it was a long day, breakfast was at 6am, and Phil wanted us on the road by 6:30am. Due to this, I changed my routine slightly and took my bags out of the room before breakfast, that way I could get moving quicker. Fiona left at about 6:10am as she was nervous about her ability to cover the distance in the allocated time. The biggest issue was that it wasn't yet light. In the end I rolled out with Graeme, Pat and David a few minutes before 6:30am, it was only just getting light and so we all had our lights going, even so we didn't see much traffic.
We had a slight tail wind to get us started and so we were pushing a pretty good pace. We were treated to a pretty spectacular sunrise due to the cloud cover which did make starting at the early hour a lot more palatable. Once concern we all shared was for the nocturnal wildlife which is always dangerous at dawn and dusk. That came to fruition when we saw a kangaroo off to our left, at about the same time Phil and Susan overtook us, and about 30m up the road, the roo decided that it wanted to be n the other side of the road and crossed in front of them, no contact was made, but it did make it look like it had a death wish.
Our first break was 60km up the road and en route we passed Sam and Russell who had left earlier, they managed to jump on and we kept the pace reasonable to ensure they could get the shelter of the bunch. We caught and passed Heinz again. He had been given an All Trails jersey when we first met him, at at times it makes it a bit confusing as we can't always work out who is ahead of us on the road.
The 6 of us continued riding together to our first break. My policy of avoiding dehydration meant that the first rest stop couldn't come soon enough, I pulled in, grabbed some loo paper and made a dash into the bushes, there weren't many, but there were enough. We were slightly behind our original schedule as we had left 30 minutes behind the original departure time due to daylight issues. So Phil was encouraging us to get moving. I grabbed some food, wolfed it down, refilled by bidons and we were back away again. Other riders had come in and so we were running a slightly larger bunch on leaving. We saw our first Wedge Tailed Eagles for the day, and I pulled over for a picture. It obviously didn't like the attention as it then flew of. There was only 20km or so to Morning Tea and about halfway, another bunch caught up to us that was led by Andrew. I tagged on, and then got on the front with him. He kept insisting that he caught us because Bronny made him, Bronny and Anthea were behind us chatting away and Andrew was complaining, he pointed out that I could keep quiet, the fact that I couldn't talk for lack of breath was beside the point. A bit short of Morning Tea, the bike didn't feel 100% and I thought that I had a rear flat, it only felt soft so I decided to check it out at the break. Sure enough I had a slow leak, but it was in the front tyre. I changed the tube out, and then grabbed something to eat before quickly rolling out again.
Just as I left, Bronny started to roll out as well. Unfortunately, her gravel riding skills aren't the best, and she had a tumble. No injures, but she had a banana in her jersey pocket. No prizes for guessing which side she landed on. I suppose that is one way to mash a banana.
I was again with a reasonable bunch of about 7 or 8 and we were again setting a pretty good pace. We passed Fiona at about the 100km mark and it was daunting that we still had the best part of 160km or an imperial century to cover. The next break was about 50km away and by this stage we were seeing that the profile was quiet wrong. There were no big hills, but plenty at 1-2% or so, they just went for miles, the top was somewhere on the horizon. Along this stretch the desert had changed and the vegetation was even sparser, the red dust was still prevalent, but it had a black gravel on the top. A few times we crossed a bridge which was for a river, if it hadn't been signed, I wouldn't have known that it was a river. It was just a dry bed.
We saw several more Wedgie pairs, and at one point a fox as well, all feeding on road kill. I also came across a feature I have never seen before, an RFDS emergency runway. The road was slightly wider and had been marked like a runway. Obviously something which is needed out here. By this stage the effect of the rushed morning was starting to show and I was getting pretty low on energy. We weren't far from our next stop, but I was pretty desperate for it.
We came across a Rest Area where I thought it would be, and Phil and Susan weren't there, luckily they were only a few kilometres up the road and we pulled in. Phil had set up a ladies toilet out of a few bike boxes, while the men were told to just find a bush. I ate a lot of the food on offer to try and get enough energy for the next leg, that and the short break did me a world of good. By this stage we were making good time and Phil wasn't pressuring us to get moving to the same extent as our first 2 stops.
We set off again, and it was about 30km to lunch. We were a slightly smaller bunch, but still working well. All of us were feeling tired and sore, but we were past the half way point by this stage. There was a bit of a wind, but it wasn't a head wind. I thought that it was a bit of a cross wind, but because the road changed direction it was slightly into our faces at times as well as at our backs.
About 10km shy of Lunch, I suffered my second mechanical. The shift lever for my rear derailleur stopped shifting down. I could change up, but not down. I foolishly pushed it to the smallest gear on the back (the hardest) and I couldn't go any lower at all. Also, a part from the lever then fell into my hand. I don't know the exact name, but I called it the return spring, it allows the shifting mechanism to pull the cable tight when shifting down. A critical part. I rode to Lunch as it wasn't very far. Again, Phil's profile was shown to be wrong as it was at the top of a hill.
Up to here, we had seen a few interesting signs, this area is still part of the Woomera Prohibited Area, the Stuart Highway passes through this, so while we are allowed to use the road, we aren't allowed to leave it.
At the Lunch stop we had pre packed sandwiches where were delicious and we all had a bit of a relax as were still making good time. Phil's Bike Box Loo was in operation again, but the blokes couldn't use a bush as there were none. It was really barren out here. I managed to find a piece of wood (which was an achievement in itself) and I used that to wedge my derailleur into an easier gear, a bit of duct tape kept the cable out of the wheel and my 20 speed bike was now operating on 2 gears. Graeme snuck away early and I rolled out with Pat, David, John and Jane, there was about 50km to the next and final snack and about 90km in total still outstanding, we were still travelling well and all taking their turns on the front. We passed our first sign warning about mine shafts, there are a lot out here and many are unmarked so it is very easy to fall down one if you aren't looking. My temporary repair was holding up, but I don't think I had an ideal gear, but beggars can't be choosers and I wasn't prepared to try changing it.
My legs were still feeling surprisingly good, but I wasn't surprised as I hadn't been pushing myself a lot so far. I always felt that today was about survival, not about setting records (other than distance). We were starting to pass some more side roads including one wide dirt track that went straight as far as the eye could see. Occasionally, we caught sight of some Opal Mines. They were only obvious by the pile of soil that was beside them, none were right next to the road, but there were often a few in sight at any given time. We pulled into our last snack stop way ahead of schedule and Graeme was there ahead of us. Again I fuelled up and refilled the bidons.
John and Jane stayed to catch the next train, while Graeme, Pat, David and I set out to cover the last 40km. I had a short chase before catching up and then we were away. By this stage the wind had pretty much dropped and as we all felt good, we were able to do a solid pace. Despite my limited gearing I could still take good turns, but I kept trying to get my cadence to an ideal, so I was often working a bit harder than I should have been.
We started seeing a few signs for Coober Pedy businesses, but no physical sign of the town itself, we crossed back into a Council District with about 5km to go. We then climbed a final hill and then we knew we were there as the landscape had been dug up. We turned off the main highway and pulled into town. We quickly found the Hotel and we were there. We started as a group of 4 and the same 4 finished together. We had landed at about 4pm, so we spent about 9.5 hours on the road including breaks. Phil and Susan weren't in yet, but we grabbed our room keys and put our bikes in them.
The Hotel we were staying at had some underground rooms, and at first, I didn't think mine was, it had just been decorated to appear that it was underground. On closer inspection though, it really was underground. By this stage, our bags were here and so I did my post ride routing and had a shower. I wandered up the street and bought a phone card to check in with my parents. I also managed to catch Greg, our mechanic, to see if on the of chance he had the part I needed, no such luck, but it was a long shot anyway.
While it may be possible to get the part on the road, I decided not to bother for a few reasons. It will take a few days to get the part, Greg has never serviced a Campy Lever, and I have once, and lastly, the ride is pretty flat from here so I can survive on two gears. I can change my gear choice, but it takes about 5 minutes. So I will play it by ear.
| | |
| --- | --- |
| Distance | 255.26 km |
| Average | 31.43 km/hr |
| Time | 8:07:11 |
| Maximum | 45.95 km/hr |
Images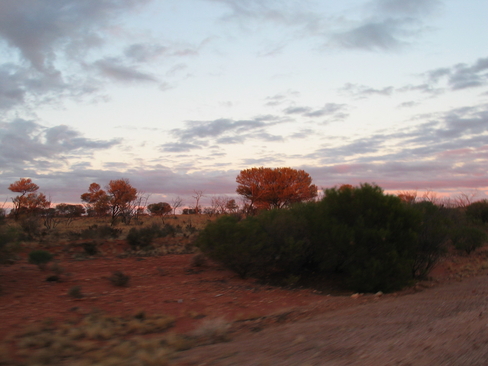 Sunlight just starting to hit the top of the bushes.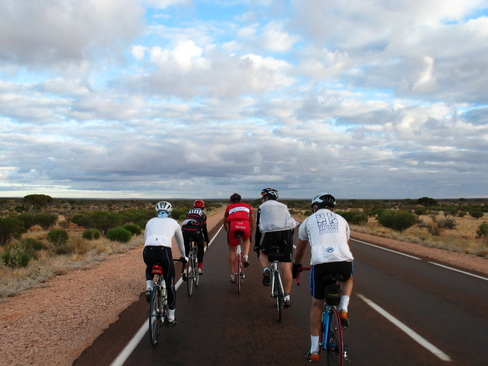 Our early starting pack, after sweeping Sam and Russell up.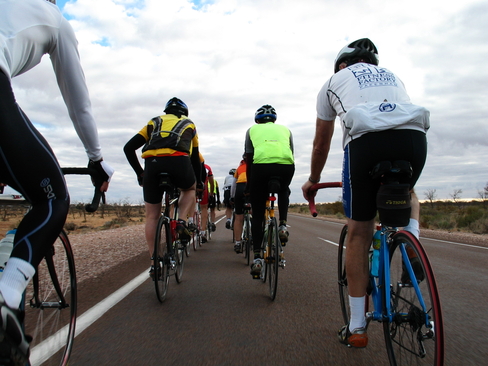 The post snack Group.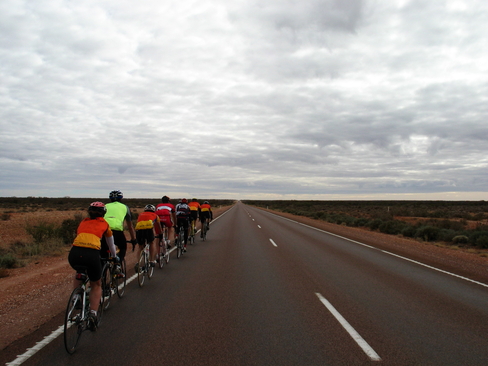 The group I rode with to lunch, from the front, Rob, John, Pat, Graeme, David, Anthea, Alan and Jane.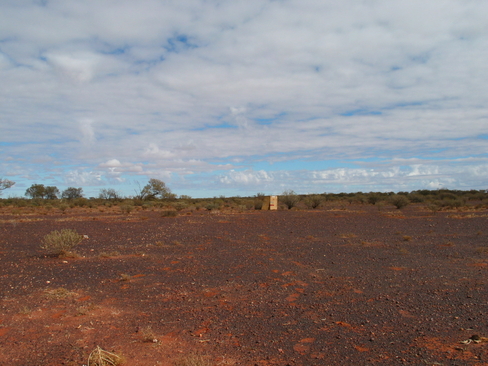 Phil's cardboard box dunny.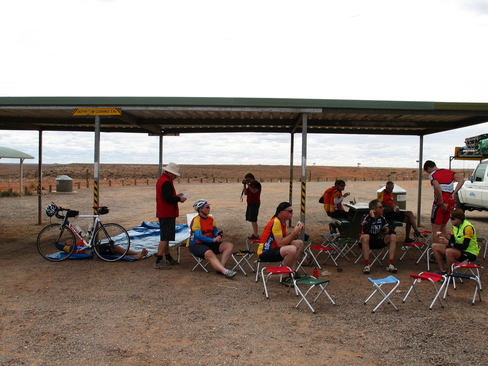 Enjoying a sit down and some lunch.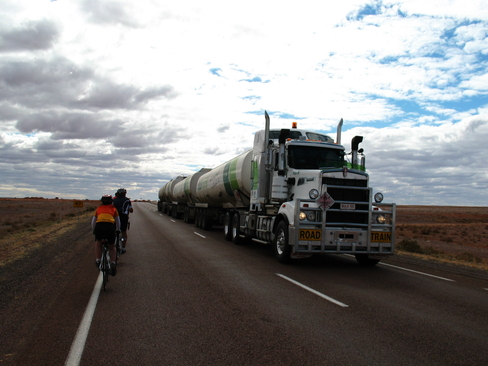 One of the many Road Trains, this is the rare 4 trailer version.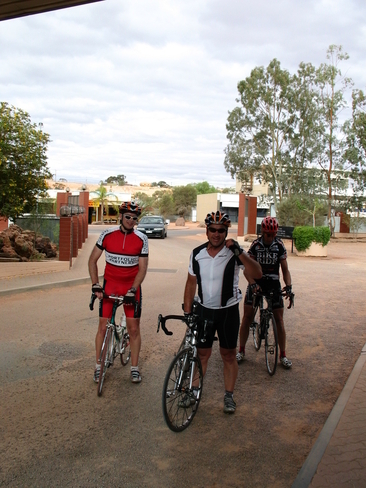 Try and avoid looking too tired, it was only 256km...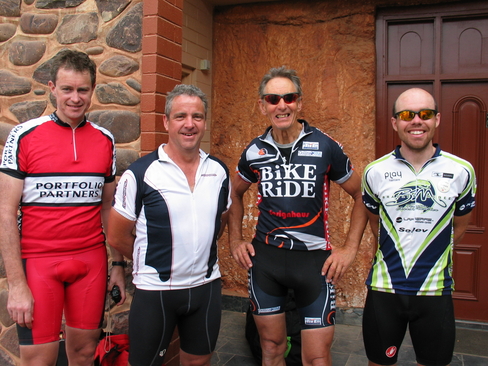 The first four in, glad to be here. L to R, David, Pat, Graeme and me, James.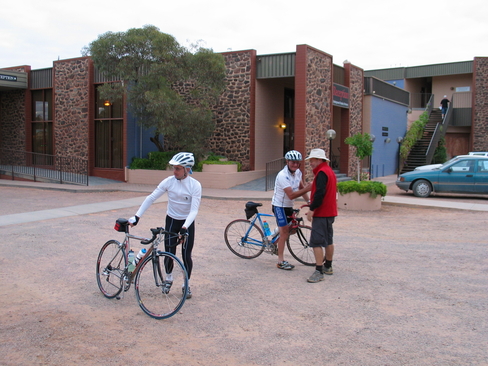 The last two riders in. Well done guys. L to R, Russell, Sam, Phil
Click Here
for more Photos from Day 6.