Day 7 - Friday, 9th May 2008 - Coober Pedy Rest Day
The last rider rolled in last night at at about 5:30pm, just ahead of Phil's initial cut off time. It was Sam and Russell, as we had picked them up on the way out of Glendambo, they had spent a long day in the saddle. Dinner was up to each person to organise, but we were recommended to go to a Pizza and Pasta Restaurant over the road. The night started in the bar with everyone drinking quite a bit to celebrate 6 days in the saddle and for many of us our longest day on the bike. After that our crowd went to the Restaurant and, as it was licensed we kept drinking, but this time we were onto the wine, and we had some great pizza's to enjoy as well.
Breakfast was a much more laid back affair today, it was still early, 7am, but we were al pretty used to it by now. After breakfast, Graeme and I were having a look in one of the many Opal Shops (this one was in the Hotel), and we got chatting to the lady behind the counter, we were talking about the different types of Opals, Coober Pedy mainly produces White Opals, as does most of South Australia, Lighting Ridge, which is the only other Opal mining area I know of produces Black Opals. Even so, at the end of the day, each Opal is unique and it is up to each buyer if they like it or not. Many of the riders talked about purchasing, but as we don't know the market it is impossible to tell if you are getting a good deal or getting fleeced.
After that I did some maintenance on the bike and dialled in my selected gear. I remembered hearing around the club to use 69", after some stuffing around with numbers I found which gear to use and got it set up. I washed my cycle gear from the last few days, and so I have a full set of clean clothing to get me through the next few days. I went for a roll around town to check out the sights and to test the gear. I didn't get into any cycling kit so it was never going to be particularly far or hard. I got up to The Big Winch which offered som pretty good views of the surrounding area, basically there was nothing to see in every direction, it was interesting to see the effect that mining had had on the terrain, but it hadn't affected the vegetation as there was none.
After a bit more riding around, I decided that enough was enough and I went back to the hotel for some lunch. I caught up with a few riders and we headed back to the Pizza shop for a second meal. I opted for the Pasta this time around. After a relaxed lunch I did a bit more walking around. I learnt a lot about Coober Pedy, Opals and the Stuart Highway. When mining for Opals, 99.25% are worthless, even so, Australia produces about 97% or the worlds Opals, and Coober Pedy produces about 90% of Australia's. So, if you own any Opal jewellery (particularly White Opal), then odds are it comes from Coober Pedy. Also of note is that the Stuart Highway from Port Augusta to the Northern Territory Boarder was only completed as a sealed road in 1987, 21 years ago. It took nearly 8 years to surface that 975km stretch.
Today was a nice relaxing day. We have about 230km to cover in the next 2 days, and another week of cycling ahead of us. We have another rest day at Uluru, and then finishing in Alice Springs next Sunday.
Images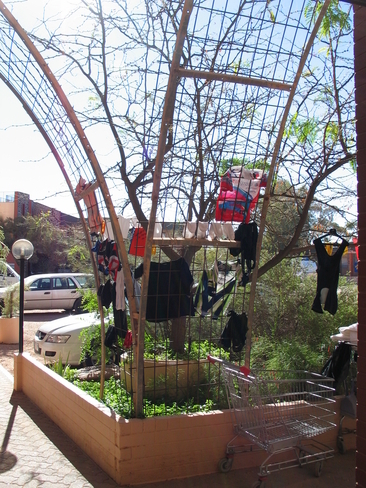 Anything can be a washing line if you try hard enough.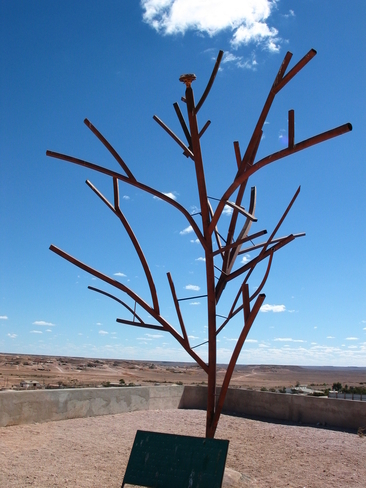 The first tree in Coober Pedy, it was made out of the remains of a truck which caught fire and burnt.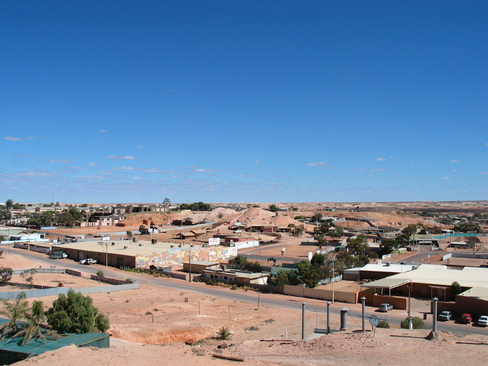 The township of Coober Pedy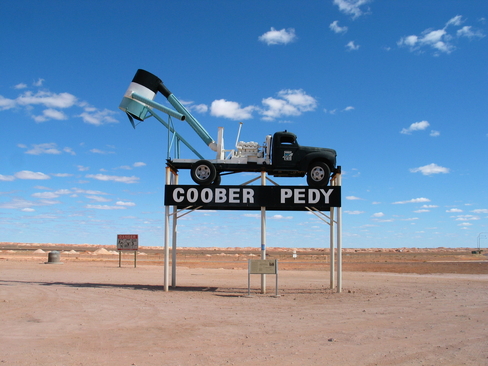 A Blower, these are used to extract the rock out of a mine shaft, which is then noodled for opals.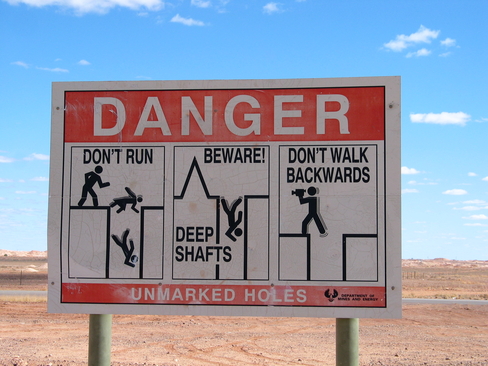 You have been warned.
Click Here
for more Photos from Day 7.