Day 8 - Saturday, 10th May 2008 - Coober Pedy to Cadney Homestead
Last night we had a gourmet barbecue at the top of the Hotel on a balcony overlooking Coober Pedy, I joked beforehand that Gourmet meant that there were would be two types of sausages, thick and thin. It turned out to be a very nice meal with some nice steaks, lamb cutlets, chicken wings and sausages with nice salads and a fruit platter to finish with. It was a very mild night and while Coober Pedy is quite a large town compared to where we have been lately, it was still very quiet and peaceful. Last night there was a disturbance in the Hotel grounds, it kept me awake for a while, bit it didn't affect me as much as some of the other riders.
Today was a 156km jaunt and Phil put some extra rest stops in. As a result, we had 4 stops, nearly 1 every 30kms, it did break the day up nicely though. Breakfast started at about 6:30am, but there was a coach load due out as well, so it was open early, it did allow us to have a more leisurely meal though. The coach was going to Uluru today, which made me think that it wasn't much of a way to see the country, I have felt that I have missed a lot at about 30km/hr or by riding in a bunch. I hate to think how much they are missing by being driven at 110km/hr an probably watching a movie in the coach.
The early riders today left at abut 7am, and I got going at about 7:20am, today would be my first full day on only two gears, so it would be an interesting test. I didn't plan on riding with a group as I knew I was gear limited, because I usually try and ride a fast cadence, it meant that my speed was pretty much fixed. About 1-2km out of town, I suddenly realised that I had made an amateurs mistake, I had left with no water. While the first break was only 30km away, I knew that would be about an hours riding, luckily, Chelsea, our Masseuse and support driver was behind me, and when she overtook, I was able to flag her down and get some water off her, so no harm done. On the way out of Coober Pedy, I caught up with Rob, one of the other Sydney riders and a member of Sydney Cycling Club, I told him that I was a member of Dulwich Hill Bicycle Club at breakfast, and Fiona told me that she had done part of Blaney to Bathurst with Lindsay and Camilla, two members from DHBC.
Rob decided that he would ride with me, and as a result I kept my pace at a steady 32-33km/hr, a comfortable speed for me on my limited gearing. It was a beautiful clear and sunny morning, no wind to speak off, and no clouds in sight. This close to Coober Pedy, there was still plenty of mining in evidence, every now and again, you would think that you had left the last mine behind, and you would crest a rise and see another mine in operation.
in the end, though we did finally leave the mining behind. At times, all you could see was flat land in every direction, it was a bit deceptive though as there was the odd climb, nothing steep, and I was easily able to manage on my selected gear. About half way up one of them as a Cattle Grid, I accelerated as best I could, and when I was close, I suddenly realised that it was bigger than the others we had seen. I was still able to cross with no issues, but it initially caught me off guard.
We had just crossed the Dog Fence, also known as the Dingo Fence, a 5,320km fence designed to keep the Wild Dingo Population out of the South Eastern part of the country. Rob and I eventually reached our 30km stop, this was only a snack at the side of the road. While in Coober Pedy, Phil had purchased a Privacy Shelter that he had set up as a Ladies Toilet, the Gents was any bush you could find, and they were few and far between.
After a break, Rob and I set out again and Rob spent a short time on the front before I took over again. There was literally nothing to see out here, there was low scrub as far as the eye could see, and there was nothing other than the road we were on to break it up. I had read yesterday that the road had deliberately designed to incorporate bends to avoid driver fatigue, once I was aware of it, it was more evident. At one point I could see a Wedge Tailed Eagle circling ahead of me, I was able to watch him soaring for several minutes before we finally reached him. Another time, a Road Train overtook us, and it was about 2-3 minutes before he was out of sight. Rob was riding really well, and although he couldn't take a turn, I didn't mind, he was still keeping me company.
By this stage we had sighted a group ahead of us and we were slowly drawing them in, in the end we caught and passed them only a few kilometres before our Morning Tea stop. Fiona was in ahead of us and there was a bit more vegetation around this time. We were way ahead of schedule, so I and the other riders had a slightly longer break and relax. Once again Rob and I rolled out together, Lunch was at about 90km's or another 30km away.
One thing today, we weren't in danger of being underfed. Further up the road, the railway line rejoined the road, this line goes all the way to Darwin, and shadows us on the Stuart Highway to Alice Springs. Unlike our previous days, the little distance signs weren't indicating our final destination, instead they were showing the distance to Marla, but as tomorrow is only 80km, it was easy to calculate the distance to Cadney. About 10km shy of lunch, the pace had finally got to Rob and he dropped off, he thanked me for the ride and I rode on solo to Lunch. A few times we crossed over some Channels, the transformation in vegetation was amazing, and to me it looked very lush, especially in comparison to the surrounding desert. But once you were about 1km from them it was like they hadn't existed. I made it to lunch and pulled in.
Today we had Chicken Rolls that had been purchased in Coober Pedy, the were find as long as you liked egg. Even the salad rolls had egg in them. By this stage a bit of a wind had started to pick up, but it was a cross/tail wind so it wasn't to much of an issue. A bus pulled into the rest top, and they had obviously heard about us on the 2-way radio, they must have asked a few questions, and as a result, they had a quick whip round the Bus and raised some money for MS. All up they put in about $70 at a rough guess.
On leaving lunch, we had another 30km to yet another snack, and I was soon riding with David, Anthea, Pat and Graeme. Because of the wind and the flatness of the day we were doing a good clip, which was a problem for me because I was comfortable to about 34-35km/hr or above 45, but my gearing was a bit of a problem in between, which is where we were sitting. Even so, I survived and I was able to take turns on the front. Because the wind was from the side, we were riding as an echelon, which put the lead rider in about the middle of the lane. When I was on the front, the road took a turn for the worse, and it was quite a bone jarring in the middle of the lane, I was starting to think about pulling off when the road changed again, and we all sighed with relief.
Because the road was now better, I was prepared to stay on the front and keep riding. I did eventually peel off as we all like our time on the front. I t wasn't far though before the road turned and we got the wind at our backs. We really upped the pace, and it wasn't far to our next break, we could see the sport and we had a mini sprint for it. While I could turn a high cadence, I couldn't sustain it and rolled into the our break. I didn't eat anything this time as I was still full from lunch, but I did drink plenty of water. After a while we got going again for our last 23km to Cadney. I set off by myself, but after about 5-10km, Anthea, David and Alan, one of the American riders caught up to me.
My gear choice was again causing problems as I couldn't comfortably turn a high cadence, and the lower cadence was annoying me. Once the others caught up we were able to ride quicker and so it stopped being a problem. As a group we churned out the final distance to Cadney and as we pulled in, Heinz was there to welcome us.
I shouted the other riders a drink and we were soon joined by Phil, Susan and several of the other riders who weren't far behind us. Anthea mentioned that there were 4 girls in one room tonight as the accommodation was tight. My key was given to me and I was told I had a cabin. It wasn't what I had imagined and I burst out laughing when I saw it. It was basically a tin shed. There was only a double bed in mine, and luckily I wasn't expected to share it.
There was a separate shower and toilet block, so after a stretch and a shower I did a quick load of washing, I invited some other riders to put their stuff in as well which made it interesting when it was done. Even so, everyone got their kit back with no issues. We had Afternoon Tea by this stage and someone mentioned that there is an airstrip behind the roadhouse, so with the road and rail line, we have Planes, Trains and Automobiles. I had a look at the price of fuel, and it was steep, 198.0/L for Diesel, 185.0/L for Premium Unleaded, 179.0/L for Unleaded and 105.0/L for Autogas. It is just the roadhouse and Motel, nothing else. Considering that it is only 80km from Marla, I am a bit surprised that it survives. In either case, they will do well fro us as we have booked the Motel out. I pity anyone who hopes to grab a bed tonight if they pull in here at about 6:30pm, just on sunset.
I took another
panoramic
photo while at Cadney. This is looking south and is about 270 degrees around.
| | |
| --- | --- |
| Distance | 154.33 km |
| Average | 33.15 km/hr |
| Time | 4:39:17 |
| Maximum | 58.63 km/hr |
Images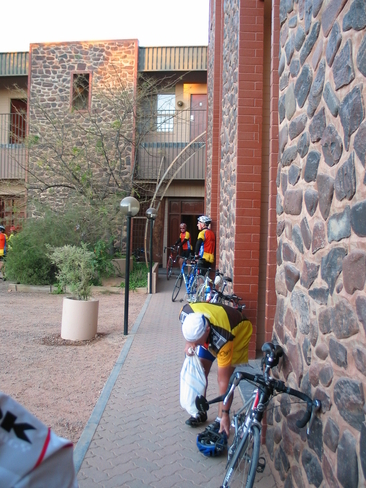 Getting ready for another day in the saddle.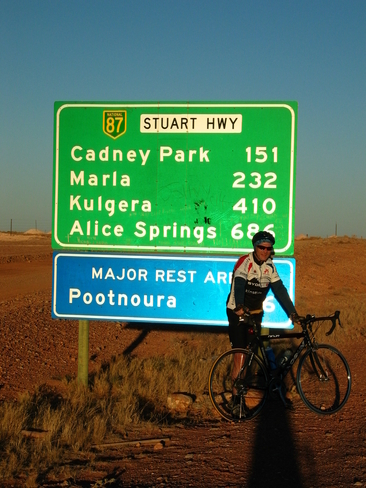 Another Distance Sign, with Rob showing of his SCC Jersey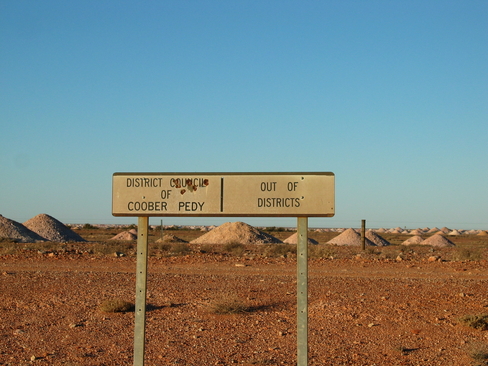 Back into the Never Never, no local council services out here.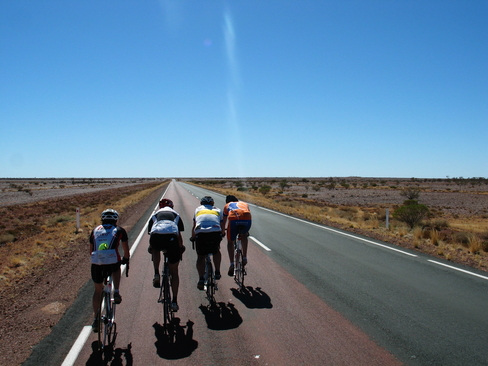 Riding in echelon. David leading, followed by Pat, Graeme, and Anthea.
Click Here
for more Photos from Day 8.